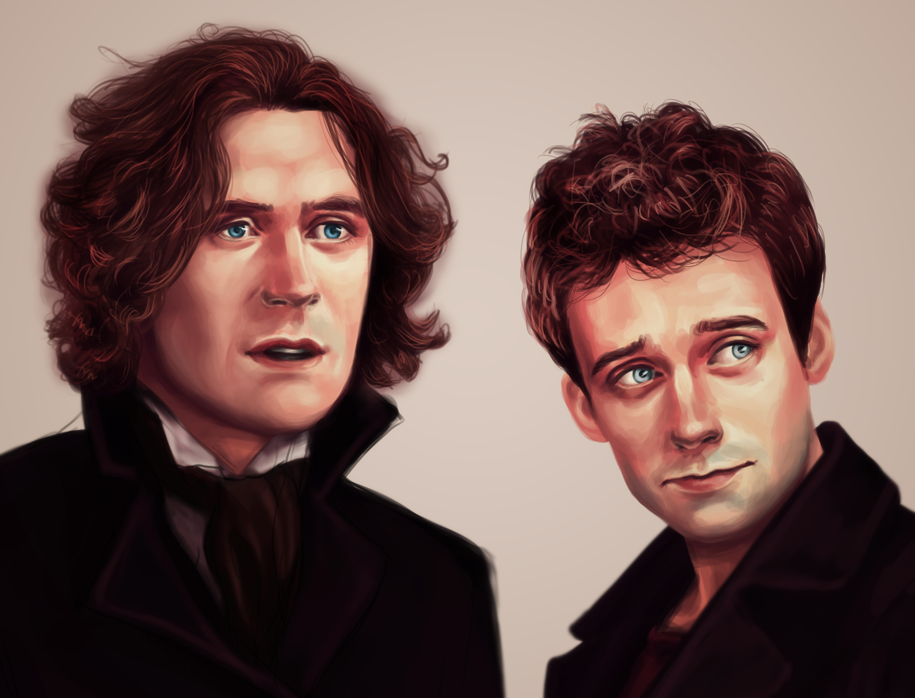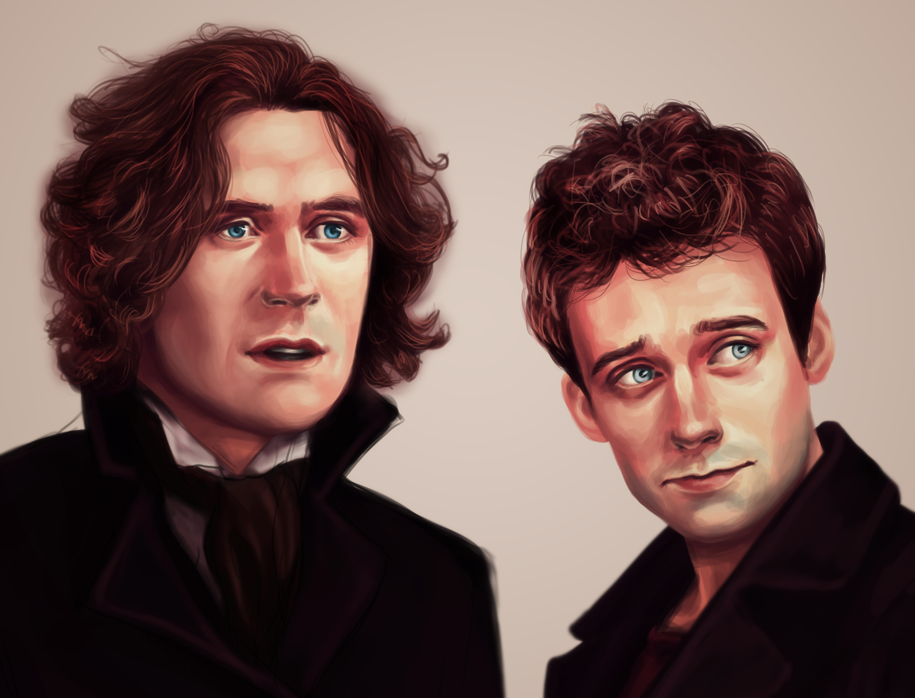 Watch
I got bored colouring this, so I sort of stopped halfway. This is why I've learnt to draw quickly and without breaks. I can't let drawings lie for half a week then try to pick it back up, it just doesn't work. Ah well. The unfinished, uncropped version:
[link]
Fitz is the Eighth Doctor's main companion in the books, and is in around 50 novels, plus one adorable audio drama. They are the shippiest things ever, it's quite ridiculous.
The Doctor stood up, a look of amazement on his face, and then to Fitz's considerable surprise he bounded over, grabbed his head and planted a kiss squarely on his lips. 'Oh, Fitz! Fitz, Fitz, Fitz! I'm so glad you're alive!'

Fitz staggered back, overwhelmed. 'Glad to see you too,' he murmured, feeling himself blushing...
- 'Dominion', Nick Walters
Fitz swallowed hard. He was the one who was raving mad. He was in the midst of the most ridiculous danger, horse-riding down a mountainside, probably about to die and, in the final few minutes of his life, what was passing through his mind? Not the greatest, most fulfilling moments in this life - but a consideration of his chances of getting laid by Iris... and even of getting laid by the Doctor. What was it about Time Lords?
- 'The Blue Angel', Paul Magrs and Jeremy Hoad
"T'riffic." Fitz wiped cold sweat from his brow. "Well, someone must be coming to the rescue, surely? The police, the army... "
"The Doctor?"
Fitz spun around. "You!"
"Yes, me!" The Doctor took Fitz's hand, kissed it delicately, then shoved him aside. "Now, out of my way!"
-'To the Slaughter', Stephen Cole
And that's not even mentioning the naked dream Fitz has about the Doctor, followed by Fitz having trouble not staring at the Doctor's ass, and them occasionally being naked together, and hugging and touching far too much. And even without all the sexual subtext, they admit loving each other, they go through hell, they wait for hundreds of years to meet again, they'll generally do anything for each other, over the course of 50 books.
Oh, and the leather coat the Ninth Doctor wears looks suspiciously like the one Fitz owned.
Okay, I'm doing trying to bring people onto team Doctor/Fitz.