40 Favourites
28 Comments
2K Views
Coffee is a widely consumed stimulant beverage prepared from roasted seeds, commonly called beans, of the coffee plant. Coffee was first consumed in the 9th century, when it was discovered in the highlands of Ethiopia. From there, it spread to Egypt and Yemen, and by the 15th century had reached Persia, Turkey, and northern Africa. From the Muslim world, coffee spread to Italy, then to the rest of Europe and the Americas. Today, coffee is one of the most popular beverages worldwide.
Coffee berries, which contain the coffee bean, are produced by several species of small evergreen bush of the genus Coffea. The two most commonly grown species are Coffea canephora (also known as Coffea robusta) and Coffea arabica. These are cultivated in Latin America, southeast Asia, and Africa. Once ripe, coffee berries are picked, processed, and dried. The seeds are then roasted, undergoing several physical and chemical changes. They are roasted to various degrees, depending on the desired flavor. They are then ground and brewed to create coffee. Coffee can be prepared and presented by a variety of methods.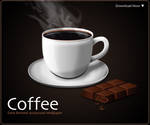 Coffee beans must be ground and brewed in order to create a beverage. Grinding the roasted coffee beans is done at a roastery, in a grocery store, or in the home. They are most commonly ground at a roastery then packaged and sold to the consumer, though "whole bean" coffee can be ground at home. Coffee beans may be ground in several ways. A burr mill uses revolving elements to crush or tear the bean, an electric grinder chops the beans with blades moving at high speeds, and a mortar and pestle grinds the beans to a powder. The type of grind is often named after the brewing method for which it is generally used. Turkish grind is the finest grind, while coffee percolator or French press are the coarsest grind. The most common grinds are between the extremes; a medium grind is used in most common home coffee brewing machines.

Coffee may be brewed by several methods: boiled, steeped, or pressured. Brewing coffee by boiling was the earliest method, and Turkish coffee is an example of this method. It is prepared by powdering the beans with a mortar and pestle, then adding the powder to water and bringing it to a boil in a pot called a cezve or, in Greek, a briki. This produces a strong coffee with a layer of foam on the surface.
:thumb37890963:
STARBUCKS
Starbucks serves a variety of beverages including brewed coffee, hot chocolate, espresso, teas, and Frappuccino. Also available are bottled beverages including Odwalla, Ethos water, San Pellegrino, Izze soda, and Horizon Organic Milk.

Starbucks has a 'you-call-it' culture allowing the customer to specify all modifications to the drink. For example instead of just ordering a Cafe Mocha, customers can order an iced-decaf-triple-grande-five pump-soy-no whip-Mocha. Any beverage can have various flavored syrups and whipped cream may be added. Cappuccinos, and all other beverages with steamed-milk, can be made with more foam ("dry") or less foam ("wet"). Starbucks also offers blended beverages, such as its trademark "Frappuccino Blended Coffee", a flavored drink of coffee, milk and sugar blended with ice. The name is a portmanteau of "frappé" and "cappuccino," and was introduced in 1995. Along with Coffee Frappuccino base, Starbucks has a "Crème" base to make popular beverages such as Strawberries and Crème Frappuccino blended creme or a Double Chocolate Chip Frappuccino blended Creme. Starbucks owns the words "Frappuccino Blended Coffee" and "Frappuccino Blended Creme" but they do not own the words 'Frapp' or 'Frappuccino'. In the mid-1990's Starbucks developed an unsuccessful carbonated coffee flavored soda called Mazagran. Starbucks has special beverages for the holidy season like the Peppermint Mocha and Eggnog Latte, as well as Christmas Blend whole bean coffee, which is a blend of Asia/Pacific coffees and aged Indonesian beans. Starbucks also packages the same blend of beans in a 'Holiday Blend' bag, for those who do not celebrate Christmas.

Starbucks supplements the beverage offerings with pastries, salads, cold sandwiches, hot panini, coffee merchandise and at-home brewing equipment, bagged or scooped coffee beans and, in some regions, pre-made hot breakfast muffin sandwiches.
:thumb28878135: :thumb61365047:
:thumb53991192:
Portraits.