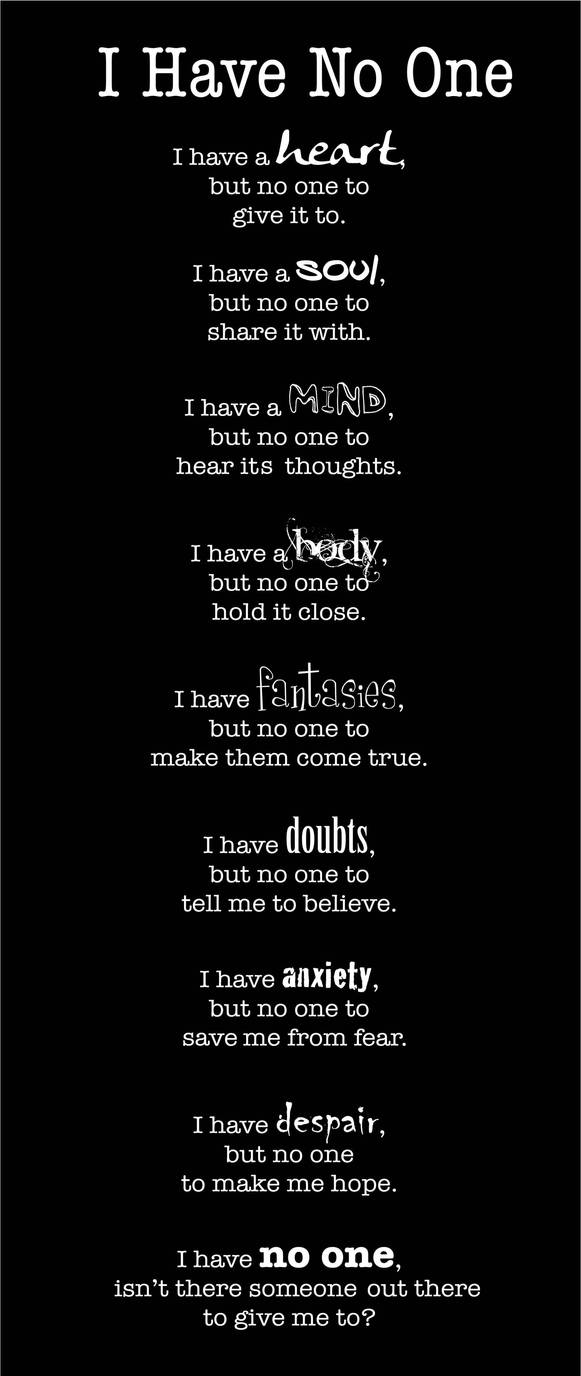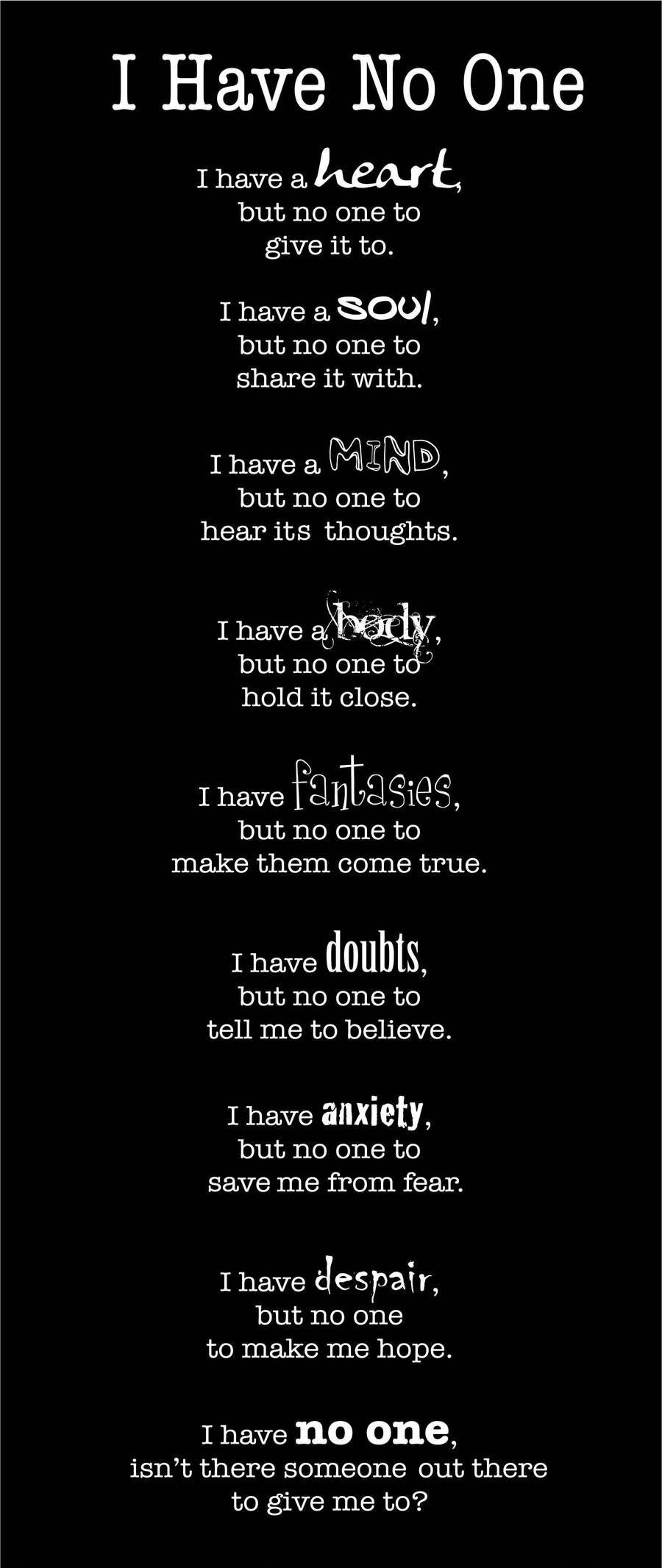 Watch
I plan on making an image that goes with this sometime.
I hope you like the poem.
EDIT
OMG It's on the front page! Thank you sooo much!
And I'm well aware of my spelling errors. I did this in illustrator which doesn't have a spell check.... plus I don't have the file anymore.
EDIT AGAIN
I fixed the spelling mistakes so please stop telling me that they are there.
And I wrote this for fun and quite honestly didn't expect anyone to notice it.
EDIT AGAIN AGAIN
No spelling errors now.
Check out my other visual poems!
Poetry is a deep subject matter that you've seemed to delve into quite well. This is an excellent expression of emotion, showing a lone soul, heart, mind, what have you, aching for companionship and love. This can represent so many people in the world. Though some would give it a generic trem like "emo", this is a well written example of one of the most tender subjects, expressed in a breathtaking form. One thing I do advise, however, is spell check, spell check, spell check! (Anxiety is what I'm referring to.) Your font choice branches out into a mental picture of what each of these can appear as, making them tangible in a word form. I love this poem. It's a dark subject, but a beautiful one as well.
The Artist thought this was FAIR
227 out of 244 deviants thought this was fair.
(warning: novice critiquing)
From what I have to say, it's a deviation that makes you think of who you got.

Vision: It's a subject most people can relate to, and often times the simple approach has been done before and can deter those whose interests lie somewhere else. But what's done here is a different facade of the pains of loneliness; creating an original perception towards the subject of solitude.

Originality: With loneliness being a wide subject, people can consider it as a novice thing to write about; that it takes creativity to put something new to something aged. I absolutely love the approach made; by siding off what one has and what one doesn't have in loneliness it further emphasizes its effects. The visual design, however, needs more work. I like the feel to it with the different fonts, but by submitting through visual poetry, sometimes it drives home if you put even more effort toward it.

Technique: Despite the simple approach, one can see the basics being covered. For example, the phrasing is well cut; emphasizing on the first and last lines on each stanza. However, it still needs a few fixes. The last stanza could be stronger with a better handling with punctuation(avoiding comma splices; a novice mistake) and better wording, but other than that, it's fine. The vocabulary is appropriate and the simplicity enhances the mood and makes it more heartfelt and honest. Next time, check your spelling and grammar; it looks professional that way.
It's otherwise on the visual. It doesn't show a variety of technique.

Impact: Lyrically, with a solid, simple run, it is brilliant. It may not appeal to those with higher tastes, but it gets people thinking. It strikes a blow. It's straight to the point. People can relate to it.
The visual is boring; I have to tell you. It looks as if it was made in under an hour. Perhaps a texture, a border or medium values could help make the thumbnail noticeable compared to all the other B&W pieces.


Overall: The movie "Music and Lyrics" had a line that says that the melody is seeing someone for the first time while the lyrics are who they are underneath. If I had bumped I Have No One on the street I would have known his story: a brilliant, straight to the point soliloquy of sadness, isolation and emptiness; if I wasn't disinterested with the first impression.
The Artist thought this was FAIR
83 out of 106 deviants thought this was fair.