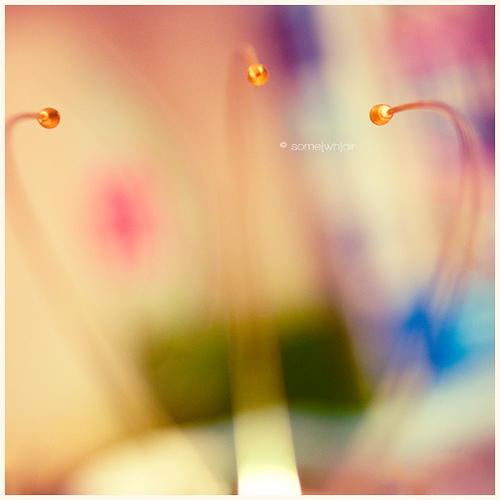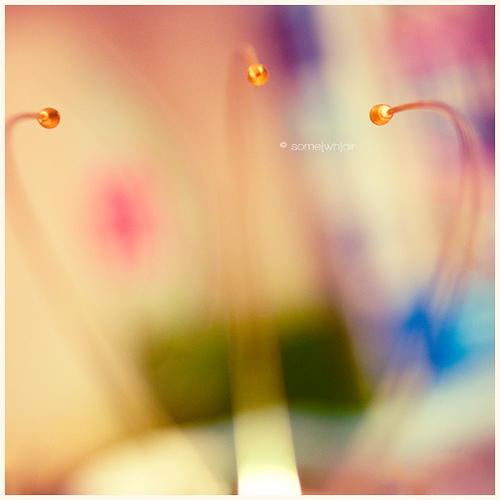 Watch
Even you're not a flower,
You make me smile as one.
And this is the most important.
Blogged
---
All Rights Reserved

© some[wh]air
© hantenshi
.
.
.
.
.
• My pictures are not stocks.
• You can not use this picture without my permission. For any use, send me a note or a mail to ask me.
• This picture may be posted on the others sites and blogs in follow conditions :
- Credit given to "some[wh]air", "hantenshi" or "hantenshi. deviantart. com"
- A link has to be placed in order to link back to the original picture
I am really bummed that I am using my bad monitor right now, because all those colors look so amazing. Such a lovely photo. The brilliant colors and different lines in the background make the photo more interesting, but the shallow depth of field ensures that the focal point(s) really stand out and that the background isn't too distracting. I like the fact that the left wire(?) is partially cut off, otherwise it may have been too symmetrical. It's pretty, fun, and whimsical. Your creativity really shows with this - definitely original. Very well done on such a unique and abstract photo.
The Artist thought this was FAIR
59 out of 60 deviants thought this was fair.