EDIT!!!
Updated reference for her below (yes I still use her xD)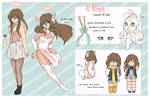 Note: Please do not use/trace/steal. I do not roleplay with her sorry!Name:
Fleur
Meaning:
Flower In French
Nicknames:
Bud, Noona/Unni, chère, ange
Grandmother and mother refer to her as bud. Fans often call her Noona/Unni. Jayce prefers to call her ma
chère or ange. (My dear/angel)
Gender:
Female
Age:
18
Nationality:
French
Hometown:
Born In Paris, grew up in Seoul,
Korean
Languages:
Fluent in Korean and French, though with French she has some trouble with certain words or slang. Knows little bits of English
Occupation:
Idol/Singer - currently on hiatus so she helps around her grandparents flower shop
Build:
5'4 dancer/lithe build
Hair:
Naturally brown, but underside of hair was bleached and dyed pink
Notable Traits:
Two moles under left eye
------------------------------------
Animal:
Dove
Kwami:
Belle
Miraculous:
Wing shaped earrings
Hero Alias:
Sae Blanc (White Bird) or Dove
Partner:
Crow (Jayce)
Miraculous Phrase:
"To the sky Belle!"
Weapons:
Fan that grows and shrinks in size, used to send enemies back or ride the wind for a short period of time
Miraculous PowersFeather Dance
Mimics ballerina moves, twirling and picking up speed causing feathers produced from fan to swirl around her. When released, the feathers shot off into all directions. Feathers will heal minor injuries of anyone they touch.
Recovery
Plucks a feather from her mask and sends it to ally in need. Heals major wounds (not fatal). If the ally holds a Miraculous it extends their power and allows them to use their Miraculous a second time. Can only be used once when transformed and severely drains her Miraculous.
Suit Powers
"bird bones"
Suit mimics the hollow bones of birds and makes her lighter then normal. This allows her to desent slower, jump higher, ride the wind (with her fan), and be quick on her feet. Since she becomes lighter, direct hits to her will harm her more and/or send her flying back.
Attack Style:
Not meant for offensive attacks, but more to stand of sidelines and provide aid to partner(s) when needed. Her moves resemble a dancer, able to twirl away from an attack. Her background of dancing makes her flexible enough to dodge a good number of attacks on short notice. If she lands a hit on an enemy they are not strong, so she sticks to using her fan to keep them at bay. She can use the wooden part of the fan to hit enemies.
Note:
While her Kwami/animal is a bird, she is not capable of flying or forming wings to fly.
-------------------------------------------


Side note:
Aside from her shoulders, her suit fully covers her body up to her neck (cause I know the pink is very much like skin tone color) When transformed the pink in her hair is hidden.
Finally finished my Miraculous Ladybug oc ; v ; I'll be drawing her a lot more in the future
Image details
Image size
1380x1350px 848.08 KB