List almost done

again I have to say it is great fun to work on these designs and with some luck everyone will see some new designs popping up soon.

Introduction,
As there have been several inquiries about me doing commissions I am once again open for commissions. As such I am writing a new journal highlighting the steps, prices and possibilities when it comes to requesting a commission.
It is also likely that there will be a waiting list which I will post here with status and when it is done. Obviously the people who commission me will be updated via the dA note system, which is also the main way of communicating when it comes to expressing ideas etc. The waiting list is basically endless, but of course the lower you are on it the longer you have to wait, first come and so on.
1 - Benne422: final image:
2 - Philbob82: final image:
3 - Seekhim: final image:
4 - Ryly: final image:
5 - Philbob82:
6 - thormemeson: final image.
7 - Lucario-Stl: final image.
8 - Veronw: final image:
9 - SeekhHim: sketch stage
10 - Philbob82: final image.
11 - Ares-N7: working out drawing.
How?
As stated contact and information about commissions can be done by using the note system. Here you can make a description of what you are looking for in the design, or add a reference sheet/links, and what kind of format it should be in (perspective, side view etc). After that I will contact you and after everything is sorted (idea wise) out will create a base drawing or sketch (1 to 2)
for approval. When the base is done the agreed amount of payment is to be send to my
paypal
account. When the payment is received the design will be finished.
When requested the piece of art can only be send to the person that commissioned it. So when requested I will not post it. If this is not an issue I will post a small resolution image of the commissioned art in my gallery.
What can be asked for: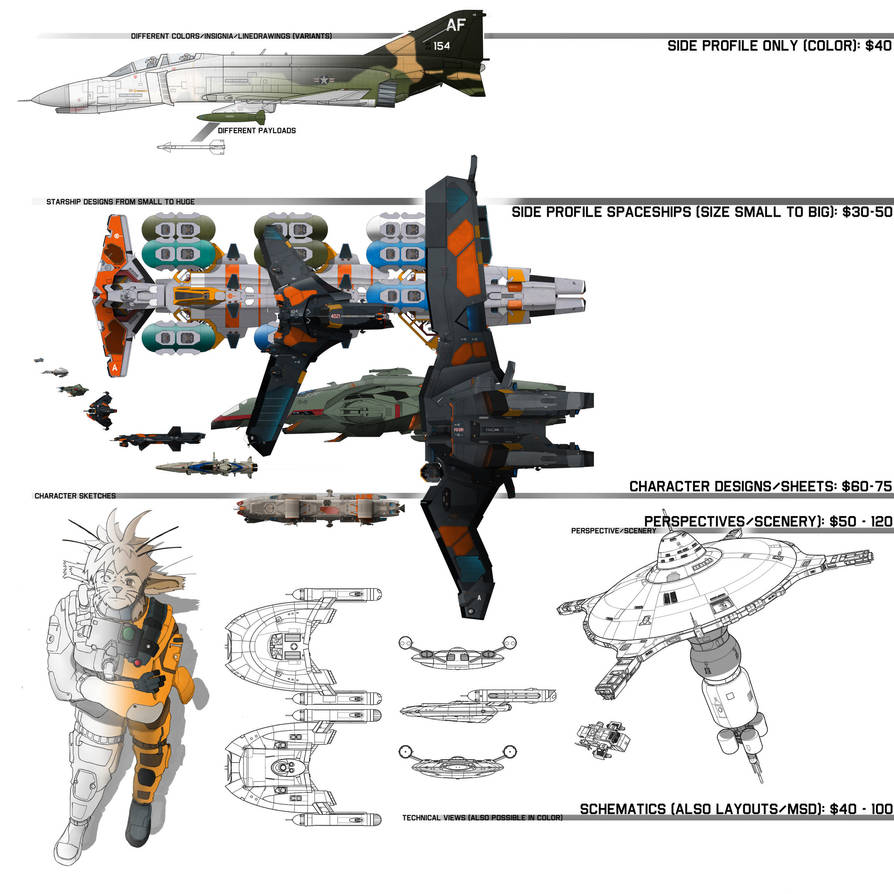 As seen in the prices in the above posted image, which only shows some of the art I made. the prices vary depending on what you want.
This mainly has to do with the color, size, details and so on. For a good sense of details I invite everyone to also take a look at my gallery and send an image link to show me what kind of detail you are looking for.
Again For other specialized designs or requests for formats this can be discussed via the note system.
For further samples feel free to check my gallery.
sincerely,
Handofmanos