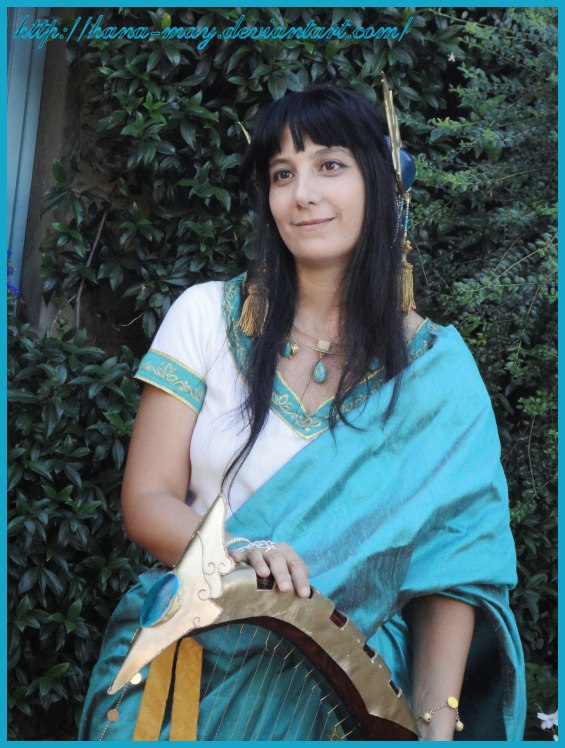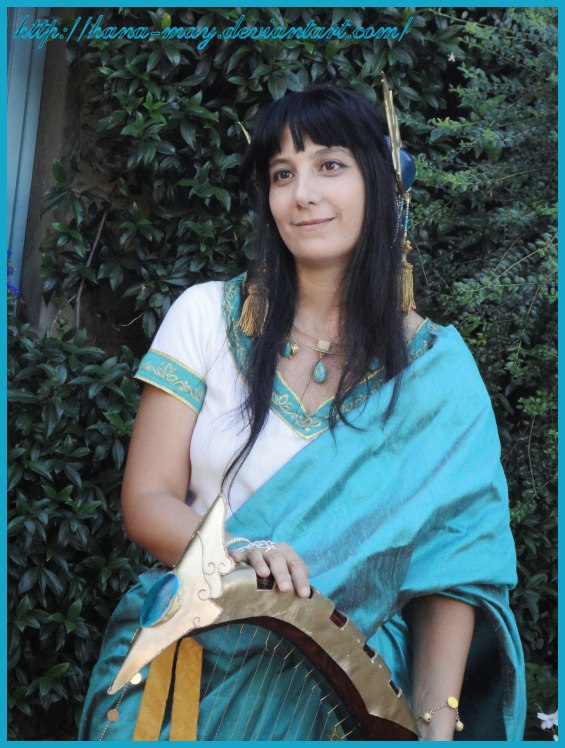 Watch
Rovistando nel mio HD ho trovato un'altra foto del Cosplay di Kendappa che stranamente mi piace.
Foto fatta durante la Festa dell'Unicorno a Vinci da... ehm... boh... o ~
suzaku3
oppure ~
Shu-Maat
non so di preciso.
Costume realizzato da me, ~
suzaku3
,
Kinnara
e dipinto da me e ~
Shu-Maat
, la stoffa è uno shantung di seta.
Scarpe dipinte da ~
Shu-Maat
.
Accessori fatti da me, resine da ~
Shu-Maat
e
Kinnara
.
Arpa realizzata da me, mio padre con l'aiuto di
Ahkan
.
Foto degli accessori e dell'arpa:
[link]
___________________________________________________
I found in my PC an other picture of my Kendappa-Oh cosplay. Photo taken in Vinci (Florence) at the convention 'Festa dell'Unicorno' by... I don't now... maybe ~
suzaku3
or ~
Shu-Maat
.
Costume made by me, ~
suzaku3
,
Kinnara
and painted by me and ~
Shu-Maat
. The sari is made from scratch in Indian silk shantung
Shoes painted by ~
Shu-Maat
.
Accessories made by me, resin by ~
Shu-Maat
and
Kinnara
.
Harp made by me, my father with
Ahkan
's help.
Kendappa-Oh accessories and harp
[link]

Hai fatto benissimo a recuperare questa foto, è davvero bella. Facevi dei sorrisi particolari, che io e Harriet ci affannavamo a cogliere

anzi, prossimamente devi concentrarti ancora di più su quest'aspetto, sui sorrisi bastardamente eleganti. Non vedo davvero l'ora che riporterai questo costume, non mi stancherò mai di dire quanto fosse un vero gioiello.
Reply

Voi siete troppo buone!!


Si, come oramai ti ho già ripetuto settemila volte, anch'io non vedo l'ora di rimettermi questo costume è stato fin troppo nell'armadio.
GRAZIE ancora per tutto perchè se questo cosplay è in piedi è merito tuo.
Reply

Oooohhh, ma è una foto bellissima!!!

Sei proprio venuta con uno bellissimo sorriso, così da Kendappa, poi, che nonostante sia quella che sappiamo sia, riesce ad assumere delle espressioni così angeliche e amabili!
Ogni occasione è buona per ricoprire te e voi tutte per lo splendido lavoro con questo costume, i suoi accessori e la cura certosina per ogni dettaglio!



(spero tu continui a ripescarne di nuove sistemando i dati del pc, è sempre una gioia vederne!

Quando lo riporterai??)
Reply

GRAZIEEEEEE!! Anche tu fai parte del club delle troppo buone, non mi merito tanto!!

Sul PC mi sa che non c'è molto altro di decente...

Spero di riportarlo a breve a una gara fra un mesetto, o almeno quelle sono le intenzioni. Ho proprio voglia di ri-vestirmi da Kendappa.


Reply

bellina sta foto!. adoro i ricami sul vestito **
Reply

Grazie mille!!

Quei "ricami" sono stati una vera e propria intuizione, a volte decifrare i disegni delle Clamp è un'impresa, felice che ti piacciano. ^_^
Reply

very pretty cosplay n____n
Reply

Thanks so much for your kind comment, I'm happy you like it. ^_^
Reply

Reply