Back in December, I was allowed to announce that I had contributed conceptual fractal images for the Marvel film, "Guardians of the Galaxy Vol 2". Since then Marvel has released two short trailers and one full length trailer from the film. I just wanted to share a few new screen grabs of some of the fractal imagery.
I do want to stress that I only supplied fractal images and some models as concepts. I had no input what so ever on how the imagery was used, and for the most part any fractal imagery you see in the film has been further 'conceptualized' by other artists. For instance, a scene that shows fractal elements will most likely have been constructed from parts or pieces of many different fractal images I sent rather than a standalone fractal image.
I am of course proud to have contributed Mandelbulb 3D fractal imagery for the film, and that it has an important impact in some of the scenes. But a significant portion of the credit also has to be given to the professional concept artists that further developed the imagery into amazing scenes and structures, as well as the Visual Effects companies that bring some of it to life.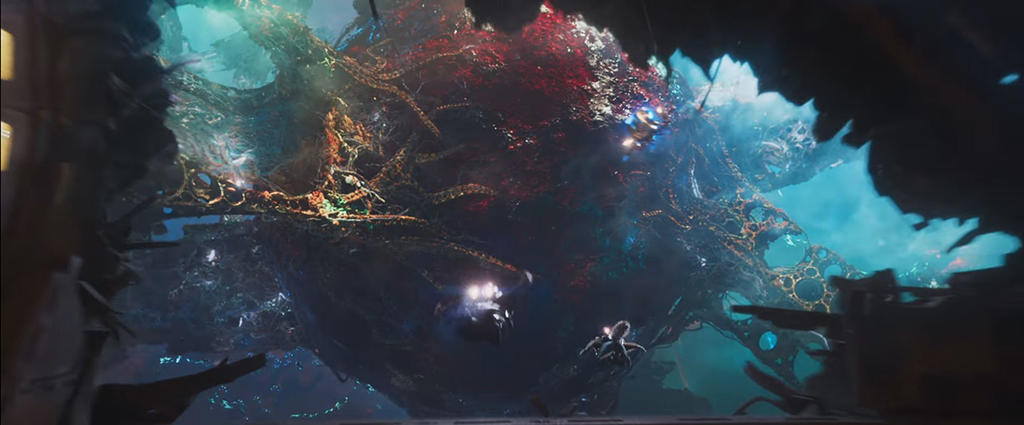 In the above image, Peter Quill (Star Lord) and Rocket look to be jetpacking into battle. Baby Groot is actually on Rockets shoulder, unseen in this image. Whatever it is they are flying toward is based in part on fractal imagery.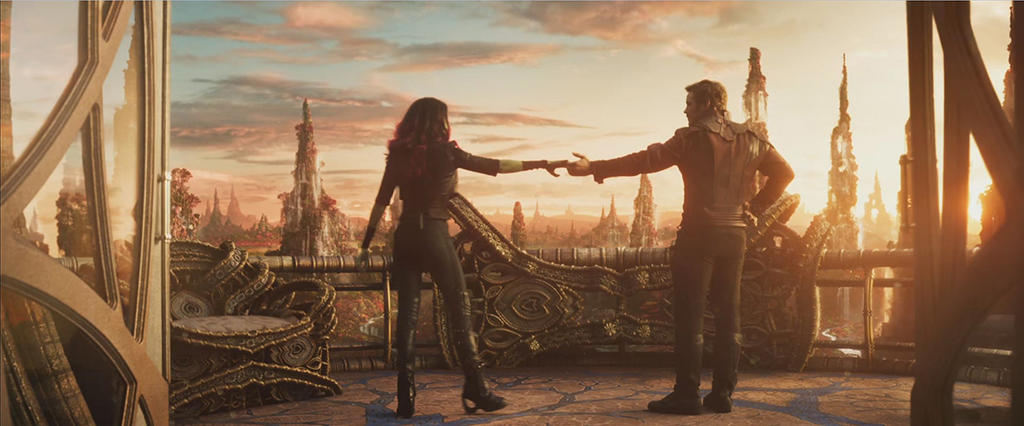 Above is Peter Quill and Gamora on a balcony or patio or something. The railing and chair are based on fractal imagery. The floor is also based on a 2d Fractal Explorer image of mine.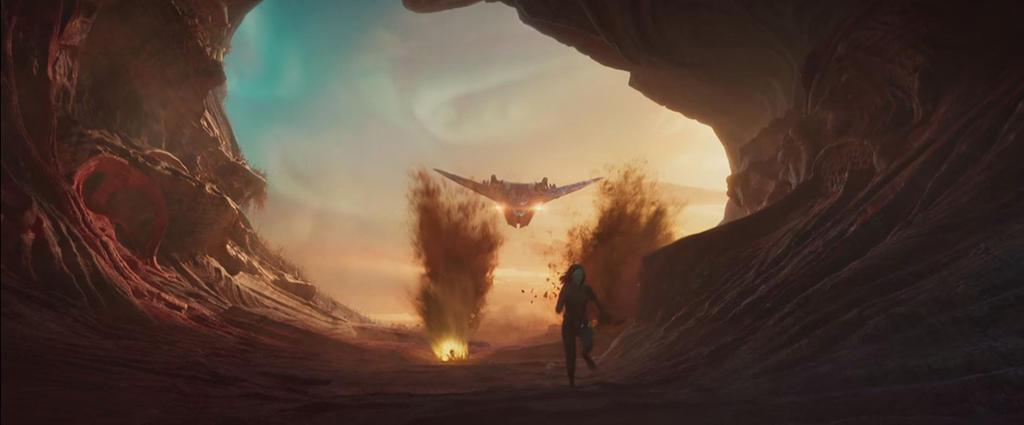 Above image Shows Gamora being chased inside the mouth of a cave or tunnel by a Ravager ship maybe? On each side of the mouth of the tunnel is some fractal imagery.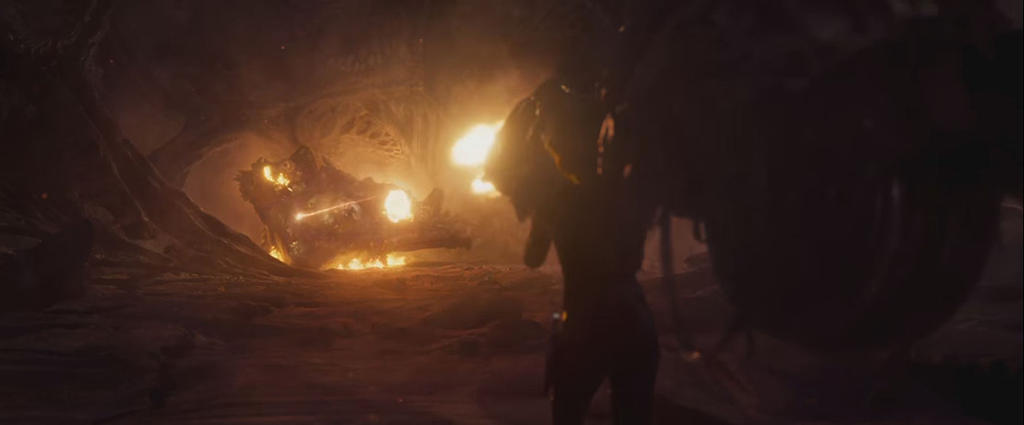 In the image above, it looks like Gamora is shooting her big gun at the remains of the ship that was chasing her. I think the entire inside of the tunnel is based on fractal imagery.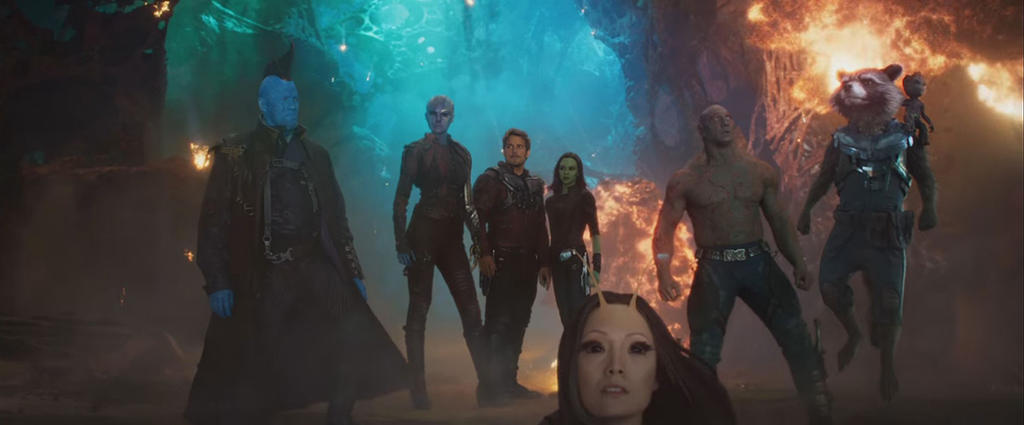 Above is the entire crew inside the tunnel or cavern, which also appears to be entirely fractal based.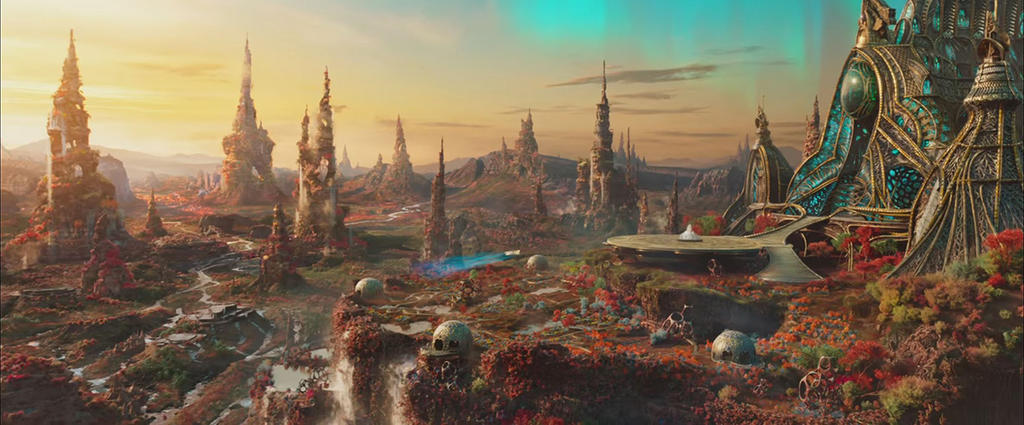 In the gorgeous image above, the structure on the right was constructed from or based on many parts of different fractal images I had sent. It's also possible the round domes are based on fractal work, but it's difficult to tell in this image.
So that's it for now. Only two more months until the movie comes out. I loved the first Guardians film, and would be hyped to see Vol 2 even if I hadn't been involved. My name should be listed in the credits somewhere way down at the bottom of the art department crew list. (I know a lot of people don't stay to watch the credits, but I will

)
All images belong to Marvel. Guardians of the Galaxy Vol 2 will be released May 5, 2017.