I was just looking for something to do, and though it might be interesting for some of you see the work flow process I went through for a fractal yesterday. This is not a tutorial. It's just a visual representation of my searching for something that I hoped would be interesting, and if I got lucky, something unique as well. I'm not saying I accomplished either of those goals, but I like where I ended up, and in the process saved many parameters that could be further developed and possibly become worth posting at some point in time.
I decided to start with the formula ABoxModKali, as I have seen Tim, (aka
timemit
) using it a lot lately. I've used it before, but rarely started out with it as the anchor formula. (Fo.1) Played with it alone for a few minutes, with and without Julia, and then added _addC in Fo.2. I thought the first image below would be a good staring point and it was my first saved parameter. A lot of the time, I work with no color because it can be distracting. In the second image I added _Rotate in Fo.3. Once I get more than two formulas going, I often turn them on and off to check the impact on the image. So these images maintain the 'Kali' structure look, but also take on an organic twist...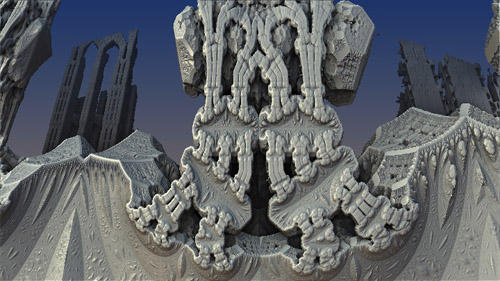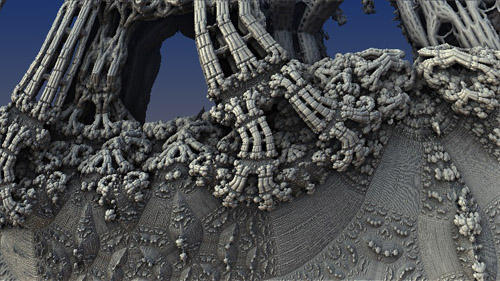 First image below is still 3 formulas, no Julia. I liked the spaghetti tangles and bent towers. I tried to develop the cauliflower shape between the towers into something more interesting and failed. Played with it a while and then added another formula in Fo.4, _Translate. I often use _Translate and _addC together. So the second image below was shaping up, I added color and depth settings and almost stopped there. But what the hell, it was still early and I thought I might as well see what else there was to find...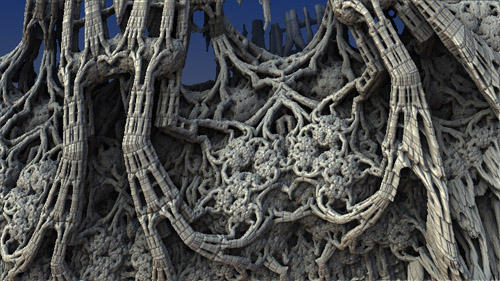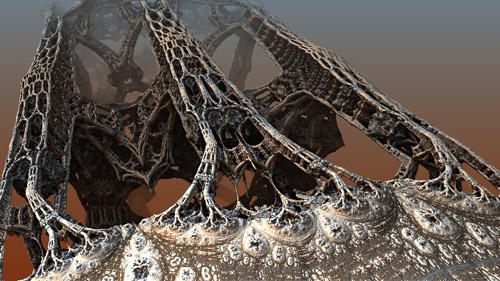 The more I play, the more formulas I add. It's a character flaw I'm totally unable to overcome. I hate to think what trouble I could get into if there were more formula slots... Now we have _RotatedFolding in Fo.5. Julia is still off. I liked the first image because the towers terminate into a sort of mushroom shape, and in the upper left section, we have some chaotic things going on. Also worth mentioning, it was at this point I began to consider doing the a to z evolution journal, so I was forced to keep going.

I was in full tweak mode now. The second image below, I chased the tree branch look a bit. As I tweak, I still turn formulas on and off to check impact. Once I make a change to variables in one formula, I go back and adjust all variables in all formulas. You never know what you will find...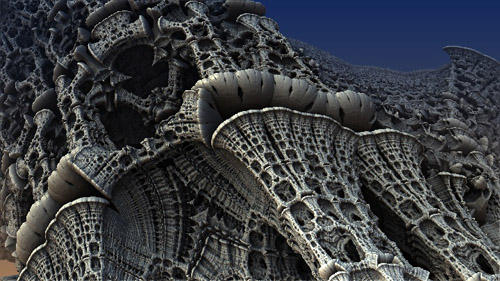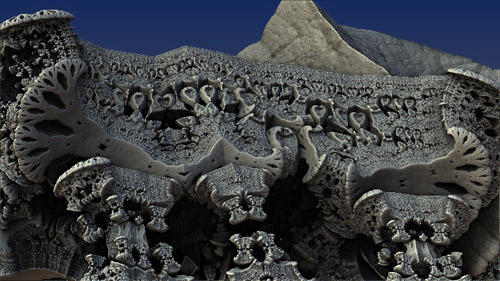 Below I just chased the tree or root shape a little, but to me they started to look a little plain or normal. I began to totally loose the 'Kali' structure look which was what my original goal was. As you will see in the next set of images, I decided to back up and reload a previous save and continue...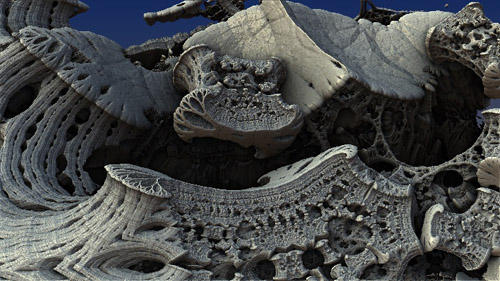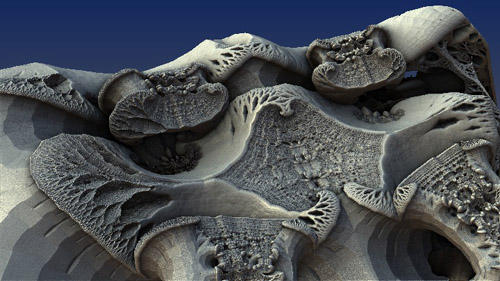 Now we're back to a more structured look. For most of this set of images, I have been zoomed out pretty much. I also forgot to mention that I reduced the DEstop to 0.5 to get more detail. This particular formula combination renders fairly fast and smooth with a raystep multiplier setting of 0.3. I should also mention that these images aren't the only preview renders I did. But they are the ones I saved. The first image below I liked for the tower in the cave look. The second image is more like towers on a cliff and probably has some nice zoomable areas... Still nothing that really floats my boat though...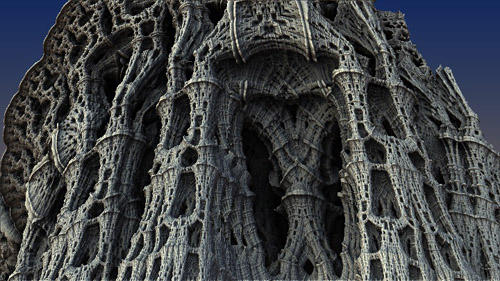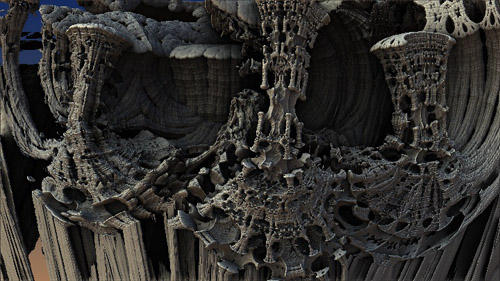 Still looking for something to grab my interest. In the first image below, I turned off the _Translate and _addc formulas. You can see they had some impact if compared to the top right image above, but not much. In the second image below, I turned on Julia. So now we have ABoxModKali, _Rotate and _RotatedFolding with Julia.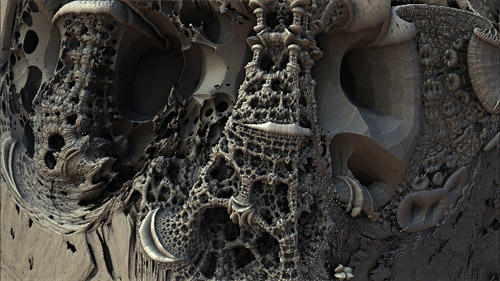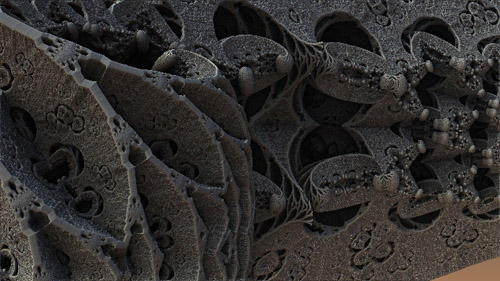 I like both images below, thought they are radically different than where I started. Some neat things worth pursuing I think. Both use ABoxModKali, _Rotate and _RotatedFolding with Julia. I believe it has become harder chasing the tower look with this combination, but I'm trudging on to see what comes of it all. Some minor adjustments, color, V lights and or fog and these could be postable... Just not what I'm looking for right now.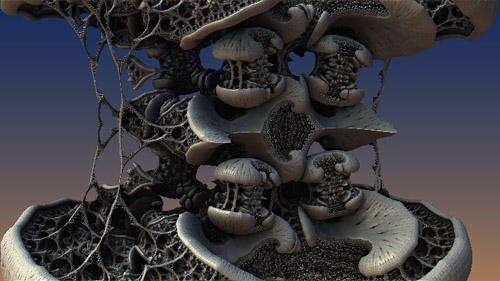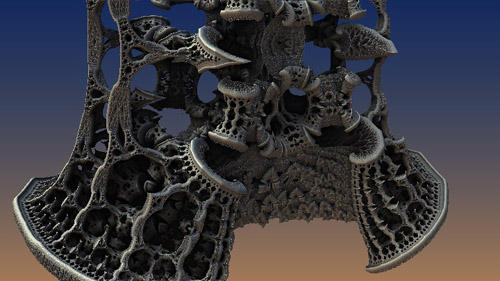 Now I'm getting a little impatient and decide to let my dark side free for a moment. Even though my intentions were to stay with ABoxModKali in Fo.1, I wanted to experiment a bit. So the images below have AmazingSurf as Fo.1 instead, followed by ABoxModKali, _Rotate and _RotatedFolding with Julia. Again some interesting things, but the tower structures are pretty much history. Of the two below, I like the second one better. Who doesn't like shrooms?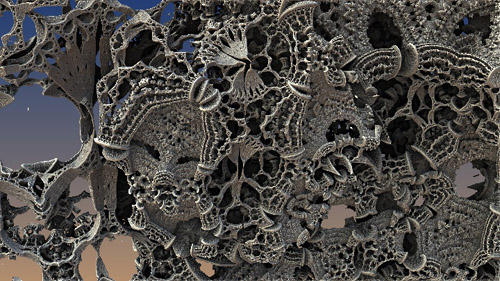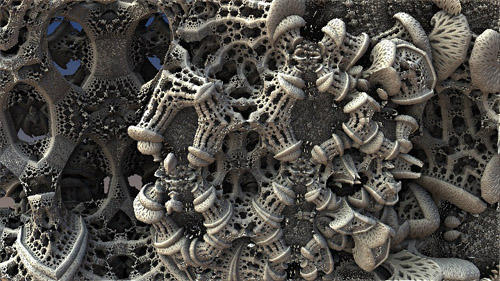 In images below, I turned the _Translate formula back on. So now we have AmazingSurf , ABoxModKali, _Rotate, _RotatedFolding and _Translate with Julia on. There's something I really liked about the first image, I don't know for sure what it is. It's like some sort of order out of chaos, something growing out of nothing... Certainly not ground breaking in any way, but I like it never the less.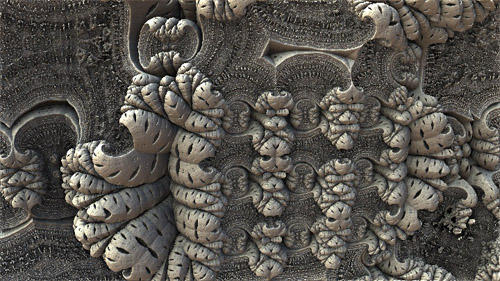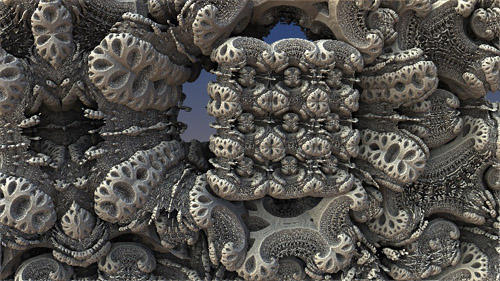 Same formula combo as above. I think I'm kind of losing my way here. I did like the leaf like patterns in the second image below though. I chased them for a while and gave up... And now I am running out of letters so I had to decide which of the previous images to pursue.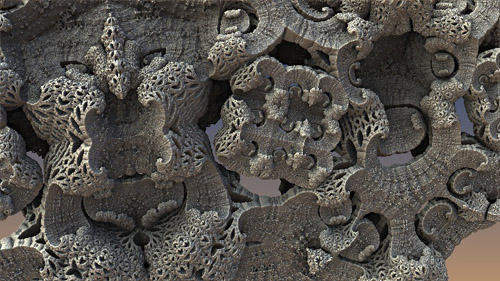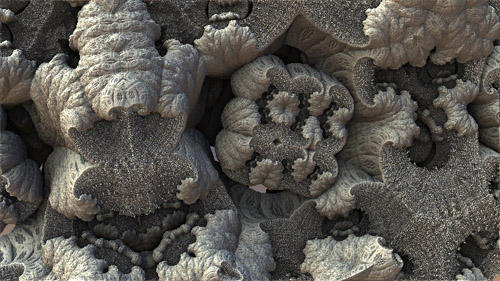 As I mentioned before, I have a tendency to stack formulas, and you can see how it led away from the original shapes I was chasing at the start. So I went back to using only ABoxModKali in Fo.1 and _addC in Fo.2 with Julia off. In the first image below, I really liked how the bottom of the tower structures curved around like they were grabbing onto the ground rather than just placed on top of the ground. But I also wanted more a sense of height. In the second image I rotated it somewhat and thinned the towers down. I really liked the tower in the background leaning back like and off in the distance... The second image is postable as is in my opinion. I think it has a lot of character even though it's all grey.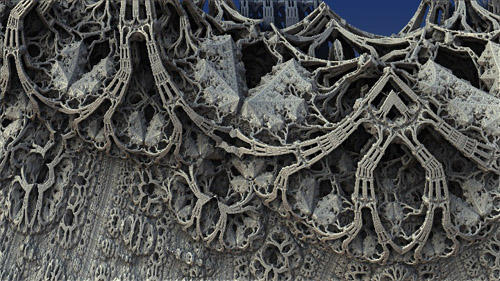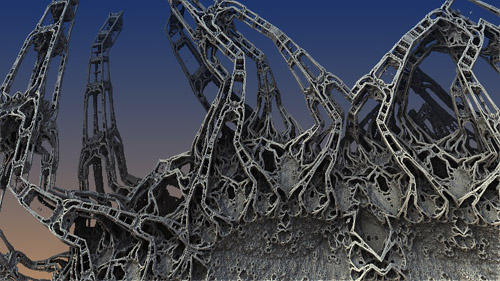 Still undecided at this point so I kept playing in the first image below. I think it has potential but I was looking for a more tortured structure, something that looked damaged. So I went back to the top right image above and adjusted the zoom and rotation a little. The second image below definitely has the tortured, damaged look and a good sense of height that can be taken advantage of using fog, depth and volumetric light settings. Next up some color and a bit more play time selecting a good view.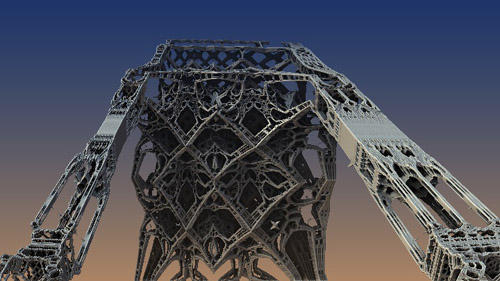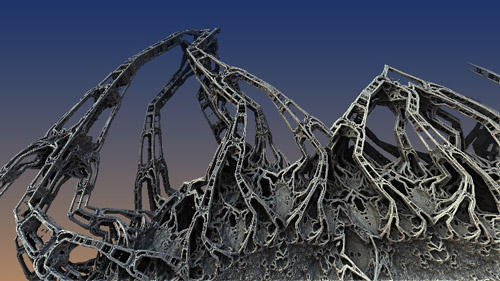 The first image below (keeping to the a to z theme) is the letter Y, and the second is the letter Z. While both are the same style, they are a good bit different from each other. I can't remember exactly, but I think I only rotated the first image to the west and maybe adjusted the zoom a bit. Once I did that, I liked the tower shape on the right of the second image, so in the last two images on the bottom, I zoomed and rotated some more and played with the fog settings.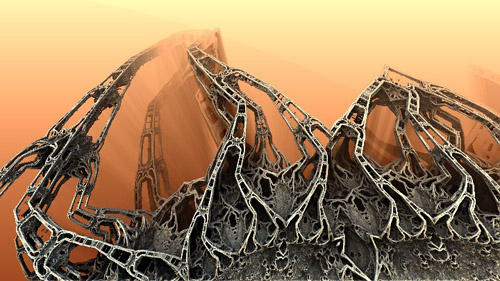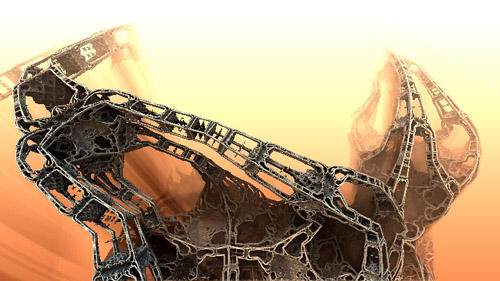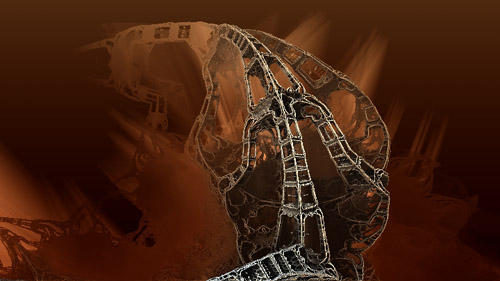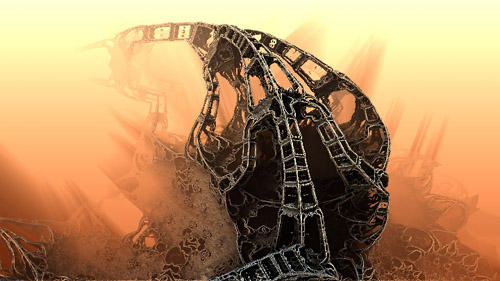 So that's it. As far as time spent, I probably spent around five or six hours fractaling yesterday, though not all in one sitting. I'm still undecided on which of the four above I'll post, but probably the first and last for sure, and maybe the top right one too. This is a case where all three of those are similar enough where it might be better to post them on different days, or weeks apart, or even months. Hope you all like my little trip looking for a nice piece to share...