Pryce walked through the Living Room Resident Mall carrying a doggy bag from her favourite restaurant. It was a very long trip from the Bedroom Resident Mall, and even further from her own shoebox apartment, but it was always well worth the trip.
As she was passing the calender she overheard a couple of casually dressed girls who were talking excitedly in front of it, occasionally pointing at it. Pryce was barely as tall as their middle thigh, so they towered above her. She kept a bit of distance in case they took off suddenly. She stopped in her tracks however when she heard something frightening, it was Haile's birthday today. She whipped around and followed a dainty outstretched arm up to the calendar and yep, it was September 28th. Her jaw dropped and dread filled her, she had forgot. She was late.
Pryce took off to the trolley, the fastest way to get from mall to mall, and as luck would have it, it had just left the station. It was far too big and fast for her to catch it so she would have to wait. She sat on the bench and stewed, visibly worrying. Sarah was going to be here, most assuredly. And nothing was set up. With any luck, Haile would still be out shopping. Maybe there was still time.
The shuttles run a circuit that takes them an hour to return to their first station, but with there being plenty of trolleys she only had to wait for ten minutes before the next arrived. She waited patiently as a gaggle of giggling girls gathered and got on. She sat in the front, almost out of sight.
Pryce waited for the trolley to arrive at the next destination and jumped off as soon as it did. She wasn't fast enough, and the long legs and oblivious feet of the giant girls behind her caught up and jostled her. Skinny legs brushed up against her and jostled her around until the last one caught her clean in the back and sent her sprawling. She received an apology from the blonde. Pryce growled.
She hurried across the abandoned floor of the bedroom. Usually a dangerous place to linger as Haile's feet were far less forgiving than a random resident's. She ascended the elevator that took her up to the apartment and went inside, dropping off her lunch and checking up on her emails. Yep, there it was, a reminder that today was Haile's birthday and she needed to get the studio harness ready to go. She swore, that would take ages.
As she got up to put on her tool belt she heard something that stopped her in her tracks. The key to the box was sliding into place. The locking tumbler rumbled and the ceiling swung away as Haile pulled the roof off the box. She looked a little pensive.
"Hey," Haile said in greeting. Her Amaranthine Eyes betrayed no ill intentions. Maybe she had got off Scott free.
Pryce turned and waved up at Haile cheerfully. "Happy birthday!" She said happily, hoping against all hope it would catch her off guard.
It didn't work. "So the Studio isn't ready to go…" Haile started.
Pryce blanched, then recovered marvelously. "O-oh? Do you need it for something?"
"Well, yeah. Gotta record a new video today. After all, there's cake to be eaten!" Haile grinned, her metallic braces glinted in the light of her computer's monitor.
"Oh, I love cake. What flavour is it?"
"Cheerleader." Haile said slyly. "But don't change the subject, you're not getting away with that this time." Haile said more sternly.
"Get away with what? I wouldn't…" Pryce started but was cut short. Haile's fingers appeared and even though she tried to bolt for cover, Haile scooped the tiny girl up. "H-hey now, let's talk about this."
"Nope." Haile said with a smirk. "I guess I gotta do it all myself and you're just gonna have to come up with something even more exciting."
Pryce thought this might be a good escape route, and took it. "Oh yes, I was thinking a trip to a football stadium would be…" But she was interrupted.
"You'll have plenty of time to hammer out the details." Haile said, and opened her mouth. Pryce tried to say something but was drown out by Haile's roaring breath as she was inserted into the giant wet maw. It closed behind her and the fingers withdrew. She raced for the lip but was caught between them as they sealed her inside. Her hand grasped at the free air outside, the only sign of where she was.
She was definitely going to have some time to think, if she could keep herself from drowning that is.


----------------------------------------------------------------------------------------------------------------------------------------------------------------------------------------------------------
My birthday was recently and

made a picture for me! You should go check it out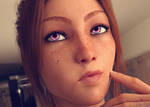 ! I couldn't help but write something cute for it. ^.^