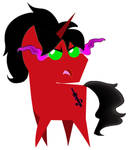 Inspiration seems to have taken a breather this week as I continued to review my story
Frozen Shadows
to refamiliarize myself with that neck of the Chronicles of King Sombra universe again. I was hoping the roll I was on would carry through to the next story, but I didn't get a chance to discuss the story w/
Dennis Amador Cherry
, so couldn't get a chapter together in time.
Come join us on the livecast today on Picarto TV where my followers (dubbed "stalkers") and I hang out, watch weird pony 'tubes, talk about our stories, critique, give friendly advice and catch up with the past week's nonsense. We are a little King Sombra crazy, but do talk about other ponies and will laud your interests along with our own, so don't be shy.
Today might be a shorter-than-usual chat as I have a massive website client account I am prepping to go live tonight at midnight, so anyone with a few minutes to spare, come blow them with us. We'd love to see you, as always.
12:00 noon Pacific Time on our channel on PicartoTV -
picarto.tv/HailKingSombra