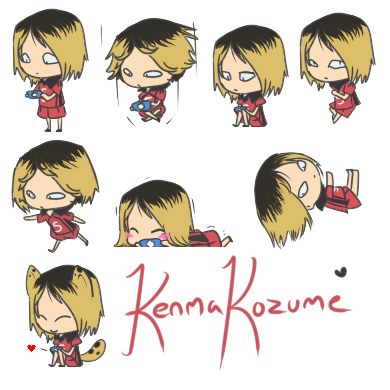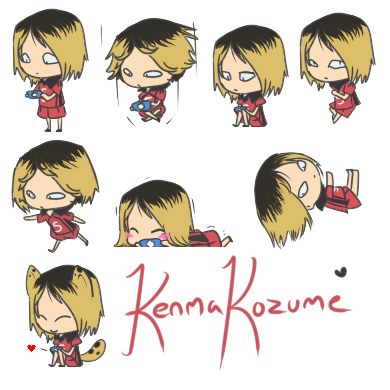 Hey guys! It's been awhile since we've done Shimeji's, but we're back at it, with Kenma up first! Shimeji's are interactive animations along your desktop that can play with you, your cursor, and your browsers! Instructions will be below the cut, and there is a video guide here!
Here is the download link for your own Desktop Kenma :
drive.google.com/file/d/0ByMMD…
INSTRUCTIONS:

Click Link
Click Download
Open Download when done
Double click 'Kenma Kozume' Folder
Double click Application file 'Shimeji'
Extract all to a location of your choice
Double click 'Kenma Kozume' Folder
Double Click 'Shimeji.ee' Executable Jar File

KENMA FROM THE SKY!!

**If you're having problems, make sure you've extracted the files and that your java is up to date. Our shimeji programming is NOT compatible with Apple/Mac, however, there is a tutorial HERE for Mac users to convert ANY Shimeji file, not just ours! If you Dismiss all and the Shimeji's button disappears from the tray, You can always go into this folder and click Shimeji.ee to drop a new Shimeji

FEATURES:

Kenma can jump on most browsers (Internet Explorer, Google Chrome, Firefox), Your Skype, and in his settings you can add or remove interactive windows.

He can pull himself out of his hair as flan or out of a box of kittens!

He can sit and play his game and even sprout kitten ears!

He can climb both sides of your desktop and browsers and also the ceiling (Watch out for falling Kenma's!)

He can inch worm along the bottom of your desktop or the top of your browser.
He may even jump up and grab your cursor.

BE CAREFUL LEAVING WINDOWS UNATTENDED!!

If Kenma gets ahold of it he will set it off the screen!!

Right click on the Shimeji to make another, to dismiss it, or to make it perform a function. In the bottom right corner of your screen a little '5′ icon should be in your tray. You can edit settings from there as well.
and I think that's about it. We really hope you enjoy this, we worked incredibly hard on it, and want everyone to be able to play with Mini Kenma's!!

IF YOU HAVE ANY PROBLEMS, PLEASE PLEASE PLEEEAAASE FEEL FREE TO MESSAGE US ON OUR TUMBLR, If-You-Wanted-Soft-Serve! We will do whatever we can!!