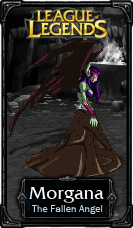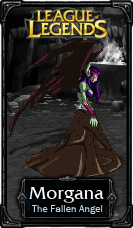 Watch
Morgana updated, fixed some minor things
Bueno, este es un regalito para

Como me dijiste que Morgana es tu favorita, decidí hacerla, espero que te guste. Además estás haciendo trabajos muy buenos, y creo que merecés algo más que comentarios y favs

Estoy conforme con el resultado, espero que vos también

Sprite done from scratch editing from 3D model.
If you wanna use, send me a note, asking for permision

Here you can see this sprite in League of Legends Forum
Morgana from League of Legends ©

Está muy ansdkalndqwindask me encanta *¬*
Reply

The shading on her skin seems a bit too harsh and contrasting compared to the shading on your other sprites.

Other than that, she looks wonderful!
Reply

Thanks, I know, I tried to don't put so many brights like I always do because the CVS style isn't very detailed. BTW, thanks for your comment

Reply

Oh dang, so many women here.
Reply

IAAAAAAAAAAAAHHHHHHHH!!!!!!!!!!!!!!!!!!!!!!!!!!!!!!!!!!!!!!!!!!!! */////////////*!!!!!!!!!!!!!!!!! Me encantaaaaaaaaaaaaaaaaaaaaaaaaaaaaaaaaa"!!!!!!! me encanta porque ya sabes que me encanta como haces estas cositas *w* y me encanta aun mas porque es Morgana!! y me encanta aun mas mas maaass!! porque te has acordado de miiiiiiiiiiiiiiiiiiiii!!!!! >///////////< muchisimas gracias Hadeeeeeeeeeeeeeeeeeeeeeessss!!!!










ains que ilusiooon!!!!

Reply

De nada, un placer, me alegro que te haya gustado tanto! Nunca leí tantos "encanta"


!
Reply

me encantan tus sprites :3
Reply