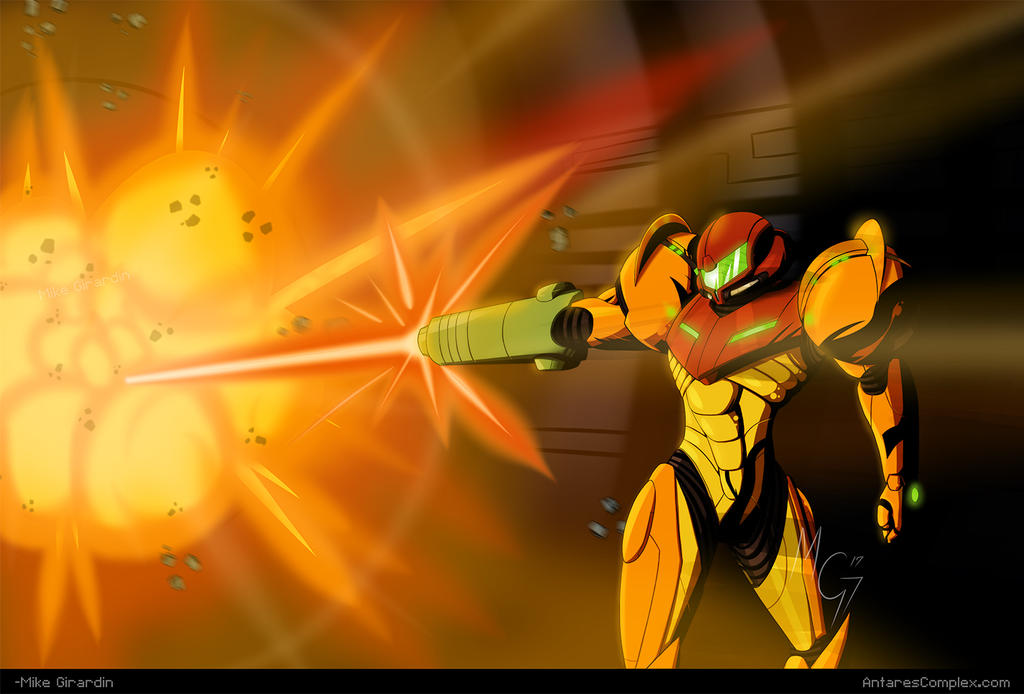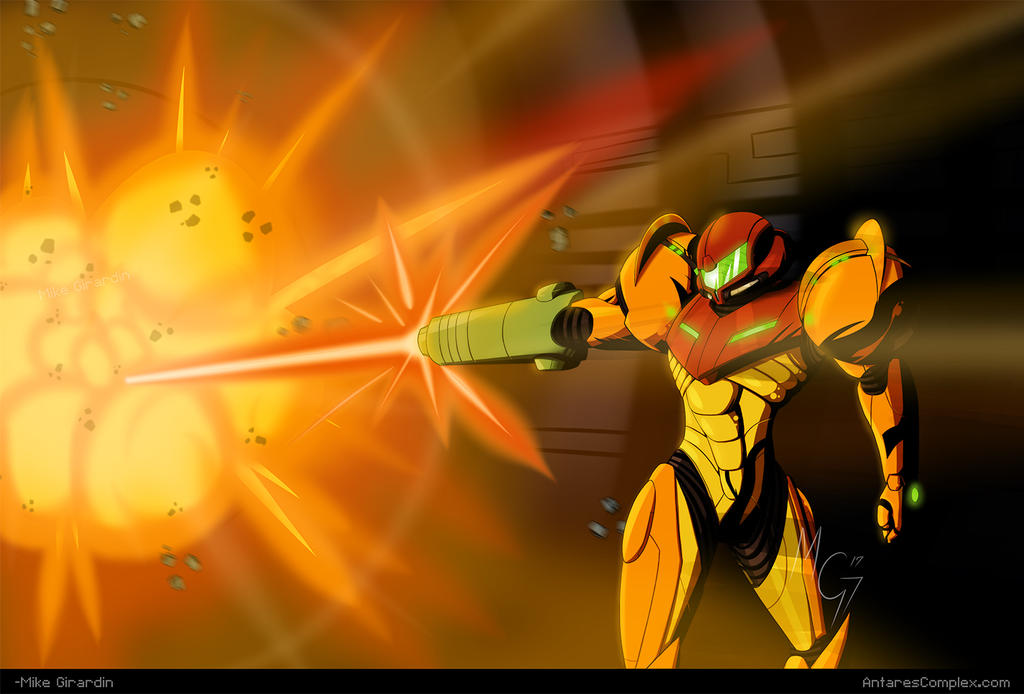 Watch
Some Metroid fanart! BOOM. Supporters on Patreon got to see this right when Samus Returns came out on the 3DS, thanks for the support~!

Wanted to go for something a bit different and I finally committed to doing some thick black shadows. I think it really added to Samus looking badass in her Varia suit. Love the series way too much NOT to do some fanart of it. Got hooked with Prime & Fusion, stuck around for the rest. Samus Returns was pretty awesome too!
Clip Studio Paint
My twitter:
twitter.com/Gx3RComics
My webcomic:
www.antarescomplex.com
Characters © Nintendo
Art by Mike Girardin
To anyone who's interested in supporting my work, I've started a Patreon:
Click here if you want to support me via Patreon!

Reply

Fantastic work! The shadows do make Samus more awesome and bada%$ here! I'm adding this to my favorites.
Oh
YEAH
, I loved that part in
Samus Returns
! Samus probably felt the way I felt when beating that boss (
"Yeah, no. Screw you, I'm done"
). I think that boss was the hardest in the game (as in I had to look up a walkthrough to figure out how to beat it after several game overs). But when I
finally
conquered that bot, it was so satisfying! My favorite boss is the final boss though. It wasn't that hard (I only died once due to a stupid mistake), but by golly was it
fun
! It's the boss I
enjoyed
fighting the most, and that's a win for me

.
My only
Metroid
games as of now are
Super Metroid
and
Samus Returns
. I want to give
Metroid Prime
a try. I don't have a GBA, so
Fusion's
a no-go unless they release it for Virtual Console.
Reply

Hey thanks! Yeah they were a bit of an experiment I always wanted to do and hope to do more of. I'm glad you like it.

Oh that thing was awful. I didn't understand exactly what they wanted, I'm not sure it was hard in a good way but when it was done, fffffreaking done. BOOM.
Indeed! The final boss was heck of a thing, but I think there was something really enticing to the hunt for the metroids, even if they were a bit same-y ...it was different to be the hunter like this.

Prime is great, the GBA ones are my favorite 2D titles whiiiich does make some fans upset but, whatever I love 'em. If you can nab them, they're worth a play through. Fusion is the only 2D game to scare the hell out of me and Zero Mission....iiiiiss soooo gooood. <3
Reply

My pleasure

. Well, I say your experiment payed off.
It's funny how people say that hand-holding is games is overdone and bad (possibly even insulting to gamers' intelligence), but then you have a game like this where things aren't as obvious but incredibly frustrating to say the least. I guess it comes down to balance. You don't want a constant tutorial or obvious hit-boxes ("hit this big red button please!"), but you want something that you could figure out on your own in a timely manner. It also depends on the game too. But I agree, defeating the boss was so satisfying. I was so happy to get this robot out of my life once and for all!
When you're talking about the metroid hunt, are you referring to the part before the baby metroid? It's funny because I hadn't really played a Metroid game aside from
Super
, so I didn't know how to beat those things (I froze it, but didn't know you had to use super missiles and only super missiles). I had to look up a walkthrough to figure it out (yeah, I'm a noob, but you gotta start somewhere

). But it was still fun, and the baby Metroid scene was amazing. Not only was the baby adorable, but I liked how we got some great character development and emotions from Samus without a single line of dialogue, or even facial expressions. Beautiful and effective instance of "show-don't-tell."
The thing I also liked about the final boss was the sound design (his roar was vicious!), the setting in the storm and the music. It was just all around awesome!
I have a Wii, so I should spring for the original
Prime
trilogy sometime. Here's hoping the upcoming
Metroid Prime 4
will be good

. Yeah, I've heard that
Metroid Fusion
was particularly creepy with SA-X and the Nightmare.
Just for fun, what do you want out of
Metroid Prime 4
? If you could imagine the near-perfect
Prime
game and it became
Prime 4
, what would it be like?
Reply

Awesome, I'll be posting another version of this pic soon, which I'm sure you can guess the obvious.

I think there's just some weird dislike of linear gameplay which ...I don't understand since open world is fine and let's you screw around a bunch but in the end it can't have the same narrative progression and pacing. They're both fun but man there's just a lotta hate.

I mean more that you're hunting metroids down, that's the mission Before it was more different objectives but this is a straight up bug hunt (to quote Hutson). Fair enough, I started with Prime and Fusion so given the scan system gives a decent tip to ice and they didn't die to that, only one other thing to do. Eat missile!

I'm not sure I got much emotion from that, others agree with you I've seen but, I mean she hands it off to the Federation so I saw it more like "well, alright then, maybe you can be useful!" Which is a smart thing to do given they're engi-....I don't wanna spoil anything :V

Prime trilogy holds it's value, sadly only got a cheaper digital release on the WiiU. But it'll be worth it when you get it I think.

Considering how long it's been since the Prime games and how awful Other M was, I think, or rather I'd hope they have exploration first, combat second and story intermixed. Some may dislike the scanning but given that it was optional and allowed the player to explore the narrative at their own pace/will I think it's a mechanic that should return. If they can just expand on Prime 1 and 3's gameplay and come up with something that pushes that but more? I'd be happy as heck. ...Oh yeah, suit has gotta have a nice big weighty feel. When she lands you gotta get that THUD so you know it's 500 tons of Power Suit coming to crush Space Pirate skulls :V

I can't say too much since I don't want to spoil but, Prime is a great series that fits right into the Metroid series as a whole.
Reply

When it comes to gameplay, I think people want freedom in how they play. For example, compare
New Super Mario Bros. Wii
to
Super Mario World
. They're both similar, but
World
felt like there were more secrets to discover and other ways one could complete a level.
Mario Wii
had that too, but not to the same extent. So I can understand why people wouldn't care for linear gameplay. They want to explore. They want to discover. As for me, I like to explore too, but I don't mind linear gameplay either. For me, there should be a balance. I felt that
Super Mario World
struck that balance very well.
Oh yeah, I remember hunting the metroids down! That was a lot of fun. I found it hard at first, but incredibly satisfying whenever I bagged a metroid. It was so cool!
As for the emotion thing, different strokes for different folks

. I dunno, maybe it's a bit of both. I get the impression that a small sort of bond developed between the two, even if there were ulterior motives. To me, that makes the relationship and Samus' character more complex, and I love stuff like that!
Yeah, a lot of people really want the theme of exploration and isolation to return to the Metroid franchise, and I'd like the same. I felt that
Samus Returns
did a pretty good job at that. It's a shame about
Other M
, because a lot of people seem to think that there were really cool ideas there. The problem was the execution and writing. I wonder if a 1st person/3rd person
Metroid Prime
would work. Should it stay strictly 1st person, or do you think they could change it up a bit without causing
Other M
flashbacks?
And yeah, heavy suits for heavy action would be really cool!
Reply

Possible, I'm not huge into Mario but I've played a bunch of his games. Seems the level freedom came back in a big way with Mario Odyssey vs Mario 3D World. I'd say I had the same feeling with Sonic 4, a really trashy VERY linear game then Sonic Mania with different level paths/gimmicks and so good music.

Yeah, that's what I mean, it was very different having that kinda objective hunting down the Metroids in the Samus Returns. Super satisfying.

True enough, who knows how she felt. Which is why I like the games that keep her silent as it can let you assume or make her more mysterious. Vs other M where you're ...screaming internally because it's so bad.

I think it could work. I think it would have to have lock on like Devil May Cry 3 or something to get the full effect but, I think if one goes that way it may become more action focused. On GBA and DS there's a game called Scurge (yes spelled incorrectly, oddly) it's like Metroid but over the head. So there's an example of a game trying that. I thought it was pretty good but it lacked the tightness of Metroid overall.

That said, like you said, Other M was a failure on a bunch of levels, the control method is one of 'em. But view point? Dunno. I'd hope Nintendo could swing something but they did also do Star Fox Zero recently sooooo.... I'm not sure. I'd hope for them to fall back on the tried formula for this one at least.
Reply

Yeah, people were
really
happy to find out that the exploration from
Mario 64
and
Sunshine
was making a return.
Yeah, I like moments where you had to figure out what a character is thinking. Subtlety really adds to the immersion of anything in my opinion, be it games or movies.
I think that
Super Metroid
and
Samus Returns
did a good job focusing on exploration while also being quite combat heavy. I've never heard of Scurge before.
Personally, I've never played an FPS, so I don't know if I'd want to play
Prime 4
in 1st person only. Really, I'd have to play the original to see if I'd want them to change it up or keep it the same. Regardless, I'm very interested to see what Nintendo has to offer

.
Reply

My favorite Mario game, currently is 3D Land on 3DS which has annoyed a few people I've told. 64 was fun but I think the pace breaking paintings keep me from enjoying it. Get star, get booted out, get star get booted out. I never gave Sunshine a play since ...my Gamecube was basically a Metroid machine. Didn't help I had the GBA player for MORE Metroid fun
Which Mario caught you most?

I agree, but I don't at the same time. I think Samus Returns could have had more variety if they didn't focus on the counter move. Which, was fine but it really was a be-all-end all kinda thing.

Prime takes a little bit to get used to, especially depending on the version you play. But I think they really work, hopefully you'll agree when you get a chance to play 'em.
Same here, fingers crossed they don't pull a Star Fox Zero with Prime 4. D:
Reply
(2 Replies)

Samus is a badass, PERIOD!
Reply

Reply

Are you thinking of doing a remake of dis?

Maybe that scene from Samus Returns when she shoots Diggernaut after she clearly defeated it
Reply

Since it's pretty new, probably not going to be doing a remake buuut, more Metroid art is a possibility though!
Reply

Reply

Oh I know the scene, I was applauding when I saw that after beating that pain in the ass haha!

We shall see! Got a lot of fanart planned and too many comic pages to do!
Reply

Hell yeah and your new art too

Reply

Looks fantastic! The pose reminds me of a certain cutscene in Samus Returns, actually.

Reply

Oh, yeah!
It does, doesn't it?
Reply

She did do a bunch of crazy badass things in the game didn't she? I prefer Prime's cutscenes since they didn't often take away control but, yeah some of those were just like :V ROCKET IN MOUTH! WIN
Reply

I love how her body language reads in this cutscene though. You can tell she's fed up with crap. lol
Reply

Absolutely. I had 2 ideas in mind, either she just got a power up and could FINALLY open those damned locked doors she kept running into, or she was running by and a monster bumped her- WELL time to test those SUPER MISSILES on this little bugger! Kaboom!
Reply

Awesomeness! Metroid is just too cool. Great job on this.
Reply

Thanks! Had a lot of fun making it and love the series far too much.
Reply

So do I.
Ever since I first scrolled through the roster in Smash Bros Melee and was like 'Okay, a plumber, a pink ball, a pokemon... Hey look! A robot guy!' I have been borderline fanatical.
Reply