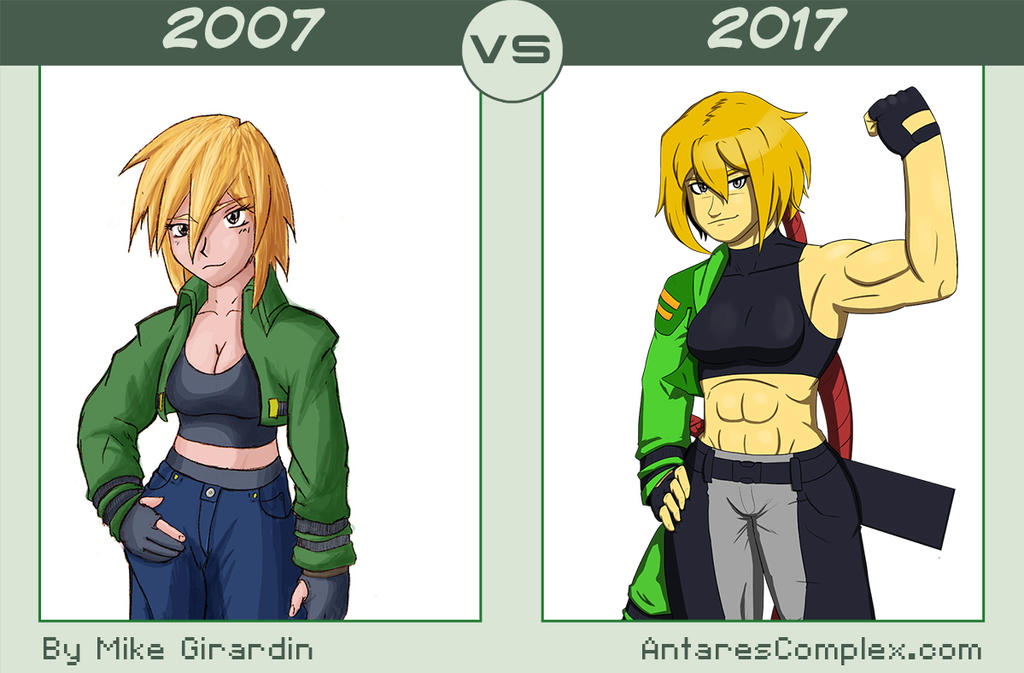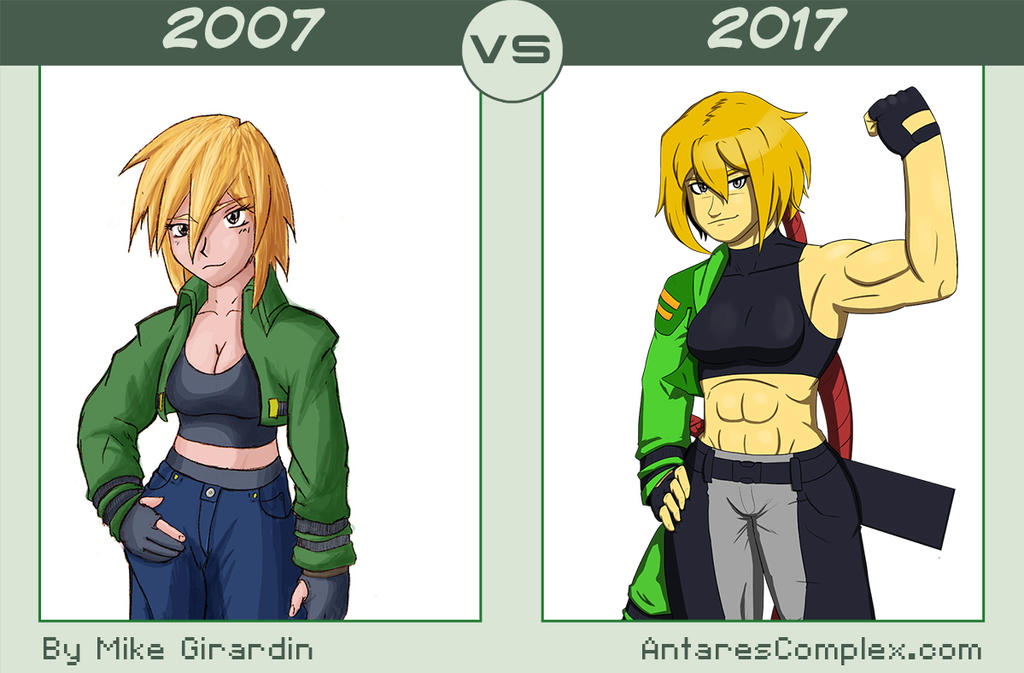 Watch
A 'quick' thing. Saw some doing a vs and figured WHATEVER, I'd jump in and give some silly background crap on Neige and Antares Complex.
This pic from 2007 may be even earlier than that, that's just what the file said on my desktop so, that's a scary thought. This is pre-comic, where I was designing her still, nevermind the story. Hence why nothing looks right. But there's the signs of her character. I'm not even sure she had her weapons or heck even her ponytail.
Too many people hold off on their ideas, their comic because they don't feel they're good enough, or that theyir ideas 'aren't good enough'.
You SHUTCHER FACE and get on it! You gotta start, try to do your idea or you'll never know if you're ready!
2007: Pencils/Pens/Photoshop
2017: Clip Studio Paint
Antares Complex © Mike Girardin
Check out the comic over here:
www.antarescomplex.com
space captains!
To anyone who's interested in supporting the comic and my work, check out my Patreon:
Click here if you want to support the comic via Patreon!

She found her muscles!

Still no word from the lower half of her jacket, though. It may be lost forever.

Nicely done, man! Looking great! It's always interesting to see 'pre-comic' designs from long-running comics.
Reply

The lower half of her jacket was eaten by a space time rift when the tachyon drive misfired and they were temporary shifted into a mid-dimension where they had mere minutes to escape before being engulfed by a universe that functioned on different physics.
A creature phased behind her and her jacket was sliced clean in half.

...I saw 2 jackets on 2 different friends at 2 different times and mixed them up because I loved them both so much D:
Reply

Either story seems to be just as likely...

Perhaps I will choose to believe the story that I enjoy the most.

Yes.
Reply

Neige: Do you even lift bro? XD
Reply

You've improved a lot! But I also agree with the above commenter. There is a very different change in style, but I can see the improvements.
Reply

Thanks for noting that.
The change of style was for a variety of reasons, one is it saves time in making pages which is a bonus. I was hoping to get this series as a 2 page a week sorta thing or at the very least work out something where I'm selling comics on amazon which ...I guess would be nice to have them out in a more timely manner haha.

We'll see how it goes in the actual comic I guess!
Reply

You're welcome.

Ah, I see. Well, hopefully that does save you some time to get them out there sooner.
Reply

Hoping it's an alright compromise, I think the art still looks solid, but I'm pretty sure the time is cut down. Feels like it anyway.
Kinda the problem with comics, there's a middle ground between cut corners and quality that's gotta be hit.
Reply

A++ stuff, I of course am lovin' her new color scheme and dem gains~
Reply

Thanks, I took a bit to respond because I wanted to go back and sort out some problems I didn't spot when I was ............rushing.
I was REALLY nervous about doing a more cell shaded look because I felt it'd just annoy people but the time saved really helps.
Reply

Hmm... I can't say which one is better... Because you had changed your style, that's why I can't say if you had improved. I like both.
Reply