THE JOLLIEST MONTH OF ALL STARTS NOW!
0 Favourites
4 Comments
1K Views
As many of you folks out there, I just live for christmas and new years. December would be an awful month without em and all year long, I wait for December to come, thanks to these two BRILLIANT holidays.
Now, there are 24 days till christmas but what the heck--it doesnt hurt to start the celebrations early! Already making pumpkin-cinnamon pies, making my wish list and of course, writing my entries for christmas themed short story contests. We2re putting up the tree in our PJ's, my mom, by brother and I and I'll pose Guinevere and Alaska in their sweaters in front of it, posting pics of them asap. Trying to earn some quick money for christmas shopping.
So, as for there are 24 days left, I'll feature 24 different christmas themed deviations in my journals;starting with 7 of em in this journal. Hope it gets you all in the holiday spirit!!!
24-
23-
22-
21-
20-
19-
18-
btw, wish me luck on my second exam-term. If I keep on goofing on the internet like this I WONT have any luck. Anyways...
KISSES!
one last thing; id be greatful if you checked out my xmas themed prose:
Secret Santa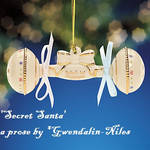 Dear Baby,
If you are reading this, most likely (or certainly) you are not a baby any more; your feet have grown- your fingers are long and slender, you're taller- and probably taller than I am right now, and to keep the long words short, you are a woman.
Or I rather say you're still  a girl (if the people you know as your parents have given you this letter on your 18th Christmas as I have requested), since myself being your age today, right now, here; I yet don't feel ready to be called a woman myself.
You are by me, baby, sleeping soundly, as I write these words.
So it just makes everything a lot more harder than it already is.
But it's now or never.
So I'm writing to you, and this letter is your Christmas gift; from me to you; 18 years from now.
I don't know what they've told you, about where you really come from.
And I'm leaving it up to them.
So what you've been told has been  your reality so far.
But now, it's time th