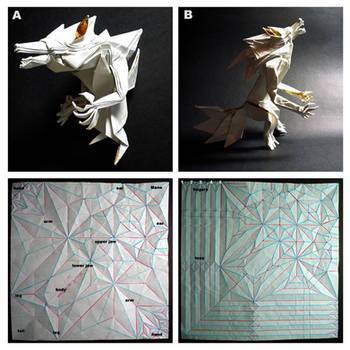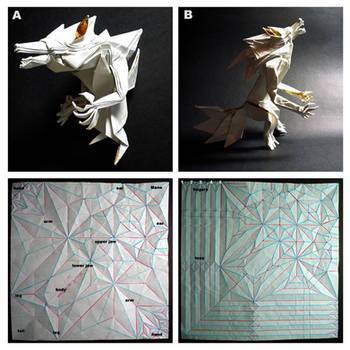 Watch
To complement my recent werewold deviation

I am very surprised to learn that somewhere out there someone managed to fold my gryphon from the very limited information I gave on the internet:
[link]
This is going to be pretty boring and a bit technical, but here goes:
A. This is the original werewolf that I began with. Pretty disappointing to learn that my sister did not recognize it as werewolf until I told her what it is, that is when I know I have to improve the model. From the creasing pattern below werewolf A, you can see that I simply used Maekawa Jun's devil concept to design the hands and the head (the fingers took too many paper area here). The mane and head took almost 1/2 area of the paper here. The ears came from raw edges so I can color change it easily. Now the limitations this model have are that I cannot get long tail or toes and it can't stand on both legs. Also if I want to make the mane bigger that will shorten the arm length significantly. Hence, I decided to pleat the raw edges of the square as shown in B.
B. This model has better proportion as the fingers and toes has can be folded from the pleats I did on 2 raw edges, which gave the appearance of "adding paper area" onto a square

As the fingers came from the "additional paper" and not from the square, hence, I can get longer arm length. However, the arm became too long here so I decided to use that excess paper to enrich the mane. The toes are 5 and I shall reduce that to 4 and make the legs longer as nicely suggested by so many people.
Hope that helps for those people who are eager to try this model. Just print out the pattern and collapse the lines (blue and red = mountain and valley fold resp.) I suggest you use at least 50 cm square thin paper. Enjoy

!