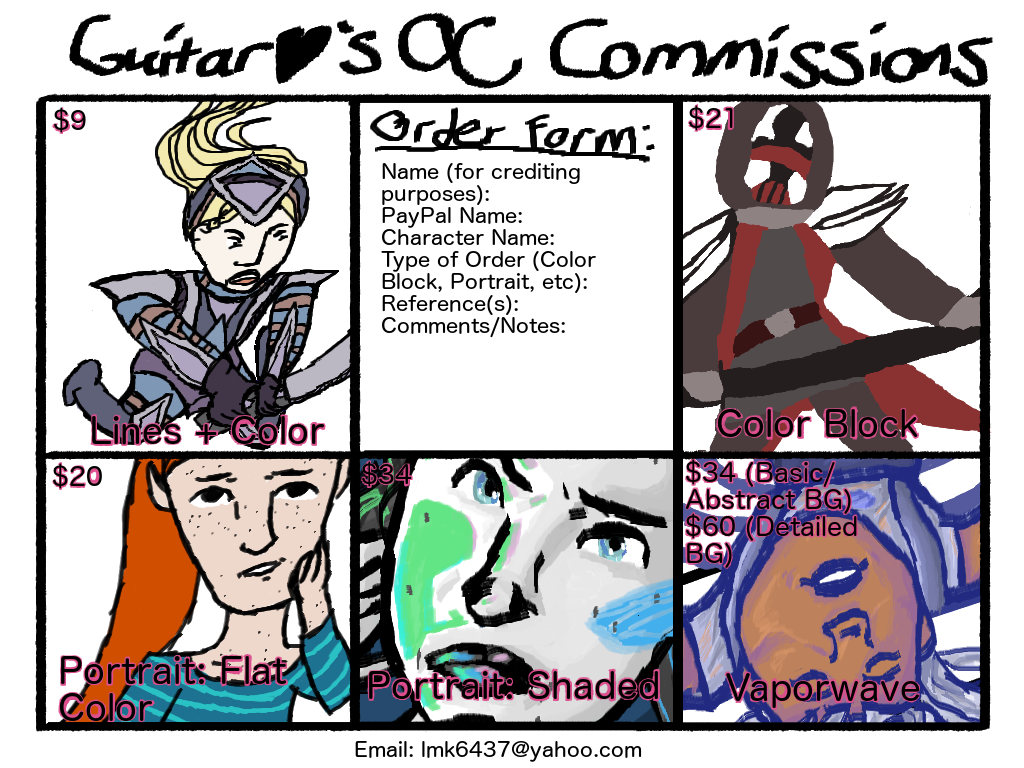 Yep! I'm taking commissions!

I'll be starting with doing 3 slots, everything is done through email.

Order Form
Name (for crediting purposes):
PayPal Name:
Character Name:
Type of Order (Color Block, Portrait, etc):
Reference(s):
Comments/Notes:

Email: lmk6437@yahoo.com
Will Draw
Fan OCs
Fandomless OCs
Sonas
Gijinkas

Won't Draw
Furries
Mechas
NSFW
Anything without a reference!*
*Here's a quick reference guide, as I require some kind of visual reference! This is a non-exhaustive list of potential refs you can use:
* Dress up game screencap(s)
* Your own art
* Someone else's art of the character
* Mix of X & Y characters from other works, with as much creative freedom you deem for me to design the final "mix"
* If it's a sona character, if you're comfortable with it you could send pictures of yourself and examples for what the sona is from (i.e. Gemsona)
* If it's a gijinka, you can leave it at the character you want humanized (like the character mix, as much creative freedom as you deem)
The reason I require visual references is I simply don't see imagery from written description alone.



Last thing I want to note: if you are a Vaporwave musician and would like to use my art as an album or single cover, let me know. Basically, if you plan on using your order as a cover, please let me know!