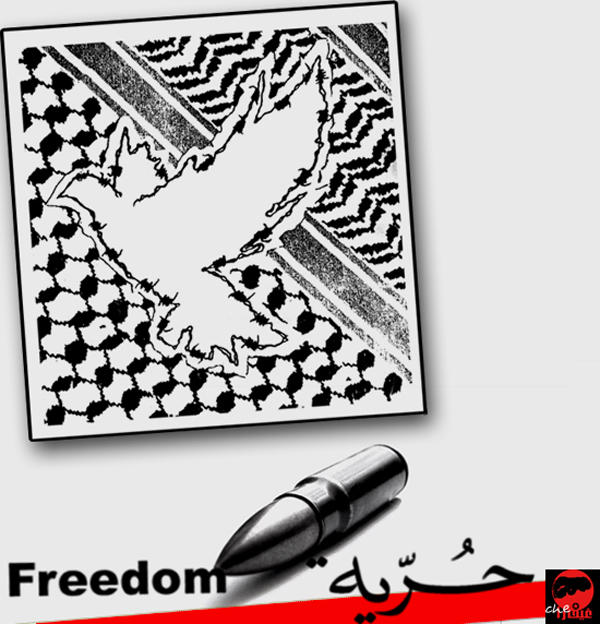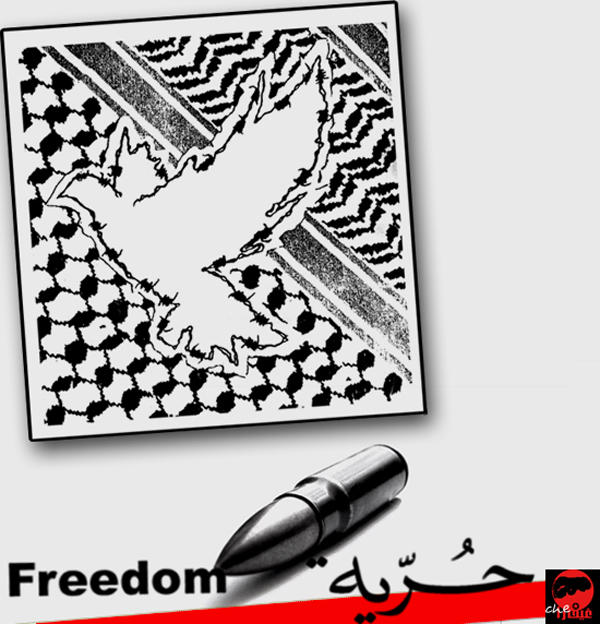 "Hurreyya"; freedom In Arabic
I've qouted this one long ago, It was originally published as a poster by the PCP. remodified as a poster for releasing Sameer Al Quntar, the oldest Lebanese P.O.W. in the Israeli dungeons., Since then, Ive made several changes on the graphic, added the red line and the bullet, resized the original poster , and removed a text written inside the dove.

Al Quntar is now more than 25 years behind the bars, suffering unbearable life of solitude, lack of medical attention, and visits from his beloved family
As someone who knew Sameer, I feel obliged to publish this
As someone who loves Sameer, I should admit: we all have done nothing to you yet, despite all what you've done for us.

Beautiful art. My respect for Palestinian🇵🇸✌ independence from Israhell imperialism from Indonesia🇲🇨.
Reply

Fucking douche your unibrowed fuckfaces hide behind children thats why the israelis hit them some times. Fuck you you piece of shit sand crawler.
Reply

Reply

1. he's not getting out.
2. if you keep this up you'll be left with nothing but a rock.

Reply

Reply

"Al Quntar is now more than 25 years behind the bars, suffering unbearable life of solitude, lack of medical attention, and visits from his beloved family."

TELL THAT TO THE FAMILY AND THE 4 YEAR OLD GIRL EINAT HARAN THAT HE MURDERED BY BREAKING HER SKULL ON A ROCK
Reply

those girls wrote on artillery shells [not missiles that hit lebanese] "with love to nasrallah"
considering he just waged war on israel and fired many missiles at them, it's a perfectly understandable response, tho connecting those images with the innocent lives taken is pure and sickening propoganda.
if hizbullah would not have attacked israel while hiding inside the lebanese people this war would not have started.
1.
[link]
2.
[link]
Reply

Reply

ha!! ISRAEL ATTACKED FIRST!! HIZBALLAH TOOK TWO HOSTAGES WHICH UNDER GENEVA LAW U HAVE THE RIGHT TO EXCHANGE BUT ISRAEL RESPONDED BY WAGING WAR. ISRAEL WAS PLANNING ON HAVIG A WAR WITH LEBANON IN ocTOBER. iF YOU HAVENT HEARD BAOUT THIER NEW MIDDLE EAST PLAN?? TO WIPE OUT ALL THE ARAB COUNTRIES AND OCCUPY THEM!!!! AND THE QANA MASSACRE: ABOUT 50 HANDICAP CHILDREN MASSACRED....AND WHAT DOES ISRAEL SAY....HIZBALLAH HIDING WITH CIVILIANS!!! STUPIDEST IDEA BECAUSE THEN TRAITORS WILL BE TELLING ISRAEL WHERE HIZBALLAH IS....ISRAEL HAS NO IDEA OF HIZBALLAHS WHEREABOUTS!!
DONT JUSTIFY THE MURDER OF CHILDREN!!
Reply

i like it khaya ...it's really good
it's sad that we don't see people with talend working in the arab Media
Reply

wow i like it! 7uriya falasteeen inshAllah
Reply

[link]
The unit took 28-year-old Danny Haran hostage along with his four-year-old daughter Einat... Samir Kuntar shot and killed the father at close range in front of his daughter, and killed the four-year-old girl by hitting her with the butt of his rifle against a rock, crushing her skull.
i will kill him myself before he gets out.
Reply

May God save him and free him one day and protect him and his family and let him do more of what he did before!
Reply

wow.. you just promoted people to kill dads in front of their children and then crush the children's heads.
Reply

THE WHOLE ISRAELI ARMY SHOULD BE ARRESTED FOR KILLING PALESTINIAN/LEBANESE FATHERS EVERYDAY INFORNT OF THEIR CHILDREN AND KILLING CHILDREN INFRONT OF PARENTS AND OTHER CHILDREN
Reply

i'm sorry, i thought jihad was doing that everywhere... esp. in israel.
Reply

lol
He will be free soon, he will get free soon
Samir Quntar Is to be released within this week
Jaakobou , go and drop drunk now

Reply

Whatever makes you happy.
Personally, I would not be happy to see someone who bashed the hear of a 4 year old girl get loose, but who am I to judge your distorted set of values.
Reply

tell me how many israeli children have been killed? and how many lebanese/palestinian children are killed???
but wait its israel they can do whatever the hell they want...they can steal land, they can demolite homes, it can kill children women men, humilate ppl on a daily basis, IT CAN LEAVE TOYS FOR PALESTINIAN CHILDREN TO PICK UP TO PLAY WITH THEN IT EXPLODES KILLING THEM INSTANTLY, THE LIST GOES ON, IT CAN KEEP THE PALESTINIANS IN A HUGE PRISON NO LIFE NO FOOD NO WORK AND NOW WOW THEY ARE BUILDING A WALL TO REALLY MAKE IT A PRISON
THEY SAY THEY ARE DEFENDING THEMSELVES?? ON OCCUPIED LAND!! HOW IS THAT DEFENDING URSELF IN THE FIRST PLACE!!
EVEN THOUGH OF COURSE THEY CAN KILL CHILDREN EVERYDAY AND THEN SAY IT WAS AN ACCIDENT....SO MANY ACCIDENTS
OF COURSE THE OCCUPPIER ISRAEL ITS OK THEY CAN WHATEVER THEY WANT!!

NOW WHO THE HELL ARE THE TERRORISTS???
WHO STARTED HAMAS AND HEZBALLAH??? ISRAEL!!! wHO CAUSED THESE PPL TO BECOME LIKE THIS! AND WHY???
THEN WHEN THESE PPL PROTEST THEMSELVES FROM SOMEONTHING WORST HAPPENING THEY ARE TERRORISTS....OF OCURSE THEY MAINLY KILL SOLDIERS NOT CIVILIANS BUT NO THEY ARE STILL TERRORISTS
Reply