Yasmin | 15 | She-Her/They-Them
Awoo, I'm Cutie-P, I love to draw and make MMD artwork!
I like UTAU and VOCALOID too, I have a small group of Utaus which are Hayato, Yasuka, Merona, and Dell~~
Even though I'm not so active like I was before, be sure that I'm doing something art-related every day! I just need the courage to post haha
I hope you like my gallery, enjoy!
==Hurt 'em and I hurt you ;3;==



==Inspirations==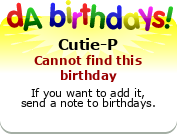 Favourite Visual Artist
AnimeNebula003, smol-kiwi, Yamio, Hiro Mashima, Akira Toryama and so much more!
Favourite Movies
Ponyo, Deadpool, A menina que roubava livros (Idk the english name :v), and a lot more :v
Favourite TV Shows
The amazing world of Gumball, Star vs The forces of evil, The Loud House, Dragon Ball, Pokemon, Naruto, Fairy Tail, etc...
Favourite Bands / Musical Artists
wowaka, Deco*27, Circus-P, GHOST, Creep-P (Eyeris), etc~
Favourite Books
Some Fairy Tail mangas~
Favourite Games
TheSims4, Dragon Ball Xenoverse (1 and 2), Mario, Sonic, GTA (Any :v), IB, Mogeko Castle, To the moon~
Favourite Gaming Platform
I usually don't care for this... I just want to play the game :v
Other Interests
Utau, MMD, Vocaloid, Youtube, etc...