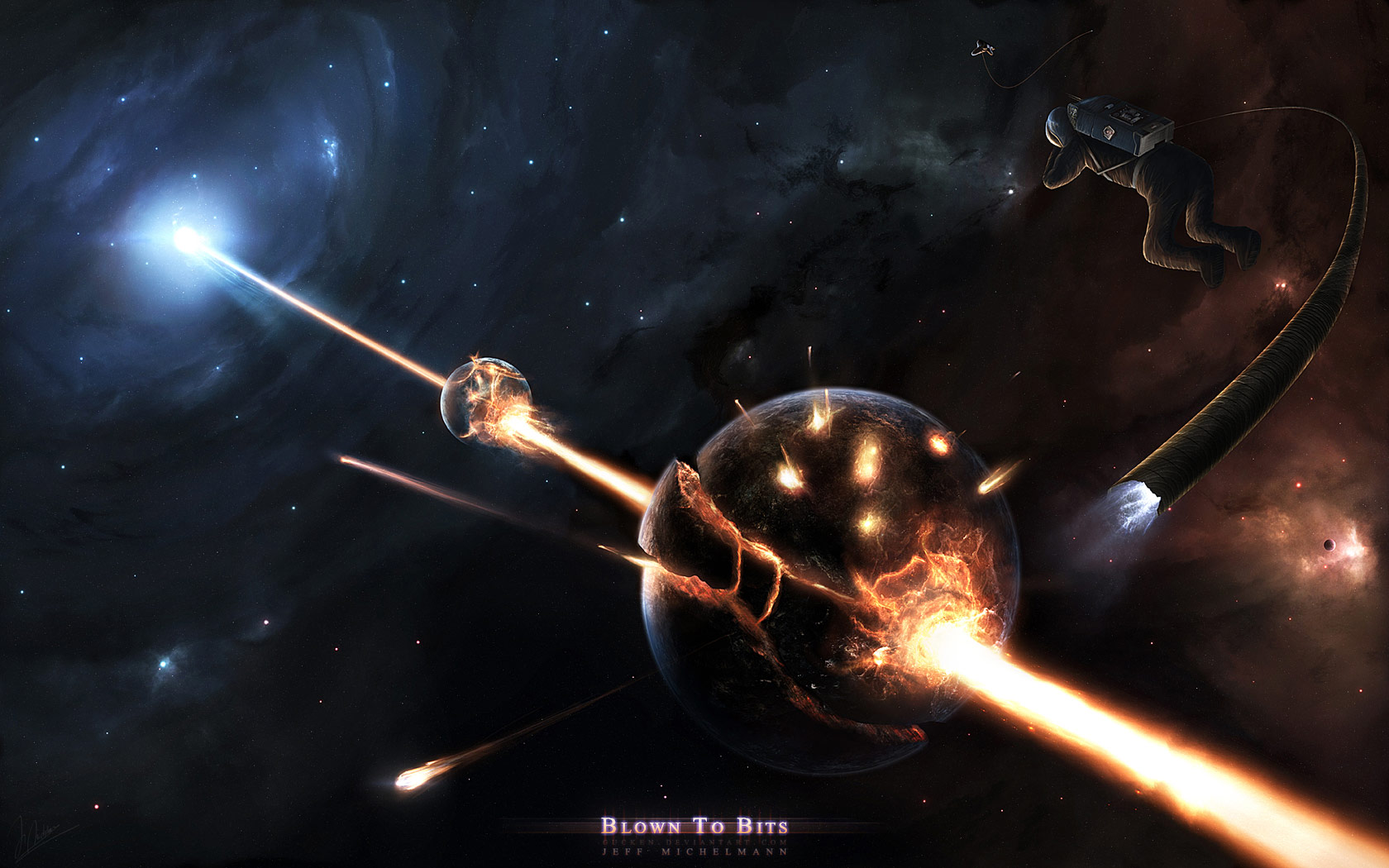 Watch

Follow me!


[link]

[link]
_____________________________________
BVROOOM, SCHRAZZZ
wow that sounded like a planet just got pierced through!
Here's a small personal fun piece!
Thanks `
taenaron
for your very helpful comments on this piece during its creation!
Technical Details:

full resolution: 8000x5000@300dpi

programmes: Photoshopn & 3ds max

time used: many hours

wacom intuos3 a5

Hit Download for Wallpaperpack:
4:3
1280x960
1600x1200
5:4
1280x1024
16:9
1280x720
1440x810
1600x900
1920x1080
16:10
1280x800
1440x900
1680x1050
1920x1200
On another note: Don't forget to participate in the contest!
Beyond the Frontier 1 - Unknown Moons
Awesome prices are waiting for you!

Is there no other greater spectacle than witnessing the act of celestial destruction of a planetary body? Watching as its form is slowly kissed by molten cracks of flames and magma as they creep along the surface of the planet in its death throws, as an intensified beam of plasma pierces its frame is truly a thing of beauty. Its pieces are then strewn throughout the universe as the vast explosion engulfs the planetary remnants before expelling them in the depths of space. Astronauts watching on as the spectacle takes place before them, unsure if they are in harms way or just safe enough to view what unfolds before them. Such as life in the universe, anything can and will cease to exist as quickly as it appears before you; as if its all one big lucid dream that's under another individual's control. All we do is nothing more than ride these star-encrusted waves through the airless surf of space while planets, stars, quasars and even whole galaxies are washed from its murky waters as if they are nothing more than barnacles on a oceanic cruise ship. Its all one big ocean up there, we've just managed to find a big blue life raft to cling to for the time being. We may not know when its going to pop, but we just hope that it should be a pretty nice ride until the end.
Blown To Bits
, created by the talented `gucken, further solidifies the thought that everything in the universe is not meant to last forever. At any point there could be a force that could simply disrupt the cosmic flow of space, then a "wave" can be sent to simply wash over the problem in order for balance to be restored once again.
Much of this artist's signature styles are in full effect on this piece, more specifically the well-refined design style of the nebular clouds in the background as well as the glow and energy effects on the cosmic energy stream. Even the slightest detailing in the clouds brings out even the most minuscule of details in all of the compositional elements and gives the viewer a lot to take in on this piece while at the same time allowing their imaginations to flow as they put the scene together in their minds. Even the resonate lighting of the beam just shows firsthand how dedicated `gucken is to minuscule detailing for every single element of his designs in order to make his composition shine like some of the brightest stars that we have ever seen.
Detailing on even the planetary surfaces doesn't fail to impress or entice any viewers of the piece. They carry the same resonance of destruction and dynamic action as with the rest of the piece. Its inner glow at the surface perfectly emulates the scene of a genuine explosion as well as putting that additional spin of personal touch that this artist has been known for with many of his pieces. Not to mention the brushed shock wave effects on the surfaces to add to the effect of the planets being pierced by the beam of energy.
As great as the piece looks and as solid as its composition is, the piece is not perfect. Some of the fainter explosions could do with a bit of refinement to give them a more dynamic feeling. Instead they sort of look like floating balls of plasma around the planet rather than spouts of magma bursting from its surface. Also I noticed a strange lack of lighting near the bottom of the larger of t two exploding planetoids. Shouldn't the lighting be more equally distributed through the fissures in the planet due to the fact that an omnidirectional explosion is taking place within in rather than a more directional force of destruction? If its possible to better distribute lighting through the piece then that should make the overall refinement of the piece look that much better. A smaller complaint would be if you could make the broken cord from the pack of the distant astronaut to more have an electrical cracking from it rather than a gaseous look to it. It would just seem to fit the scene a bit better as well look a little more refined in the piece.
As with everything in the world and the stars residing above us, we will always look to see what will provoke our interests and reactions. Whether it be celestial creation of heavenly bodies of cosmic destruction of another, the universe is a constant stream of inspiration to us all as well as true epitome of artistic force.
Blown To Bits
has shown us that that such a though will always be true for us all. Great work as always `gucken, and I look forward to many more of your pieces!

The Artist thought this was FAIR
41 out of 43 deviants thought this was fair.
I cannot possibly write a more eloquent critique than SkillZombie already did on this picture - and I don't want to. I came to know artistry of this kind when I selected the GTGRAPHICS desktop backgrounds for my Windows 8.0 - and I never changed back, so I enjoy pictures of this kind for the last 8 months or something. I'm not sure if 'enjoy' is the right word though, I should perhaps refer to a more Buddhist kind of 'letting go' experience in which one learns to accept things one has no control over - without becoming apathetic though. But the sort of powers that rule the universe are what they are.

Even the powers of our own planet - which we may call Gaya - are of the kind that makes every informed human being laugh when someone suggests that we can "save the planet". The planet will save us, if we cooperate with it - otherwise we will perish. And this idea is, I think, what makes me so like these pictures. We are all just little ants in a huge, immensely great 'play' - and to realize this may make us truly humble.

There is no greater "religion" than one in which we become the observers - not in a boasting way - like those people who ridicule religions in the name of "science", which is making a cult of science - so we could just as well make a cult of these pictures, or its author - which I don't think gucken is going after really. No, rather not an attitude of boasting, but true humbleness. And encouraging everyone around - no matter how they try to create meaning in their lives - to accept, first and foremost, that we are not fully in control, and never will.

There's something beautiful in accepting the reality AS-IS. And even while these pictures may indeed not be perfect - they are probably not showing things from their worst case scenario, still finding ways to add artistic beauty to it, extending the reality with some artistic hope - they are no doubt much closer to this enormity-of-reality out there than many of us want to know.

Which is why these will stay on my desktop for a while. Almost like an alternative for prayer.
The Artist thought this was FAIR
3 out of 3 deviants thought this was fair.