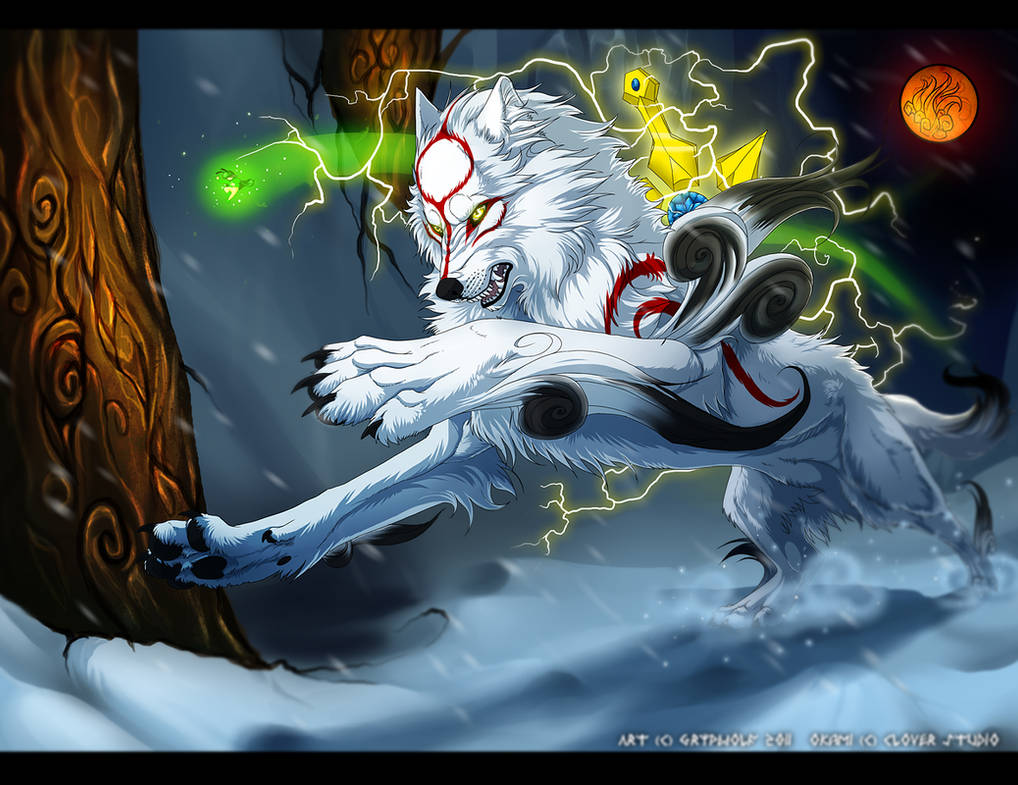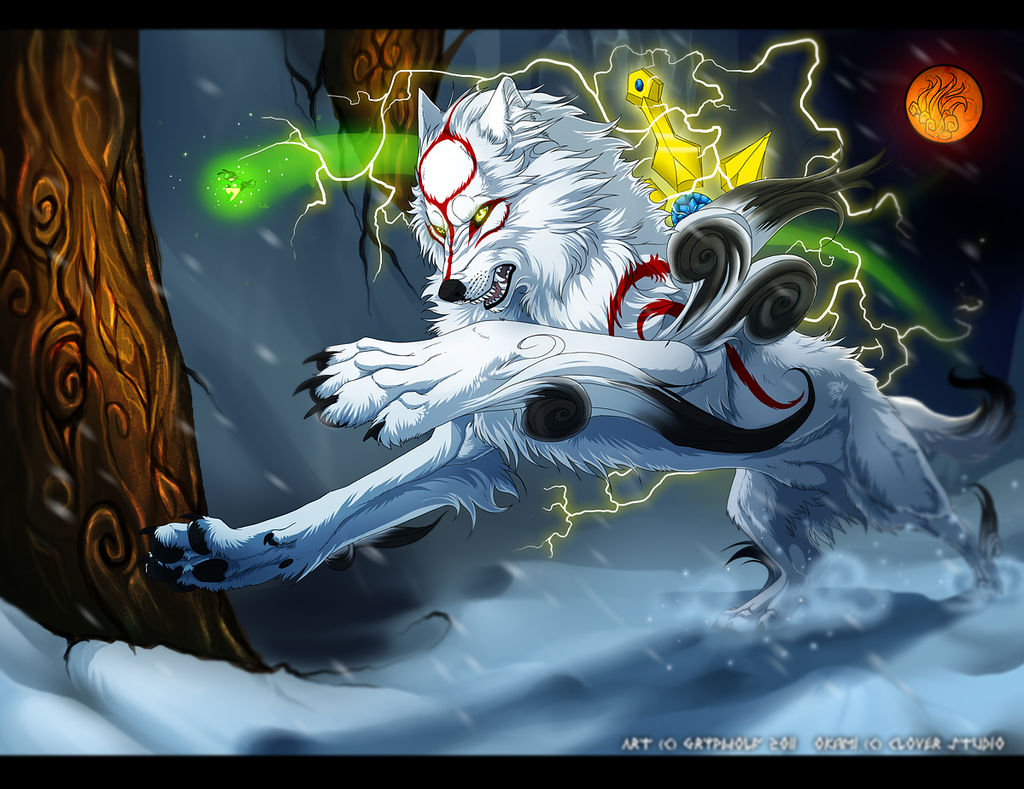 Watch
Haudi!
Please! Do not copy, alter, Distribude or use any other ways as your own!

Amaterasu rushes to defeat twin demons Lechku & Nechku and to prevent Ezofuji from freezing.
I'm almost done with one of the biggest commissions I have and for celebrate that, I finished Okami fanart that has been sitting in my files for sometime now. Also it is nice to draw some Okami fanart again. I also found Original soundtrack of the game (again) so you can kind of blame it too.

I really loved working with this althought it was about 10 min for a day xD at the begin that is.... I didn't forgot Issun this time so no complaining anymore! btw __ I have always loved thunder edge so__finally i got to draw (failure) one



EDIT: So... From the critique I resived I read that there was some serious mistakes in this image, so thanks to

,

and

, I have done some fixing here and there.
Example:
- snow is now flowing fom left to right, to make it look more like Amaterasu is running.
- Amatearsu isn't "attacking" issun anymore.
- Amaterasu's right front leg fixed.
- Sun is now smaller
- Amaterasus Tail fixed
- Trees in the BG have now more details on them.

Done mostly with Paint Tool Sai. Edited in Photoshop CS3

Okami (c) Clover studios
Art (c)

I love anything Okami, so this caught my eye straight away. I adore your cell shading skills on the fur and I like how you've drawn one of Ammy's other weapons instead of the solar retribution one.
Without reading the artist description I first thought Ammy was trying to eat Issun or something. Perhaps I'm stupid for assuming that, but I think it lies in her pose.
It's not clear to me that she's running, I think back foot should be flicking up and it would be better if her tail was flicking out behind her. It would better give the impression that she's running full speed after something.
Also if her head was up I think it would tell us she's focused on something more distant, to me it looks like she's looking at Issun.
Her ankle swirly things are supposed to much smaller and it seems her other front foot is missing it.
The trees bother me a little. In comparison to the rest of your artwork, the trees looked very rushed and the second one hasn't even got detailing.
I really like how you've done the snow. But just a suggestion- if the snowfall were angled the opposite way it would also better give the impression she's running fast.

I know whenever I recieve a critique, sometimes it comes across as very harsh, I hope you don't feel discouraged or hurt in any way and I'll be going through your gallery now to check out the rest of your brillant work.

Well done.

The Artist thought this was FAIR
85 out of 98 deviants thought this was fair.
I have to say, I spent over 140 hours in this game with my first run-through (*shot*), and this piece fits in wonderfully! The way Amaterasu is jumping out at you with that fierce pose is simply and truly amazing. The aggressive expression that she has on her face screams 'BACK OFF!' and it really does look like she just killed those twins (: The added moon in the background really ties it together as well. Nothing is ever truly original, but this one scores nicely. I've never seen a wolf in this pose before, let alone a god. So points for that! The way you color things is amazing (: Especially the shading in the back part of Amaterasu. Though, most of the light seems to be directed at the front, and I see the light source would be mostly in the back. Even though this is probably for effectiveness, and made the most sense when drawing to create a center on Amaterasu, could there have been another way to present the elements with a little more sense? But, if I am missing something, or looking too deeply, please forgive me

And over all impact, this has to be a five-star. It reminds me why I love the game so much. The beautiful art. This, my friend, is beautiful art.
Hope I could be of any help! Most of this seems like I'm just gawking at your art, eh? Well, a little love isn't that bad *shot*
The Artist thought this was FAIR
110 out of 113 deviants thought this was fair.