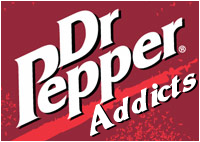 I can't get enough of It!





I even have the calendar for Bub.


This stamp was commissioned by

Thank you Azrael-legna for the stamp.









Some of my fanfics.


Forevermore Squidward had spent the last few hours of his agonizing shift, staring blankly at the brightly lit screens of every arcade cabinet in the lounge, waiting for his boss to leave him for the night so he could go to his little corner of darkness. Although he'd still be forced to listen to those infuriating sounds from the arcade cabinets. Soon, his boss's gone, relieved as always, Squidward retreated to his corner to eat what would be considered his evening dinner he's brought for that night. Afterwards, the former Krusty Krab employee just sits, not moving for the rest of that night as he reflects on his past. And how much he missed his old life, only now had he understood how much he appreciated the life he had and how much he's taken it all for granted when he used to have hated everything about his old life. Squidward... missed them, everyone he's ever known, from SpongeBob and Patrick to Mr.Krabs. Even his old rival, Squilliam Fancyson who's lived his Dreams. He missed them all, but h

The Peasant And The Giant. ....If you even Think of returning, then it'll be your precious Mother who pays the Price!
Edward slumped over, walking at a sluggish pace, those words repeating over and over in his head. Eyes glistening while staring down at his feet on the dirt path, the middle aged peasant wonders in no general direction, a tear slid down his cheek as he continues walking. Banished for no apparent reason than the king's greed, sent away because he's unable to grow anything on his land, unable to provide food or service. Because of this, the king forced him to exile, to leave or else his innocent mother would be killed in front of him. Edward wasn't sure of, just how long he's spent wondering till he found himself inside, what he first thought was a huge cave. The peasant soon realizes his mistake when taking a time out to study his surroundings, he eyes widen in fear, he had wondered right into a giant's castle without realizing it. Immediately Edward searches for an exit. Suddenly there's a

William and Edward Edward couldn't help but daydream, imaging the look of shock and terror on that swine's face when he returned from exile to retrieve his mother with an enormously huge giant to serve as support, the king would have no choice to surrender to him and release his beloved mother from her Imprisonment. While Edward pondered about who would take his place, he cared about nothing else. All he really wanted was to embrace her, have her by his side and home again. He missed her greatly. Lost in his own thoughts, the man barely registered them leaving the library, minutes later, William stops, it came as a surprise to Edward to see this one room being closed off behind a door, which made Edward... while curious of what was sealed off on the other side... hope that William would let him down from here as he's beginning to get uncomfortable. "Here we Are, William said in a sing-song voice. The Last and Final stop on our grand tour!" As much as he wanted down from William's shoulder, the middle-age

Amethyst's Story. For as long as she could recall, she had been labeled a freak, it wasn't just because she had a gorgeous coat of silvery fur. Nor was it the shiny gem that sparkled on her forehead either, although It had been what caught their attention at first glance. No, what really caused her to be labeled a freak, was the large pair of feathered wings on her back. As far as she knew, she had been born alone, with no knowledge of what propose they served. Which led to her being imprisoned by, these creatures that stood tall on only two legs. Ever since her capture, she was forced to be in the annual freakshow, where her wings were put on display and shown to a large crowd of these... two legged creatures. Some of them weren't that bad, she loved when they would rub her fur with their paws, always rewarding them with a soft throaty purr. Her Master however, she hated and feared him, a fierce snarl (Which didn't sound so fierce when coming from a little cub such as her.) was the main creature that w

SpongeBob: The Ancient Guardian Of The Sea!Our story begins on a bright sunny afternoon. And the air, or uh...sea air, was warm with a slight breeze blowing in and out of a certain sponge on his way to visit Sandy Cheeks...when the skies grew dark and grim suddenly, as the sun's light was blocked off by something large. The giant creature brought quite a shock to the simple residents of Bikini Bottom, neither of them had ever seen a sea dragon before, and the large beast was a very menacing sight to them all. All except for a yellow sponge who was stunned with awe. The huge sea monster glared at the residents of Bikini Bottom with narrowed eyes for a few moments, before it finally spoke with a voice louder then both thunder and the Flying Dutchman's. "Residents Of Bikini Bottom! Do Not Be Alarmed, I Mean You No Harm! I Am SeadraMon! And I've Traveled Across Time and Space To Find An Ancient Artifact!" And while they all were shivering with fear, SpongeBob just greeted the sea dragon cheerfully, in hopes of adding a new friend t

Pet Show DisasterWhy had he agreed to this? What possessed him to even play host to a *Pet* show at his very own home? Which he took pride in it's cleanliness? Heck, he didn't even like Animals. Well, that wasn't entirely true, he didn't care for snails, due to finding their slime disgusting. And he couldn't fathom how even his own archenemy, Squidward Tentacles, could possibly have such a gross thing. In which the cashier just shrugged saying that Snellie doesn't slime him or anything else for that matter unless she's stressed or sick. Neither Snellie or Squilliam liked one another, and she had sensed it even before actually knowing him, she just sensed whatever emotions her Master felt probably. Snellie had mainly been the reason for him no longer visiting Squidward, as she Had tried to bite him once, Squidward snatched her away in time plus he was reeling so hard he's fallen onto the floor. Even before the other's apology Squilliam already decided not to make a big fuss over thi

Be sure to also check out My Rival's Suicide!


My Rival's Suicide!!A cold wind blew, surrounding a depressed octopus in bitterly cold air while he was approaching his house. Tears flooded down his cheeks as he hurriedly unlocked his door, shivering as thunder rumbled ominously overhead. Lightning strikes as Squidward swung open his door, entering his home just as the first drops of rain begun to fall. The cephalopod's door is then slammed shut, matching the loud crack of thunder as it boomed louder, startling Squidward as he retreats to his bedroom quickly. Where he then set on his bed and sobbed loudly, the images of the concert still fresh in his mind, haunting him as his cries are overlapped by thunder. Soon, It reached a point where the grief-stricken cephalopod could no longer take it. Slowly reaching his trembling tentacle towards his nightstand, Squidward curls it over the knob and opens the drawer. Sniffling, Squidward wiped his tear-stained eyes as he took out what was contained inside. Meanwhile, at 950 King Street, Squilliam Fancyson was wa

My Rival's Suicide!! pt2Suddenly feeling nauseous and sick to his stomach, Squilliam fled from his rival's bedroom forgetting all about his umbrella as he's throwing open the front door to Squidward's house. Trembling, Squilliam unlocked his boat in a mad haste and came close to hitting his head as he climbs inside. A crack of louder thunder startled Squilliam who sped back to his mansion, clutching the steering wheel with one hand and his stomach with the other. Once Squilliam pulled back into his garage and parks his boat, he immediately rushed inside his mansion, ignoring every single question that was asked as he ran down the hallways and upstairs to the shelter of his bedroom.
Shutting himself in his bedroom, Squilliam retreats to his bed and hid in the soft, silky canopy surrounding his bed. There he simply sits in pure, dead silence with the only sounds being his heavy breathing as he's shivering and clinging to all four legs. Squidward. His classmate from highschool, his archrival from then on, now de

My Rival's Suicide pt.3-ASquilliam sniffled when embracing the picture, his shoulders shock rather hard due to the memories it brought back. "How could I do this to you old chum?" Slowly laying down on his back, Squilliam lifted up the picture of him and Squidward and, after a minute or two of gazing at it he rolled over. Resting his arm on the picture beside him the unibrowed octopus buried his face in his pillow where he begins sobbing again. "This is, by far, the worst thing that I've ever done to you!" Eventually the pillow becomes soaked from his tears, leaving him to have to get another one. Knowing all to well that the maid would take care of it, Squilliam figured he would take the wet pillow to the laundryroom himself, and get a fresh one while there.
Sneaking through the hallways (on tip-toes so to not wake any of his staff members up with his noisy suction-cups) the wealthy octopus walked sleepily holding the pillow under his arm while half of it dragged along with him. Entering the laundryroom
If you like the Squidward's Suicide creepypasta, you may enjoy My Rival's Suicide!




Now all three Catbuses together!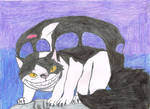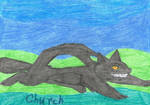 Growlie?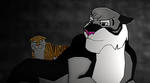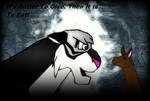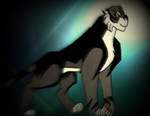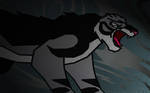 Favorite SpongeBob work.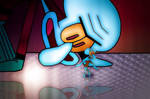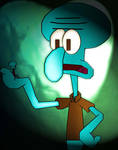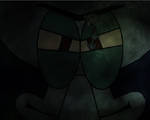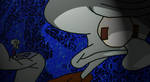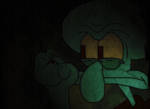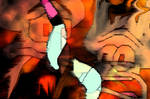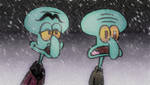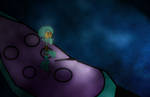 The only one where he's smiling 💕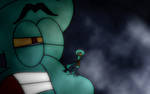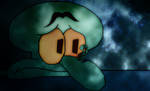 A forgotten Tiger Oc: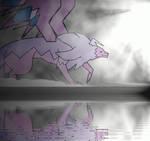 Abstract art.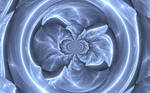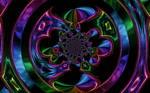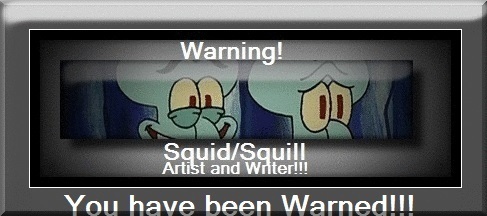 Here is my gallery,

this is where you can check out on some of my artworks that I am working on.

If you like any of them, go ahead and leave a Fav
since it really makes me feel appreciated about how some people admires my artwork.
Anyways, thank you so much if any of you check my gallery
it truly means alot!
Thank you!

May God bless you, and I hope you all have an amazing day!


I'm... always...
...watching.



Proud lover of cats!










Proud part-time lover of a

and a


My sister has them, and I love them as if they were my own.

Give black cats their love to!