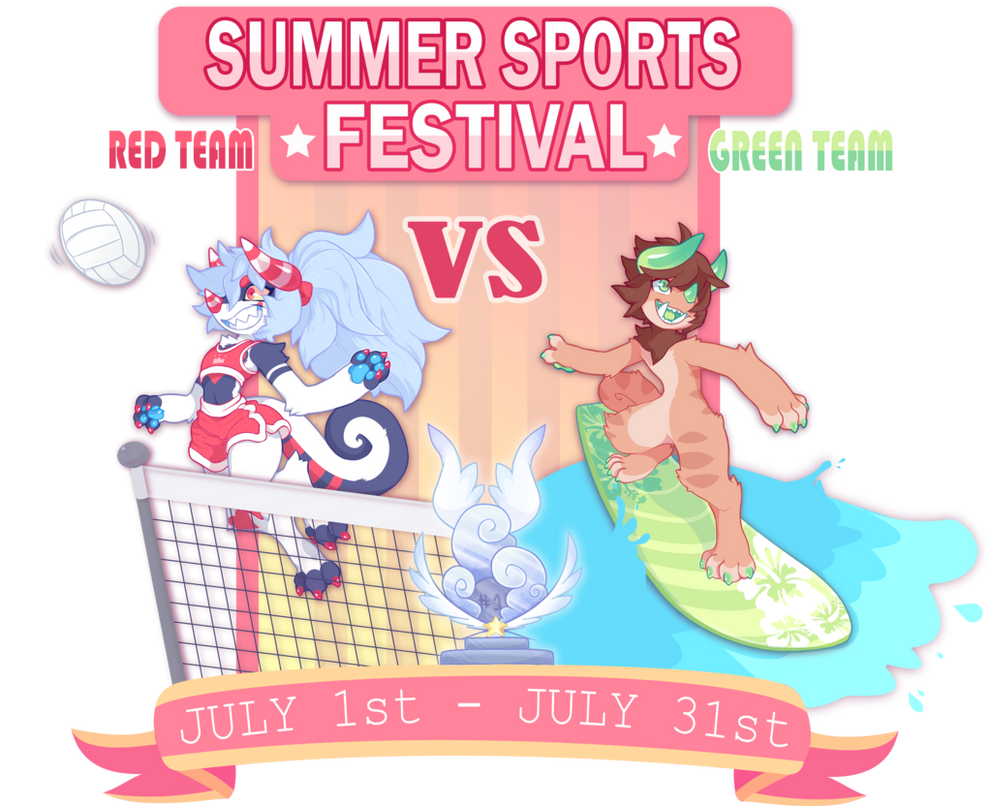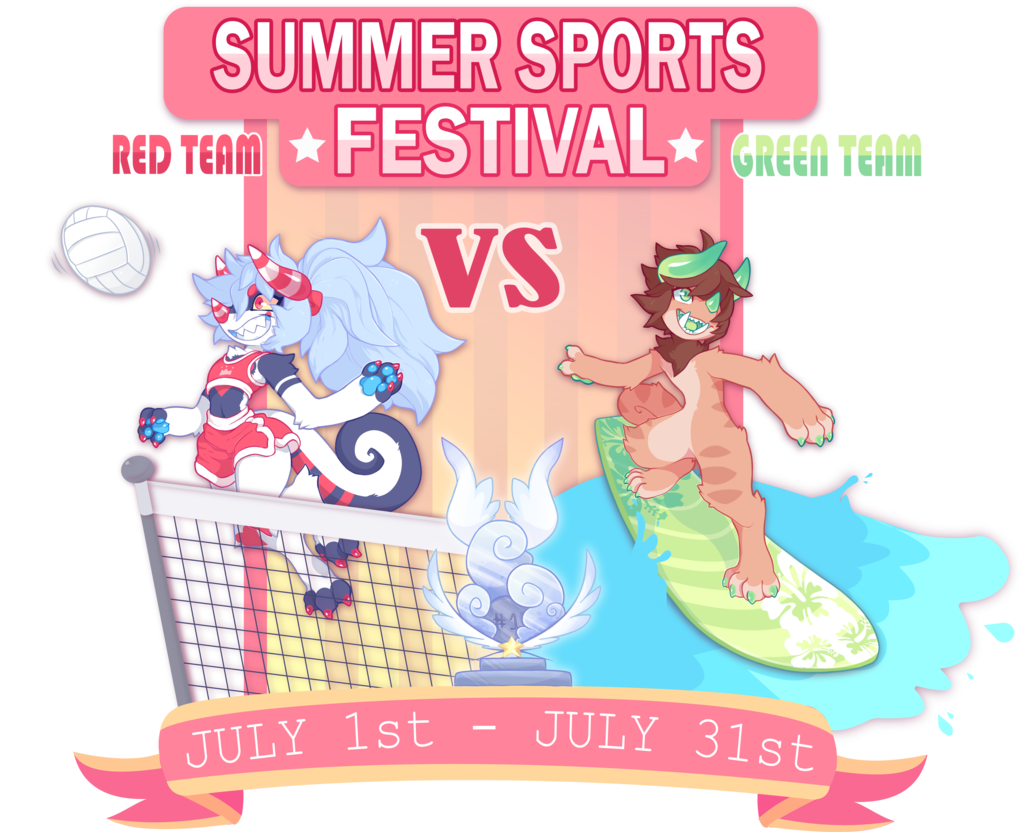 omg forgive me i'm just gunna copy the description that Hosh wrote out. I've been so busy lately asjfhsdjhfbdhjfgdf
Hello everyone! The time has come for the Chimereon group's second Seasonal Event!
We've been planning this bad boy since the beginning of May, so we're absolutely ecstatic to finally get it going!
---
Chimereons absolutely adore outdoor activities, so why not throw in a little competition?
This year's Summer Event we will be hosting a
Sports Festival
, a big event that gives the participants particular weekly prompts to draw and earn points that will contribute to their official Sports Team!
THE OFFICIAL EVENT WILL BE STARTING JULY 1ST, RIGHT NOW IS ONLY TEAM SORTING!
★That said, you have until JULY 1ST to apply for one of the teams★
---
</b>The teams this year feature the
Chimereons
group's Owner and Co-Owner as the Team Captains:</b>
ground-lion
representing
GREEN Team
with their Chimereon
Clair
, and HoshPosh representing RED Team with her Chimereon Archie
Participants will be sorted into either of the two teams, and the goal is to earn as many points for your team by drawing the given prompts!
Prompt Art entries will be judged via a Point System that judges based on complexity, such as headshots-fullbodies, including a background or not, etc.
-The official Point system chart will be announced come July 1st-
~Small prizes will be given to all who participate, but members of the winning team will earn a little something extra.~
★More information about the Event will be revealed coming July 1st★
---

★THE MYO CHIMEREON EVENT WILL BE CLOSED FROM JULY 1ST - JULY 31ST★
See here for more info:


MYO EVENT WILL BE TEMPORARILY CLOSED!!!Hi guys! We're here to announce that the current Semi-open MYO Chimereon Event will be TEMPORARILY CLOSED from JULY 1ST to JULY 31st!!!
SO MAKE SURE TO GET YOUR MYO CHIMEREONS AND PROMPTS FINISHED BEFORE THE FIRST!
The MYO Event is being temporarily closed due to the Summer Sports Festival Event: https://hoshposh.deviantart.com/art/Chimereons-SUMMER-SPORTS-FEST-LIVE-751691414?ga_submit_new=10%3A1530074607&ga_type=edit&ga_changes=1&ga_recent=1
★If you already have a Chimereon waiting approval/waiting for a prompt, you will still be able to get it approved during July, but this is ONLY if you already have the Chimereon aleady submitted. You will NOT be able to submit a MYO chimereon until July 31st.
★The Chimereon Staff will work overtime to get your Chimereons approved in the next 4 days, and we really suggest you do :eye emoji:
The reason for doing this is because the
---


BASIC INFO FOR ENTERING
</b>★YOU HAVE TO BE SORTED INTO ONE OF THE TWO TEAMS TO PARTICIPATE!★
★You can only submit ONE piece of art for every official PROMPT that is given★
(Prompts will not be given individually but announced as an event that you will draw your Chimereon(s) doing)
★Including other Chimereon in your prompts (including Chams on the other team) is ALLOWED and ENCOURAGED★
★Prompt art that has fanart Chams in them WILL NOT RECEIVE CURRENCY FOR THE GIFT ART EVENT★
★READ ALL THE RULES ABOUT TEAM SORTING BEFORE SUBMITTING YOUR APPLICATION★

---


GO HERE TO BE PLACED INTO A TEAM AND ENTER INTO THE EVENT!
(You will be NOTED your Team once you have filled out the form)

Summer Sports Festival - TEAM SORTING (OPEN)


FAQ:
Can I only enter with only one Chimereon if I own more?

No, we are sorting the teams by PEOPLE and not CHIMEREONS, so you can use any of your Chimereon so long as they represent the team
you
were put on!
Just make sure to enter every Chimereon you're planning on using for the event when you go to apply for a team.


How many days will we have to complete a prompt picture?
A new Prompt will be announced every week, so you have a full week to complete that prompt!
Can I switch teams?
No you may not
Can I include the Team Captain's Chimereons in my prompt art?
Hell yeah you can!
What happens if I don't draw any art for one or more of the prompts?
Then you don't get any points for your team :eye emoji:

Can I include art of a friend's Chimereon if that friend isn't participating in the Event?
We ask that you try and draw only Chimereons that have been placed on a team aka are participating in the Event.

A journal will be posted with everyone who has entered as well as their chimereon, so finding other chams to draw will not be an issue.
We look forward to seeing the Activity that this event drums up, and we hope to see everyone participate!


(Regarding the actual promo art itself,
ground-lion
drew the lineart of Clair and Archie, and HoshPosh coloured it and put it all together <3)

</center>