Since I've been working more and spending more time on Da, I've developed a problem with requesting commissions. I'm artistic but I don't invest as much time in it as I would like. Plus I do not have the necessary programs to make them the way I want (and being OSD I would never be satisfied if I did it myself). Having someone do it for me with a better artistic skill ensures that I will love it.
Being artistic with a wild imagination leads to some very interesting ideas. Some I come up with on the fly and others I spent time looking for but never found already online. (Renamon and Beelzemon. Why didn't anyone else come up with that?) As such I end up with a list of sketches that I plan to make but never do. So every two weeks when I get my paycheck and I pay all my bills, I end up with some spending money and a list of pictures I want to see. So I end up telling myself not to buy another commission but often fail.
Just recently I got hooked on the idea of making my own characters. So came up with the idea for an OC that is a huskey-german shepard mix, and anthro couple of a dolphin and orca, and a doe who wears high heels. I think I may have a problem.
Here are just a few of the pieces that I've requested over the last few months.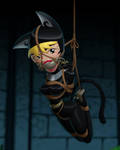 by drewgardner
<da:thumb id="463986544"/> by linnoart
by rosvo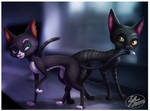 by 14-bis
by rosvo
by rosvo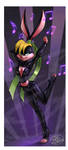 by 14-bis
by severflame