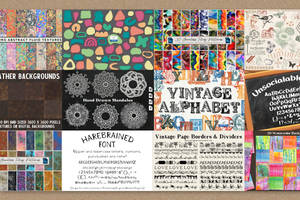 HG Designs Subscriber Area
Lots of high resolution goodies for graphic design including textures, photoshop brushes, seamless patterns and more.
---

Krita Modular Brushset V4
212K
Views
2
Collected Privately
Description
The modular Brushset is the Result of my journey through the possibilties of Kritas Brushengine. In the Beginning it was not my intention to make a complete Brushset for Krita, but with more and more Presets summing up on my Harddisc i had to sort out the best of them and optimize the settings. By that time it was kind of logical to bring all the stuff together and prepare it for a releasable Set of Brushes.
(03.Feb 2014)
More than the previous versions of this set, this is the collection of tools, I personally prefer and tweaked to my needs, and not what i considered to be needed in general. That is why it is not something one may call complete and it was never meant as an replacement for the tools that ship with Krita.
One thing i believe in is that higher specialized tools reduce creative processes. On the other hand the spectrum of possible tools in traditional Art creation, is as wide as the imagination can go - endless. Hence that, we must find a balance, giving the best tools to bring imagination to the canvas, without limiting creativity by a dictation of the Tools we use. V4 of my Brushset is the version, that comes closest to this, from my own viewpoint.
[...]

Created for and with Krita 2.8
Learn more...
Happy Painting

This content is free for commercial and non-commercial use!
Backlinking or Attribution would be nice but isn't needed.
Really appreciate the amount of work that you must have put into this brushset! Perfectly crafted!