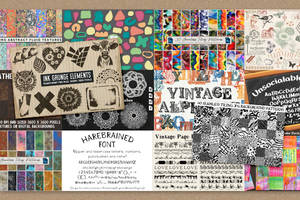 HG Designs Subscriber Area
Lots of high resolution goodies for graphic design including textures, photoshop brushes, seamless patterns and more.
---

Description
This Basic Brush Set includes
76 different Brushes
. There were 3 Aspects i had on my mind when i created the Bruhes:
Concept Design
, Simulating
Real Paint Dynamics
,
Effect-Presets
for a faster workflow.
The Set is
optimized for Graphic Tablets
. Without a pressure sensitive device you will not get the full Effect! The Brush Tips used were made from scanned Strokes with different Pencils, Markers, Charcoal etc.
- made with CS2
- Basic Pencils, Sketching Brushes
- Inking Brushes
- Wet- and Dry Markers for Concept Design/Coloring
- Effect-Brushes: Foliage, Clouds, Smoke, Grass, Fur, Fibers/Hair and much more
-
Smudge Brushes
- A wide Range of Brushes for textures
If you use or like this work it would be nice if you let me know about.
(Credits are are welcome but not obligatory)
The content is free to use commercial and non-commercial.
v2.0
Changes:
- Added Smudge Brushes (also avaible as standalone pack -> see link above)
- Added Pencil Shader, 1 additional Details Brush
- Small Adjustments
- Additional Round Brushes
- Renamed and Sorted

[23.09.2013]
v3.0
- Included Fiber Brushset
- Added "Extended" Smudge Set
- Deleted 3 Brushes of minor usage
- Additional Brushfiles splitted into categories
Thx for all the Fav´s, comments and Feedback!
Happy Painting