I really wanted to draw a dude with black hair like Yuuko from xxxHolic. I'm sure he wanted to look cool like her, but how can you look cool if you're all with shiny? What if you look a little like Genie?

Do you like it?


You will get the full-size image (.jpg) in high quality with and without watermarks and all parts of the image without a background. (.png).
SB: $30
MB: -
AB1: $170
AB2: $200 I will draw full body
Rules
• Please bid only if you sure that you are ready to pay
• Payment by PayPal.
• Ending after 48 hours past the last bet.
• I can hold Adopt for a maximum of a week.
• Please (chain) bid under the featured comments.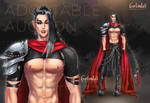 You can view the speedpaint in this
Premium Gallery
Ping list! PikaNaNoDa, luna13moon5, Milbanix, Yami-Tsukiko, bleeding-rose92, mekara1987

If you'd like to be added to the ping list to be notified of when I post adoptables, just let me know in the comments! You will remain on the ping list until you request to be taken off or are inactive for a few weeks. If you'd like to be taken off, just let me know, it's no problem!
Image details
Image size
3217x4238px 687 KB