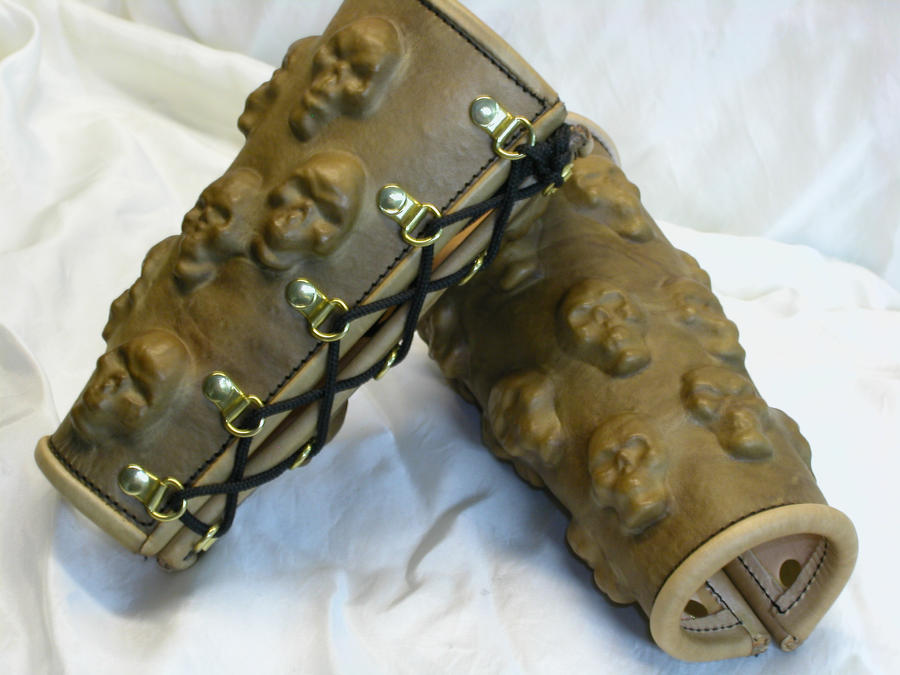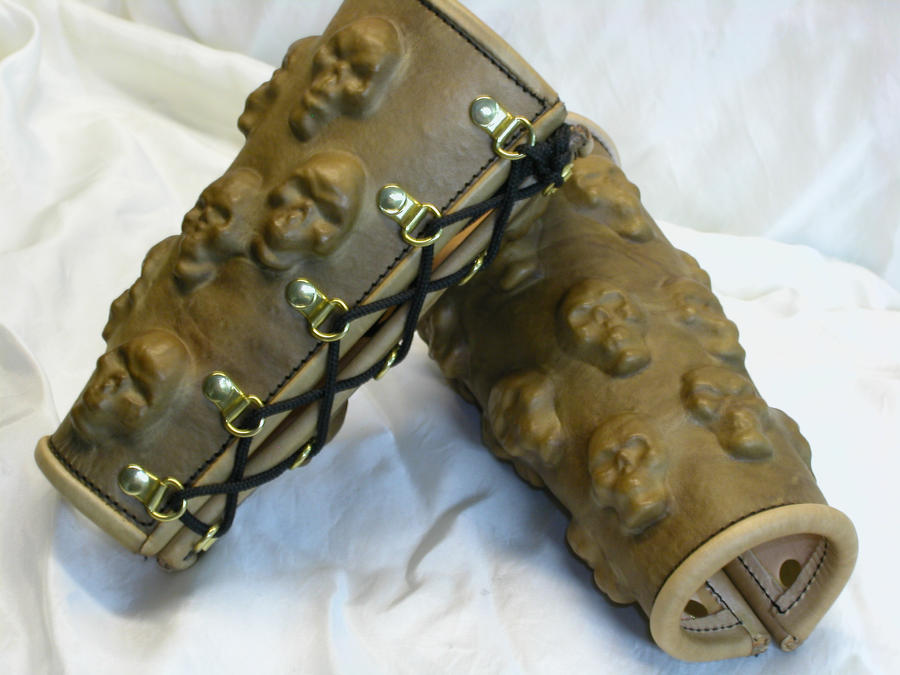 Watch
Back of bracers.
The first of the stolen souls armor. Formed veg tan leather, bonded and stitched with a french binding. Finished off with brass speed laces.
Not bad for a first try.

These are really awesome.

Reply

Thanks. One of the first attempts and "sculpting" leather other than the hoods/masks. Worked quite well and then started making the full size leather skulls. Next are larger more detailed pieces. Should be interesting.
Reply

these are awesome, just one question, where did you get the speed laces from?
Reply

I got those from Ohio Travel Bag. But I suggest you shop around because they are really high on price.
Reply

hell I can't find them anywhere cept for china and I sure as hell don't wanna buy them from there

Reply

I hear ya. Been a real problem getting quality hardware over the last several years. Places like tandy leather factory sell nothing but crap so I have to search around for small operations that still carry quality. But most of it is still made in China. The EPA laws here in the states make it to expensive to manufacture. Same has happened to the leather industry in this country.
Reply

I know the feeling, all we have is a tandy leather, and all the canadian tandy leathers get the seconds from the ones in the states... hard to find solid brass or stainless steel fittings and stuff, even copper and solid black is hard to find, and I hate ordering online so I try to avoid it where I can... been thinking I might have to start making my own...
Reply

Sounds like you need to look into some of the local TAC/ farm and ranch supply companies. They will have real hardware for sale, limited, but the heavy quality stuff. One company I use is Walsall in Arizona ...here in the states. Walsallhardware.com. They only do farm/ranch hardware. And their prices are reasonable. Nice people as well.
Reply

that's a good idea, I will check into it and see what we have here... Canada seems to get the shaft for a lot of good places like that, at least Alberta anyway... just like it's damned near impossible to find brass plate or anything like that
Reply

Can't wait to see the whole armor. Some skulls could be screaming to show suffering of enslaved souls.
Reminds me of Lucius the Eternal from Warhammer 40k (when he dies in combat he's ressurected and the soul of warrior who killed him becomes a part of his armor).
Reply

I am looking forward to it as well. Got slowed down by the halloween rush so cant wait till end of the month so I can get back at it.
Reply

Looks great! The pulls on the soul skulls worked great!
Reply

Thank you my friend. They did form fairly well, though I think I can improve on them quite a bit. Several things I did not consider prior to forming. And not so sure about the brass speed laces.
Reply

You really should give me a hint on how you do this! Its amazing!
Reply

You will be one of the first I will share with after I get to my goal.
Reply

Truely honored. I want to do some more experimenting myself.
Reply

I would like to do more experimenting as well but was swamped with orders this month. Halloween is a big month for me with the retail stores and ebay.

But I should be able to come up with new designs starting november, just in time for the xmas season.
Reply

Nice work on the leather impressions.
Reply

Reply

LOL...not sure what that is. But the theory ..at least in my strange mind, is that it takes one thousand souls to create the Armor of the dead, but they must be stolen and unwilling, giving the armor the strength, anger and determination of a thousand fighters in one man..or woman.
Down side is the person that wears the armor must keep his or her strength or the souls will take over his or her soul and drag them to the nearest Wal-Mart and there he or she will stay for all eternity. A fate worse than death.
Reply