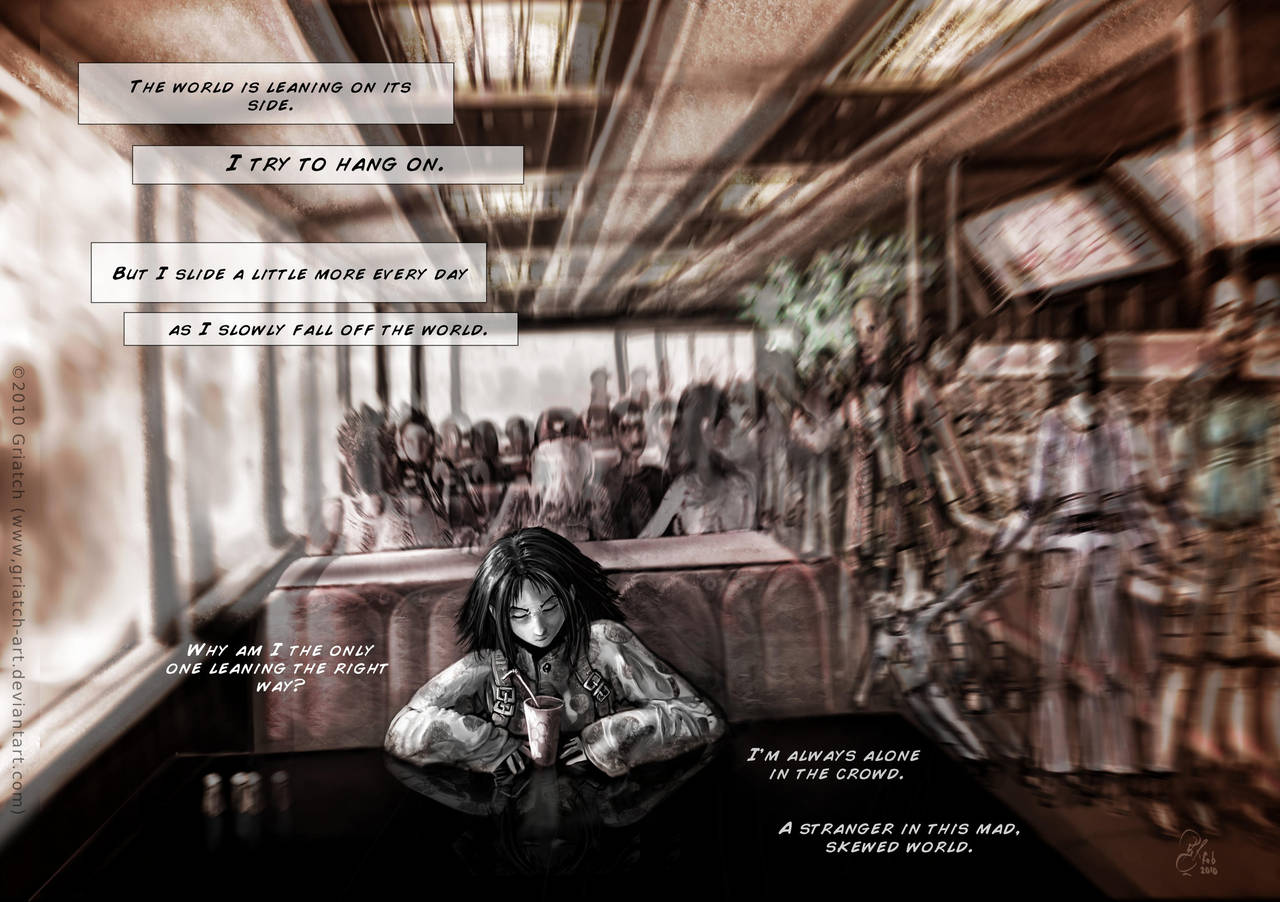 Watch
And now for something completely different ...
This is intentionally a rather nausea-inducing piece, meant to reflect the weird mood and possibly growing insanity of the protagonist, only known as 'The unknown girl' (there are more studies of her in my gallery).
I really recommend looking at the full view for this, in small view it's just a mess. I kept the text captions in there because I felt it would be incomprehensible without them.
It's an excerpt from a really strange comic work and story that I started many years ago and which I get back to now and then. The style of this is a lot different from
Shrike
[link]
notably in the keeping of black outlines lines and the (mostly) lack of colour.
Initial sketch in MyPaint, finalization in GIMP.
.
Griatch
Well, I think you've done it again. This is a really well executed piece with major visual impact.

Vision: I understood immediately what was going on before reading the text. I didn't know if it was internal (as suggested by the text) or possibly caused by a drug in her drink, but I knew that the girl's perceptions were chaotic and inaccurate. This treatment and techniques brings this home powerfully.

Originality: I gave you a 3 because this concept of un-level, doubled vision is a familiar one from movies, TV, and comic books. OTOH, it's a very effective visual metaphor, and if it's not broke, don't fix it.

Technique: The gimmick of this piece (copied and skewed background layers) is very well done. So is the girl, particularly her jacket. Little clues, like the ill fitting coat sleeves, suggest to me that this girl is on the run, or possibly homeless. She's having to make due with what she can find/get/borrow, and maybe it's not really enough.

There are three figures in the booth behind the main figure. The one on the viewer's right really bothers me. It took me a while to figure out what I was looking at. The placement of shadows on this figure makes it look deformed, particularly in the neck, face, and chest. The background in rendered a bit loosely, which works well for this technique. However, the figure in question is very near the center, and near the focal point of the piece. This has the dual consequence of making her less blurred by doubling, and making her more easy to notice because she's in the periphery when one is viewing the girl in the foreground.

Impact: As I mentioned before, the chaotic and confused nature of the scene was strongly and immediately apparent.
The Artist thought this was FAIR
3 out of 3 deviants thought this was fair.