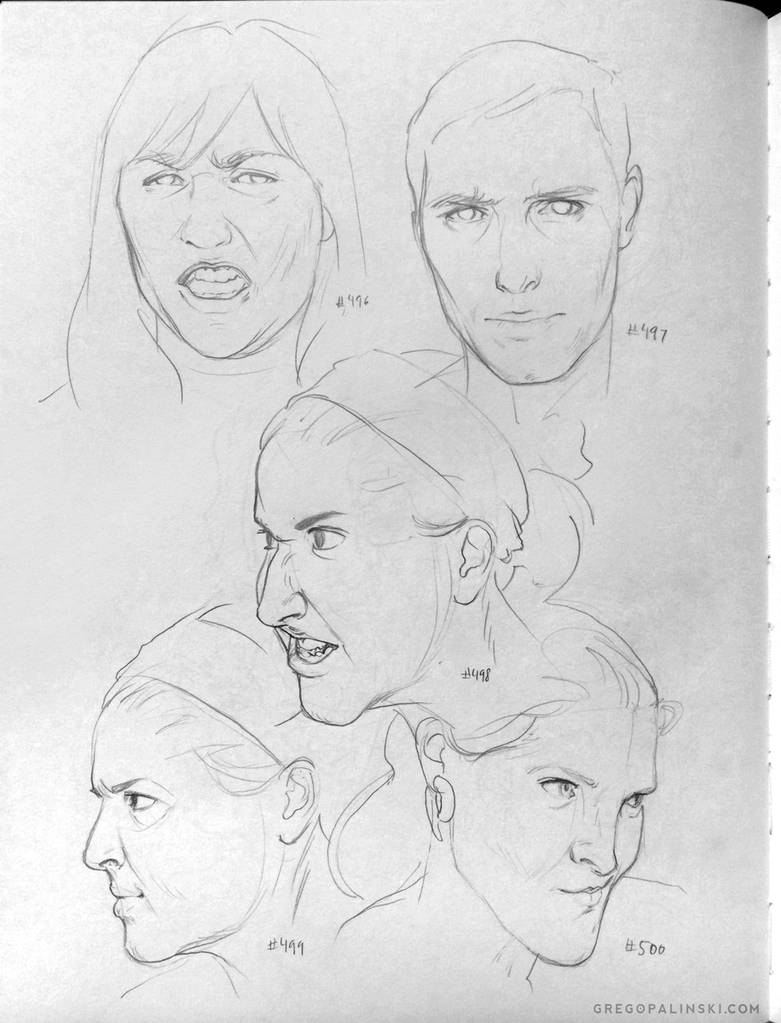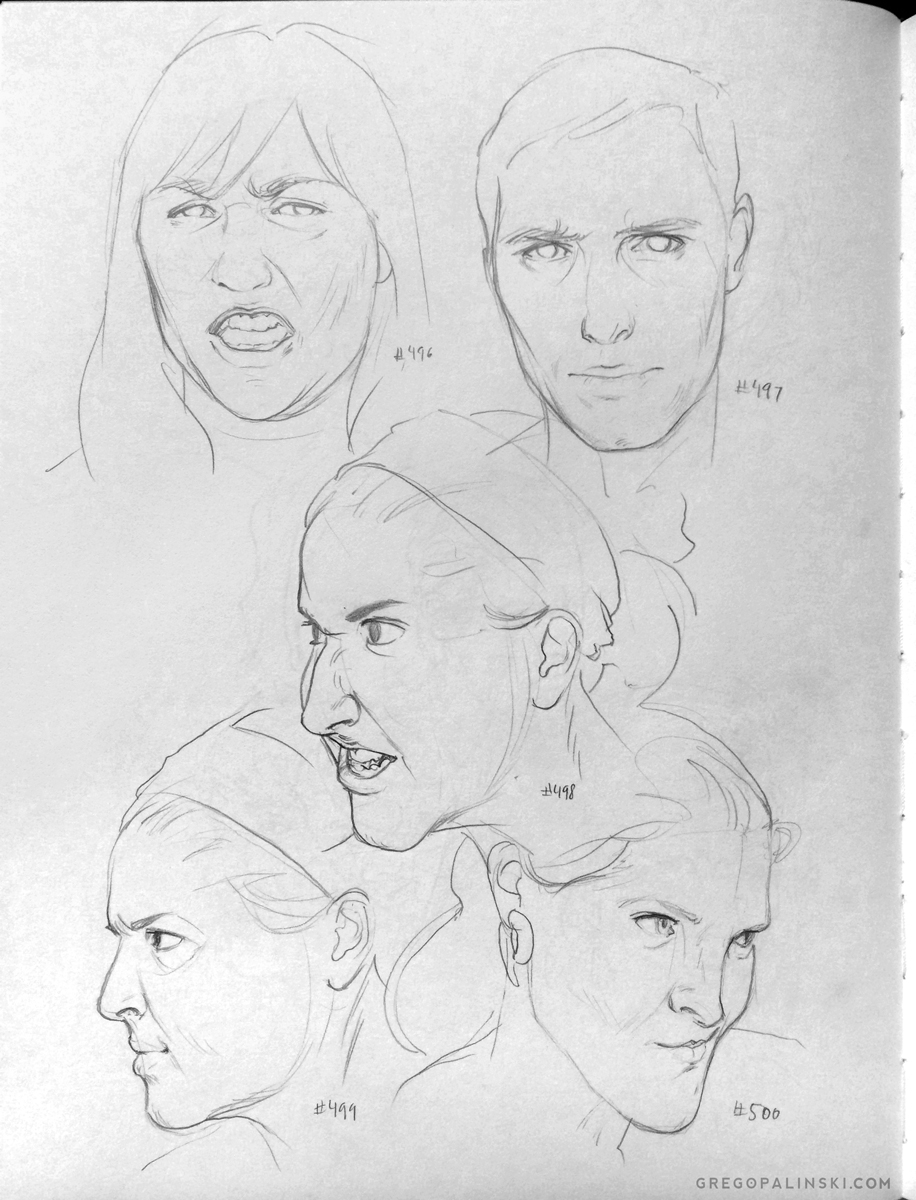 Watch
I just reached #500 on my 1000 heads sketchbook ^^ only 500 more to go :[
I thought I'd share some things I learned so far. I hope I don't come out too preachy.
1. Take your time! There was a point that I started doing 2 minute sketches because I wanted to move along faster. I learned little to nothing drawing those. If you rush you won't look enough and just start scribbling to get everything down.
2. Look, look, then look again. Half of your time should be spent looking at your reference. If you're trying to place the nose, look at how low it falls compared to the width of the brow, imagine a triangle from the outer corner of each eye down to the base of the nose, look how wide the nose is compared to the width of one eye, compare that distance to the distance between the tear duct and the supraalar crease, imagine a line straight down from the tear duct and see if actually lines up with the edge of the nose (not always) etc. and THEN put pencil to paper. If you don't look closely at what you're drawing, you're basically drawing from your imagination. What you want to do is put new, CORRECT information in your head to pull from in the future when drawing from imagination. By drawing inaccurately from your imagination, you make it a habit and you're basically practicing drawing bad heads.
3. Don't rely on your eraser. If you notice that you're constantly using your eraser to fix your mistakes it's most likely because you're not looking enough. Slow down, look, measure distances (try to do the measurements in your head, so you can train your eye to judge distances correctly) put a LIGHT line down, examine it's correctness, tweak it if needed, and move on. Still keep the eraser handy, nothing is more discouraging than an awful looking head staring back at you

4. Don't worry about likeness. The key to likenesses is to nail down the distances between features and their proportions. This takes time. Your goal should be to draw a convincing head, so if anyone else looks at it they can imagine that person in real life.
5. Don't waste your lines. Think of your pencil strokes as a precious commodity. Don't just throw them away. For example, if you're drawing the profile of a nose, look at your reference closely, see where there are little bumps and examine the curvature of the base of the nose. Then try to use as few lines as you can. It doesn't need to be one line, but definitely not 10 scratchy lines. Think fluid, as if you were putting down a brush stroke. Don't go back and forth, try to draw in one direction.
6. Look at big shapes while drawing little shapes. If you're drawing the upper lid of an eye, follow that line all the way and see where it crosses with other features or parts of the head. Whenever any line suddenly ends, in your head extend it to see where it crosses other lines. It's easy to get lost in each individual feature and forget how they relate to each other. It takes effort to keep checking back with the surroundings and making sure the big shapes are correct.
7. Stay consistent. You've probably heard others mention that good drawing is like a muscle, it needs to be exercised daily or it will fade. It really is true. Maybe you won't forget how to draw completely but if you skip a few days you'll definitely notice that your strokes are less confident, you're rushing, your accuracy and hand-eye coordination is off. I find that 5 drawings, 5 minutes each is a nice way to warm up every day.
8. Check your skills once in a while by drawing a head entirely from your imagination. You may notice that you're struggling with something, like you can't seem to draw the lips correctly. Don't be discouraged! This is good news. Now you know: I have to look at lips more carefully and try to understand them from all angles!

I've definitely noticed that my imagination drawings got better, and so will yours!
9. Try drawing with a pen. WHAAAT? This can really help if you're struggling with line economy. You'll notice that you have to be a lot more careful when placing a line, and it will force you to look more before drawing. Then when you go back to the pencil, keep the same things in mind, and try to avoid the eraser. Keep them lines pretty.
10. Try different approaches. There are many ways to go about drawing a head and none is better than the next. Find what works best for you. In school many teachers will basically force you to draw the way they draw because that's THE WAY according to them. Bullsh*t. Andrew Loomis had one approach
link (for a simplified approach check out
Proko
),
Matthew Archambault
has another, many comic book artists use slightly different techniques, etc. Regardless of your process, as long as you carefully observe your reference you'll get good results.
I hope this was helpful in some way and didn't bore you guys. If you have any questions just post in the comments and I'll make sure to answer you. Thanks for reading!!!


ohh good tips! my weakness is always rushing, like I just want to get the drawing down super quickly I really have no idea why it's silly!
I really like drawing with ballpoints though! they're like the halfway point between fineliners and pencils because you can draw pretty lightly even though you can't rub out.

half way through though! you'll reap the rewards man <3
Reply

amazing. learning from practice is the way. great tips thanks for sharing
Reply

Hey there! I have been following your example and have tried to complete 1000 heads, nearly made it to 400 now! I am however not drawing them with pencil and paper but digitally, either way the practice really does help

. Thank you so so much for sharing this and for all of your useful advice, I will definitely try to keep all of it in mind in the future.
The thing that I am still having a lot of problems with is getting 3/4 view right, my eyes and mouths just don't look right. I think taking longer to observe my reference before I start might help with that. Any other advice you might have is welcome

. Once again thank you so much for taking the time to share everything that you have learned.
Reply

3/4 view is probably the hardest one to draw. I struggle with it as well. I would say, use a lot of imaginary vertical lines and see where the corners of the mouth and eyes land in comparison to other features. They usually don't exactly land where you might expect them to when drawing from imagination. Hope it helps, and congrats on hitting 400!!!

Reply

Thank you so much, I will definitely keep that in mind in the future. Luckily Photoshop also has actual vertical lines for me to move around.
Reply

Great advices! 1000 heads... hm. Need to do same thing

Thanks for sharing!
Reply

Thanks for the tips! I really want to do 1000 hands, portraits, or full body sketches, but I don't seem to be committed enough. Love seeing your progress though!
Reply