Hi awesomelings!

I decided to open few slots for digital comission, if you're interested, contact me via note or e-mail or something, I'd be glad to draw something for you

1. Gothkilla13
2. FREE
3. FREE
For basic price info see picture: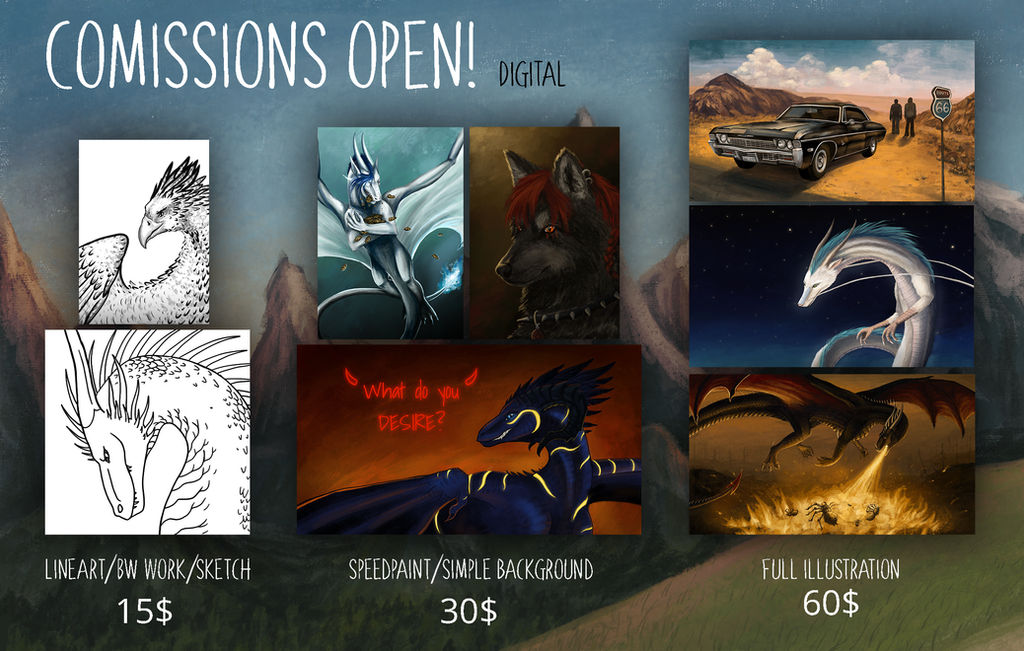 For some further information contact me or see doc at the bottom, I'm looking forward to your notes!


COMISSION INFO 2018Process of work
First we will settle on a complete idea, what should be draw, including all the details. Please send me as many references as you can, it'll help my interpretation. :3 Then, we will settle on a price. After we have agreed, I will send you one or multiple sketches of the whole picture and you will let me know if you are satisfied, or if not, tell me what I should change. During the whole sketching stage, anything can be changed and tweaked so please don't by shy and let me know if there is anything. I want you to be satisfied!
After I get your permission to continue, I'll be working on finishing picture. I can send you some WIP's if you'd like and some minor things on picture can be still changed to your wish, I'll do my best. And then it's done!
Payment
I'd like you to send me the payment after you have accepted the sketch. I accept PayPal (