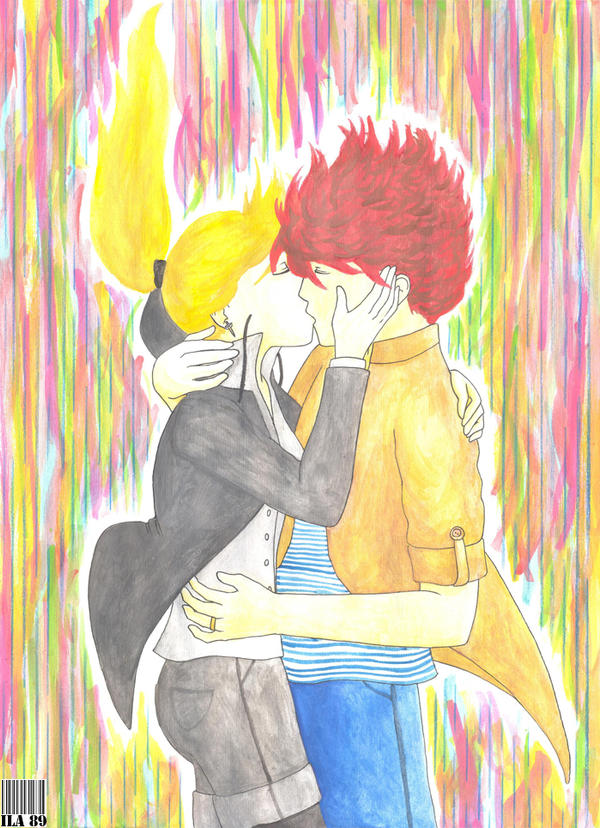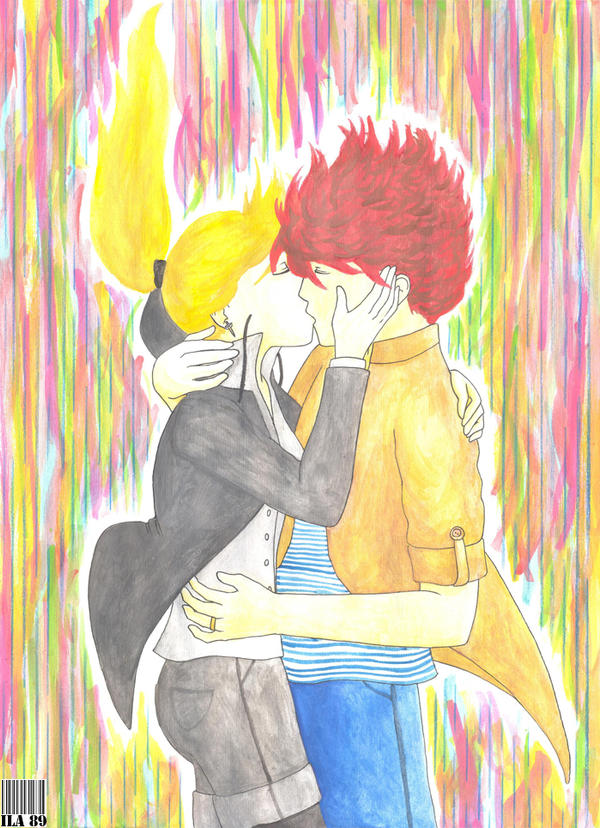 Hurray to parallele universes! Especially gender-bent ones!
First time I seriously try watercolours. You all can see I have to exercise a lot... But I'm quite proud of the lineart: the hands are ok and it was also the first time I draw a kiss which looks... engaging.
This is my tribute to the Ponds. First I wanted to draw them in their regular version, I mean, Amy and Rory. Then came the idea of the kiss....
SPOILER
In the original scene, they are just falling down embracing each other, but I wanted them to kiss... like in that meme:
[link]
END OF SPOILER
...I don't know why, but then I thought they would have look better gender switched. So I did it.
I'm sorry. I'm so sorry.
ps: Rorie's earring is a little sword. Little tribute to the Last Centuria.
More Genderbending Doctor Who (including the Ponds):
[link]
[link]
[link]
Aurora (Rorie) Williams and Alec Pond
Original characters by BBC

with effects


woow
Reply

Sì, venuti non particolarmente bene, temo... Mi è stato detto che sembrano stelle filanti. TT_TT
Grazie per aver notato il mio disegno e... benvenuto su dA!
Reply

Why did it have to be a genderbend? ._.
Reply

I don't know... It just came out this way. But fear me: I think I will make a regular-gender one of this! O_O
Reply

Oh, and I love the earring and addition of the kiss, as they make the scene more...meaningful, I guess?
Mind you, I was kind of pissed but not pissed at the ending for thie episode. And I do not like Moffat as much as I used to, after looking over his DW stories and particually his adaptation of "A Scandel in Bohemia".
These sum it up:
[link]
[link]
[link]
Then there also his frequency to put Amy in the Damsel-in-Distress role/knocked unconscious, like so many female companions before her. Oh, and while Rory Takes A Level In Badass and gains the mightly name of The Lone Centurian and kicks ass no matter the timeline, her badass self only ever seen in a future that never was, and was unfairingly never accepted. She has the much more passive name of The Girl Who Waited (especially noting the 'girl'. I
hate
it when grown women are called 'girls' as you never hear a grown man being called a 'boy' excluding if he was a slave).
Reply

I see you very angry! Well, I don't like Moffat in principle, but this time I have to admit he was merciful with these poor characters: at least, they are together and they lived together...
Yes, Amy has been the damsel in distress too many times and I got tired of her in season 6. We needed more Rory, but now is too late. I agree with you about their nicknames (The Last/Lone Centurion kicks The Girl Who Waited ass so bad).

About Irene Adler, sadly I don't like her at all, not even Conan Doyle's version. And I don't like the fact she have been exploited to the right and to the left just because she's the only strong woman in SH stories (Mrs Hurson is underestimated). So, I didn't like Moffat version. It's funny and everything, but she's not The Woman. She's a random woman.
...But this is a little bit off topic...
Note?
Reply

Nice! I was wondeirng when you would do something else like this

.
Reply

Just wait and hope, my dear... Wait and hope that my right hand shows her willing to work.
Reply

Is that a refrence? I like how poetic it is.
Reply

Reference? It's the truth. I'm able to draw only when my right hand allow me to do so.
Reply

Oh, right, but it was still a intersting way to put it. I get Writers Block sometimes, so I know how you feel in a way. BTW, did you notice I faved your Maximum Ride piece. I forgot to ask. Max and Angel are my favourites. Did you know there is a manga based on the series?
Reply

Heeehehe... You make me feel smart and full of funny ideas about new stock phrases!
Yes, I noticed, darling!

I usually do not thank-for-the-fav my Friends because I think it would be... redundant. I'm glad you like it, anyway! And yes, I also read the first two of them (the only ones we have in Italy by now). I like the covers and the characters design, but I noticed the overall drawing is not that special... Sometimes it goes very messed up and SO american. Am I wrong?
Reply

Well, shock phrases are stock for a good reason - they became such because of how good (albeit overused).

Ah, I see. I have not actually read any of the books, but I do know the basic plot summary for most, the characters too. I'm not sure. What do you mean?
Reply