Announcements and Business
===
Running on the ragged edge, here, but we'll get everything done! Let's see what we've got coming up!
===
(10/29) Halloween '18 Wrapping Up!
Hey everyone! Right now we're currently wrapping things up for my annual Halloween sketch commissions! Any ordered now I won't be able to get to you before Halloween, but they're still $18 each, with color, and they're available until November 2nd! Click that link for more information!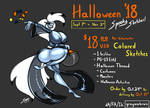 As usual, the commissions must be Halloween themed, either in a costume or as some sort of monster creature or with spooky accouterments.
We're going to be streaming two or three times this week for Spooky Sketches, so make sure you drop in on the stream to get yours!
If you have contacted me and/or ordered a commission before October 24th, you must have it approved and paid before 6PM EDT on October 31st in order for them to be posted on Halloween!
If you're not sure if you're on the list or not, you can check it out here!
(Make sure the tab is set to 2018 and scroll to the bottom.)
===
(8/6) Various Happenings ... updating sporadically, again! (D'oh!)
So yeah, I jumped the gun a little bit. Rent busted us and we need money for groceries and that kind of thing, so my paid work is going to come first. I have to make my clients happy and as much as I love the comic, it takes a back seat to keeping the bills paid. It makes me sad, but for now, I'm going to have to work on it slowly and just post it when I have a page finished. So I'll do it when I can.
But, if you haven't read it in a while or haven't caught up...
And if you like it, go vote for us over at TWC!
And if you really want to support us, you can help us out over at Patreon or just chip in over at Ko-Fi!
I appreciate the support, and the patience. Thank you.
====
Onto the list…!
===
Commissions, Paid Work & Patreon Items

===
For October:
Arty and Spooky - Artemis [INV-305]
On Hold
Spooky Hunter! - Hunter [INV-314]
Finished!

The Adventures of Space Vixens XIV [Josephine Lee Harris] (Patreon)
In Progress!
SH Nurse Pin-Up (Patreon)
Blocking & Sketching completed.

Various Happenings - Luckpenny #2
Not Started
ASAP:
November Wallpaper - Cass at Alki Point [Various Happenings]
Not Started

Able! - Able [INV-309]
Not Started
Funstuffing - Hunter [INV-312]
Not Started!

Funbois 2 - Hunter [INV-313]
Not Started!
Stripper Nuns! (Patreon)
Not started
Wicker Worgen - Nevvy [INV-315]
Not started
TBA - CuriousGarchomp [INV-316]
Not started.
Conscript Stream: Chacumera (1hr) [INV-318]
Not scheduled yet.

Midnight Snack! - Drillkiller [INV-319 to 321]
Page 1
Not started.
Page 2
Not started.
Page 3
Not started
Flyin' Possum - Kith [INV-323]
Not started.
Overstuffed (Pt.2) - Wuffbutt [INV-324]
Not started.
Foxlike Snuggles - Shaze [INV-325]
Not started.
Snaketime - Iron Confederate [INV-326]
Not started.
Deer Fence [Vixen Whitetail] (Patreon)
Not Started
Froppy-ganza - Fernin [INV-354]
Not Started.
Pretty in Pink - Fernin [INV-355]
Not Started.
Concentrate On The Task At Hand [Yukiko Matsumori] (Patreon)
Not Started

More Creepy Hunter - [INV-376]
Not Started.
JWhoof Stuff (Patreon)
Not Started Yet. Need info.
===
Halloween '18!
Completed
MadCoil
Able
Manawolf
FoxyDean (3)
Kithpine
Radec (4)
Jon

KlinKitty

Karma

Hunter (3)
RazorBreeze (2)

ChaoticK9 (2)
Obsidian

Scarlet (3)

Christa
Artemis

lunasniperz

friendofloyd
AzureDreamer (2)
Zedd (2)
Remixer (2)

Gnoll (2)
Shaze
Siege
Carmine
doomcup
IronConfederate
BigBunButt
Wuffbutt
Ready
WuffButt
Vulture01
Kithpine
RazorBreeze (2)
Radec
Cale~ (2)
lunasniperz
Xavier (2)
Cole (3)
Xaxoqual (2)
Invoiced
Inquired
As always, if I forgot something, let me know!
===
To Do List
===
Sweep folders for not-uploaded pieces from 2018
Update the Hall of Friends!
Update Ledger
Update FSS Site

Make sections for each commission type


Wobble Site Section
Portraits Site Section
Character Sheet Site Section


Compile all of Obsidian's past commissions
Finish Patreon Pieces (4 Pieces)
Update Patreon Banner
Finish Blocking Out VH Ch.5
Clear out all of my inboxes (Tumblr/dA/IB/E-mail)
Max out my tumblr queue
Finish Queen Spooky Character Sheet
Update Secret Gallery
Create VH Cast Page(?)
Spooky's Castle Update(?)

And then, as for the schedule...
Weekly Schedule [10/29]
===
Monday (10/29)
STREAM (6PM ~ 2AM(ish) EDT): Halloween '18 Spooky Sketches!
Tuesday (10/30)
STREAM (6PM ~ 2AM(ish) EDT): Halloween '18! Spooky Sketches!
Wednesday (10/31)
Uploading Halloween Commissions
Finishing up leftovers
Thursday (11/1)
Decompression

Friday (11/2)
Decompression

Saturday (11/3)
Day Off
Sunday (11/4)
Scheduling
And that's what we've got for this week.
Milestones & Highlights!


===

Let's see how things are going!

As of right now:

That's a lot of numbers!

No real changes in the blurb this week.

I'm burning out pretty hard to be honest. I tried to get some work done this weekend but it was like pulling teeth. Honestly, it's been hard just to stay awake. I'm looking forward to that vacation in a couple of weeks something fierce, so much so that I might take it a week early if no one orders anything this week.

Still, I consider this a victory for myself. We've done better this year than ever before and I appreciate everyone's support! You all really came through this year. Hopefully next year I'll have enough room to pace myself a little better.

As far as other things go, I'm getting really antsy about my personal projects.

I'm really eager to get back to Various Happenings and I hope I'll have the chance to really work on my commissions come November.

Just keep an eye on these journals for more info! If you all have any questions for me, feel free to ask!

My e-mail is open at sali(at)foxsaliant.com or you can pm me either here, or at my deviantart or inkbunny (links are below).

If you want to help me out or see stuff that I can't quite show off yet, feel free to visit my Patreon and contribute! If you just want to help, check out my website over at Foxsaliant.com for general info and donation links! I set up Ko-Fi for those of you who are still skittish about Patreon but want to toss something my way anyway, so if that appeals to you, go ahead and throw something over there!

The weather feels so good now. It makes me happy, though this winter's probably going to be beast. We'll just have to see!

Thanks again for reading, and I'll see you next week!

~Spooky

Fox Saliant Studios | Various Happenings
Patreon | Ko-Fi | dA | IB | FA