Hello Everyone,
On June 15, I will participating in Long Island's, first pop culture convention, EternalCon, held at the Cradle of Aviation Museum.
www.eternalcon.com
I will be at the Artist Alley and I will be conducting a Animation Workshop, where I will screen Villikon Chronicles:Return to Mayhem (
villikonchronicles.com/
) and present/demonstrate some of my animation techniques.
My illustration for the Seikima-II article interview is featured in Monster Attack Team #10 magazine. My two ads for GraphicAnime and Villikon Chronicles: Return to Mayhem is also featured in this magazine.
Here is the photo of the Seikim-II article that features my art work.
www.facebook.com/photo.php?fbi…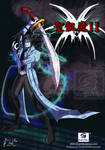 This is a yearly magazine and it will sell out and it will never be reprinted. So, get yours today at this official seller.
www.captainco.com/products/mon…
More about the MonsterAttackTeam is at this web site.
www.monsterattackteam.com/
cheers,