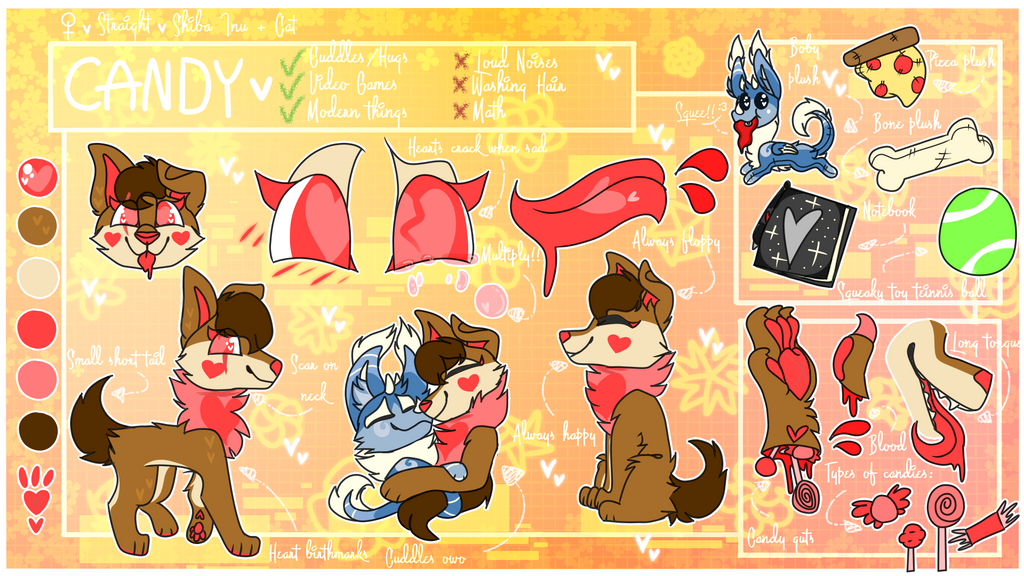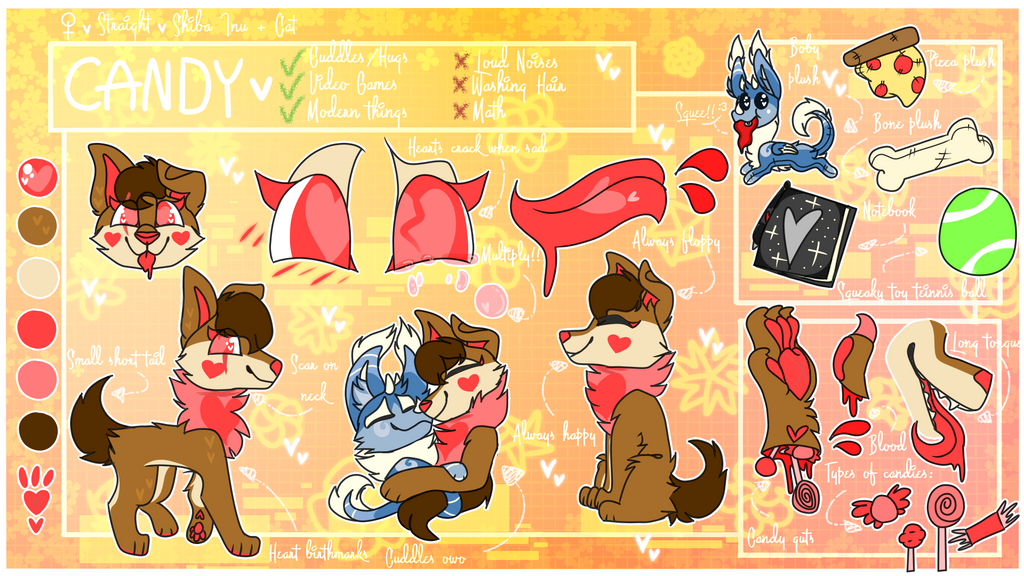 Watch
So Candy is a very funny, goofy, happy go lucky pup that will accept any challenge that will come her way. She loves playing video games, such as Minecraft and Terraria, and she loves hanging out with Rokka, Immoral, Boby and Urio. She is very lazy and will procrastinate on ANYTHING, loves to relax. She hates taking baths and babies, as they are very loud and noisy. Somewhat reason, this female wolf dog enjoys stealing and eating candy.

Name: Candy
Gender: Female
Age: 13
Birthday: July 28
Status: Single
--
Sexuality: Straight
Sexual preference: Males
Species: Wolfdog, shiba inu, cat
---
Father: Slash
Mother: Chessa (Chess-ah)
Brother(s): Lupus, Obisidian
Sister(s): Pepper
Son: None
Daughters: None
Step-Father: Chanter
Step-Mother: Ruby
---
Pet(s):
Name: Fleet
Gender: Male
Species: Ferret
Description:
Fleet is a serious, flattering ferret that loves Candy with his life. He's not with her 24/7, but almost all the time. They share a strong relationship, and look out after eachother. He was found in a ditch by Candy and she took him in, and they grew up together.
---
Rank: Warrior
Weapons: A knife , kitana (2x), bat with crooked nails at the end with a smiley face sticker, an axe
Abilities: Superhuman agility, Superanimal endurance, Superhuman reflexes, storage in her pink fur
Personality: Sweet/Happy/Goofy/Caring/Protective/Shy
Likes: Candy, food, spicy foods, video games, fluffy things, cute things, sweet foods, sweet smells, newly untouched unpacked packages smells, brushing her tongue, her family, playing, sleeping, Fleet, Males, Drawing/Art
Dislikes: Children, loud noises, church, working, anything including water, bloodshed, demon Candy, being yelled at
---
You may draw her, but DO NOT CLAIM HER AS YOURS.

Reply

candy is so precious omlll
Reply

Reply

OML LOVE candy shes so cute !!!
Reply

Reply

i shall draw her one day if you dont mind me drawing fan art.. one day. ill let you know of course when i draw her.
Reply

Oh! Of course you can draw fanart of her <3!!
Reply

i shall add that to things to draw for gifts for others thank you for letting me draw her.. i will get to it as soon as i can.
Reply

Reply