✿ How old are you lmao
A: older than you lmfao

✿ On a scale of 1-10 how messy is your room?
A: 3

✿ Do you think you're improving on your art?
A: um not really? more like regressing at some parts.

✿ Do you think butts are cool?
A: do he got the booty? no.

✿ DO YOU THINK MER!HARU IS PERF
A: nope nope nope

✿ What's your favorite colour?
A: black and silver

✿ Who's your favorite anime/mANGA character?
A: adult reborn from katekyo hitman reborn!
jfc pls add in your manga because not everyone watches anime
i actually have a lot of favorite characters.

✿What's your favorite anime/MANGA?
A: Katekyo Hitman Reborn! / Saiyuki / Pandora Hearts / Psycho-Pass

✿ Are you an introvert or extrovert?
A: INTJ / INTP

✿ What's one thing you obsess over
A: characters who are such little shits - i can't get enough of them.
oh and dragons because if anyone plays flight rising i really love the dragons from dragon hell

10 more questions from some other deviant:

1. cute or cool guys?
guys who aren't misogynistic dickheads
oh and guys who can spew dumb puns

2. Pastels or neon colours?
pastels!

3. Coffee or tea?
TEA.

4. free or kuroko no basuke?
HOW ABOUT WE GO WITH SHINGEKI NO KYOJIN

5. Levi or Eren?
levi because i hate the shit out of eren

6. Do you like Bishounen more or shotas?
bishies! easier to draw for me.

7. Do you like homemade stuff or just bought ones?
uh

8. Do you posses a doll of your favourite anime or manga character?
i have a sasuke plushie, if that counts.

9. Did you watch haikyuu?
is that the volleyball anime?

10. Date with Nagisa or Rin?
neither because i hate both of them ahahaha

MORE QUESTIONS WHY
1. How did you join DA?
i followed my sister through everything and since she was on dA, i thought that'd be cool too.

2. What does your username have to do with you?
gracefulsunshine? it's a play on my actual name - a few friends and i came up with that while playing iPod truth and dare before we went to a CSO concert.

3. What is your current avatar of?
one of my roleplay characters.

4. How many watchers do you have, and how many do you watch?
a significant amount of people watch me - a far greater number than the amount of people on my watch list. i'd like to keep my stats private, thank you, although my watcher count can be found somewhere.

5. Do you have more than one account?
/LAUGHS LOUDLY/
sunnie-zhango
- dump |
angst-lord
- for commissions, dumb stuff from flight rising, and adoptables
i also have one more account floating around, but that's just to troll people.

6. Name three of your favorite artists on DA.



and then the penis envy for everyone else whom i watch.

7. What deviant(s) do you admire because of their personality?
kel(cake)! she's just such a nice person to talk to and her tumblr responses are so thoughtful and inspiring.

8. How many deviants do you actually know in reality? Post their avatars.




a couple more, but i'm too lazy to jot them down. you know who you are.

9. Do you comment, fave, or both?
i usually comment if i have something to say. i don't fav that often.

10. What do you typically post on deviantART?
RP shit, gifts, commissions, art trades --- stuff for other people, mainly. sometimes my original story
Non respexerunt
.
11. Do you participate in clubs or contests here on dA?
as few as possible, unless they can inspire me.

12. What is your most popular deviation?

most favorites / most views
i don't get why people like predator so much but okay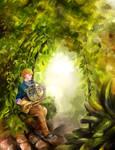 most commented

13. What's your favorite submission in your gallery?
none. /nervous laughter/ when
Socha-Nyx
and i were talking about picking our favorite art pieces for a feature, i had to tell her that i didn't really like any of mine.
that being said, though, which one should be my favorite?

14. What are things you wish you could draw better?
landscapes, environments, foliage, architecture, girls, anatomy, perspective, composition --- let's just say everything.

15. Do you have a premium membership?
used to.

16. How many hours a day do you spend on dA?
i try to spend less time on it now, as i tend to procrastinate looking at all my messages. /wry laugh

17. Are you a fast, slow, or medium typer?
medium-fast? I'd say aroud 70-80 WPM. even faster if i'm half asleep and need to get something written out. u w u
i'm an even faster reader, though. 1400+ WPM, if that counts?

18. What is the most annoying thing people ask you?
where's the big red dick
no actually that's a good question to ask me
there's a shitton of annoying things here. i don't know.
19. What is the most annoying/offending comment you've ever received?
All the "Thank you for llamas"? I'm sorry and I get that people want to thank me, but can they at least take some time to read the shit on top of my page?
Also, c o m m e n t s l i k e t h i s and one-two word comments. I did not spend 8 hours drawing so you could comment like a total arse.
Haven't gotten the
penis
age envy yet from people yet, but I guess it's bound to come sooner or later. Or maybe not, since my ass is getting hauled to university this fall even though I'm not 18 yet.

20. What/Who inspires you?
Artists that I adore on dA, friends, music, angst.

21. Do you use guidelines when you draw?
Sometimes? I'll leave it at that.

22. Do you associate people on deviantART with their icons?
If I'm a constantly running, sexually-confused teenager who is one of my RP characters --- no.

23. Have you ever suggested a Daily Deviation?
No, because 1) I'm a wimp and 2) there's nothing for me to suggest since I can't pick which art I like. I'm really indecisive like that.

24. Everyone has considered leaving DA once or twice. Have you? Why?
A couple of times? C: I left dA for a bit and entrusted my account to
Socha-Nyx
so that I wouldn't have the urge to open my account and fuck myself over again a year ago when I was undergoing a buttload of pressure from an ex online friend, ACTs and AP exams. Needless to say, all the drama from that ex online friend happened to fuck over a few of my junior year grades so I had to call it quits and go off deviantArt or I wasn't going to accomplish anything.
I seem to have at least one major fiasco every year after that, but it's nothing too much that I can't handle. I also have small urges to just pack up and leave when I see artists who steal/copy/trace/are douchebags and artists who don't deserve their fame. Don't know if anyone would miss me if I left, but I guess I'll just stay here and churn out art at the pace of a snail for right now. :^)