(Happy quinceañera, dA! [let's just roll with this.] My responses are a tad snippy because I'm exhausted right now, so please bear with me.)

How long have you been on DeviantArt?
I joined on my fourteenth birthday - so around four years.

What does your username mean?
gracefulsunshine is a pun off my real name. I'll leave it at that.

Describe yourself in three words.
tries but fails

Are you left or right handed?
I'm a forced ambidextrous - I draw with my right hand and do most other activities with my left hand, although I interchangeably use my right and left hands on certain other chores (coughs beating eggs).

What was your first deviation?
My very first deviation to grace (snorts) the dA community is archived and unfit for viewing, but my recorded first deviation after many, many phases of deletion would be Alight. The character portrayed was one of my first RP characters for the group

, and it was one of the last times I did traditional art to that extent.



What is your favourite type of art to create?
...Backgrounds/Landscapes, perhaps? I've noticed that I tend to have a bright disappearing point (if that's even a phrase) in all of my polished works though, so I'll need to work on that in the future after my six month hiatus from primarily background art.

If you could instantly master a different art style, what would it be?
I've always loved a more 2D fringe shading and fujino_Mg's style, especially. Currently still struggling with eyes, expressions, all that jazz, so I'm trying to branch out from painting and back to a lineart style so I can stop having same face syndrome. /wry laugh

Other than that, PIXELS. ugh how do you guys even
What was your first favourite?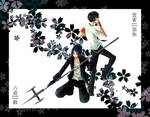 ...sis, if you ever see this, I'm sorry that I had a phase where I obsessively stalked your art.

What type of art do you tend to favourite the most?
Artworks with amazing backgrounds, well-thought lighting, gorgeous perspective. Art with exquisite portraits - either simple or complex. Poems that resonate with my current mood. I'm a bit whimsical in what I favourite sometimes.

Who is your all-time favourite deviant artist?
Probably

,

,

, or

(in no particular order)! I love all their art so much so I can't choose just one all-time favourite deviant artist.

If you could meet anyone on DeviantArt in person, who would it be?
ALL MY ONLINE HOMODACHIS LET'S BE HONEST



looking at you, Zeitlos crew :") also the tofudachis (you know who you are).

But senpais wise - still Kel, most likely. She's been a role model for me in more than just art; her personality and attitude towards art is what I'd like to someday achieve in the future.

How has a fellow deviant impacted your life?


's passion and motivation to improve her art ever since we met inspired me to keep on drawing back when I really couldn't appreciate my art (it's alleviated a bit, but I'm still working on it). She's dealt with so much of my shit that i don't know where I'd be right now if it weren't for her. It's been a rough journey, but I've never met a better pseudo-sis to scream with about shitty events and other shitty things.

What are your preferred tools to create art?
Wacom tablet, working laptop, a mug of tea to cry over when my canvas screws up.

What is the most inspirational place for you to create art?
Does my bedroom count? :") I literally do all my art / gaming / et cetera closeted away in my room.

What is your favourite DeviantArt memory?
Being in roleplay groups C: I still miss all the camaraderie that happened in them; maybe I'll join another one day, when I'm not bogged down by schoolwork.