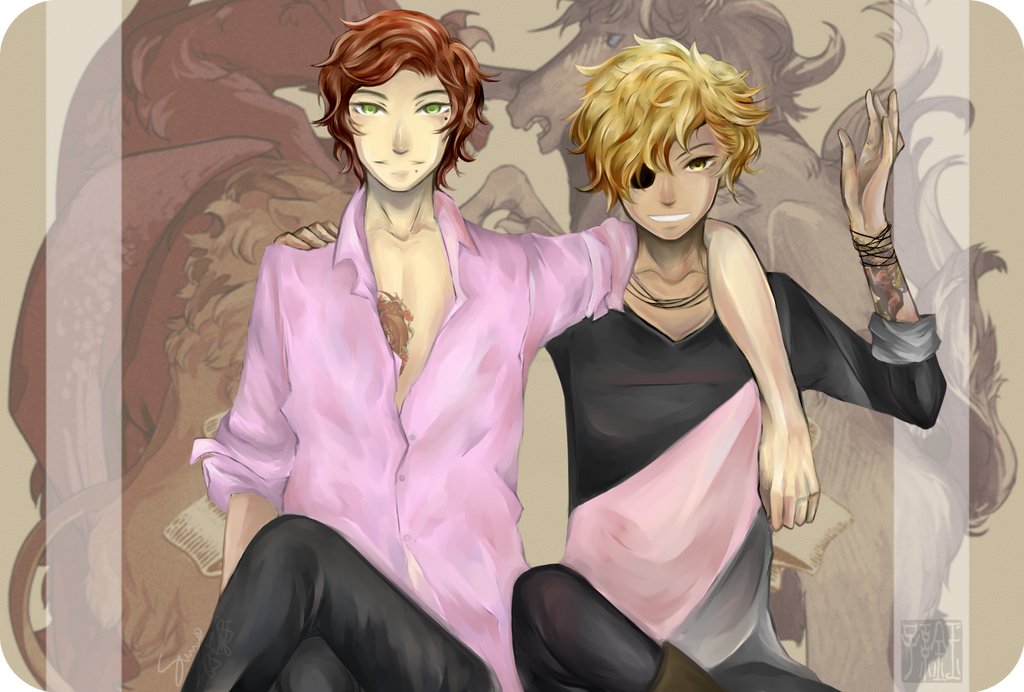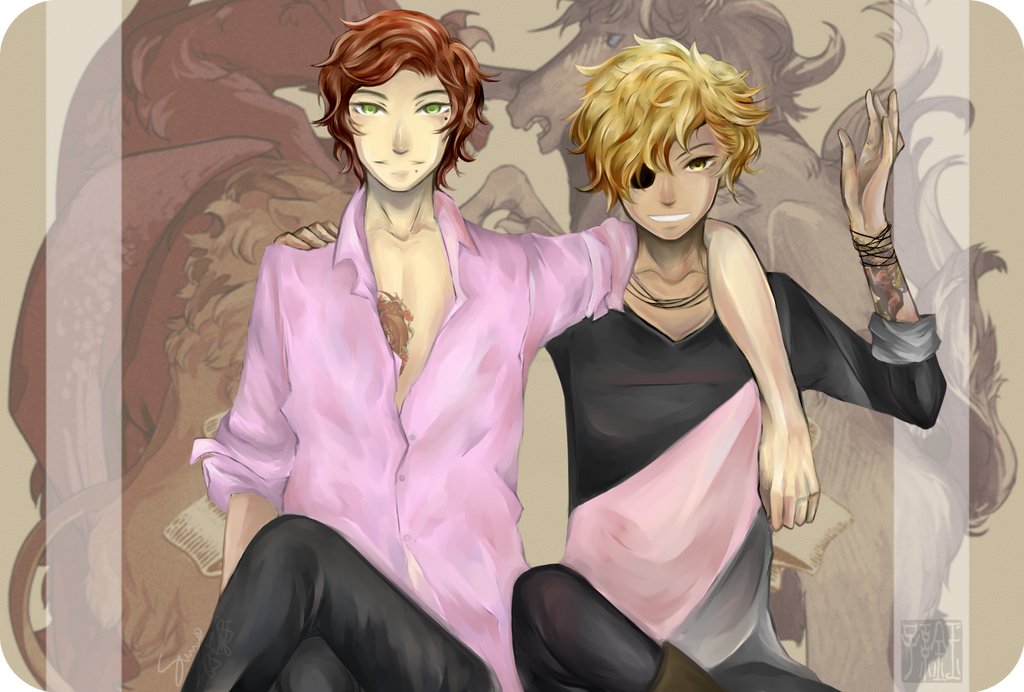 "edi you dumbass you don't mix colours when doing laundry"
---
THIS STARTED BECAUSE I WAS LAUGHING ON HOW THERE'S A TRISTAN R(EGIS) AND A TRISTIAN R(AYNE) IN REVOLITIONS and then this came up
"at least ur not dead okay bro"
"maybe i'll have the honour of punching ur pug face and sending you out of your misery"
"i never knew you liked my face so much xoxo"
so then it was established that they'd be jerk shits / imaginary blood brothers who go out for drinks in an AU and then the modern/college revolitions AU was born, which includes facts like:
- rayne, tristan, and edi are roommates (and could use a couple more roomies wink wonks)

- edi is a brokeass college kid who currently works at a bookstore. he also does all the housework and cooking and deals with rayne and tristie's dumb antics to make up for the fact that he can't really pay for his part of the rent.

- tristie is a tattoo artist. before that, he went to carpentry school and got his certificate, but he doesn't have any moolah considering that he's simultaneously paying off his student loan and car loan and rent, which is why he turned to tramp stamping people as a viable source of income. tends to get drunk with rayne often; they usually leave a hellhole for edi to clean up.

- rayne is an ex-marine with PTSD and aggressive tendencies; he's trying to get a graduate degree in marine engineering/naval architecture while working part time but that currently isn't going too well, especially since he has a habit of job surfing. suffers from recurring nightmares and insomnia at times, of which tristie has to deal with as they are roomies.

- they have a cat named muffin and they can't throw her out because edi would serve them rat poison if they did, even though both tristan and rayne are allergic to cats.

(more to be added later)
but yeah pssst guys join us in revolitions and if you're in revolitions feel free to add on to this AU!

(experimented around with different styles from different inspirations while i was colouring this sobs sorry if it looks disjointed)


---
Tristan Regis Fitzharris

©

Ichigo-Kitora (ginger)
Tristian Rayne Vellis

©

gracefulsunshine (blond)


Edilon Sjöberg

(not pictured but mentioned >9000 times) © latisuicune
Revolitions + crests (tattoos)

©

tanaw

crossposted on tumblr (with an extra!).
COMMISSIONS ARE OPEN!