>>> ART STATUS:

> I am currently working on my personal project. Check out my 'Winter Nights' comic if interested --> grace-zed.deviantart.com/galle…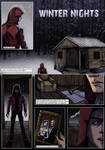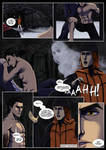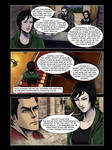 Artist: Grace-Zed


Writers: Grace-Zed, TheLucky38


If you would like to read the comic in Russian, please visit acomics.ru/~winter-nights/abou… Translated by CarrotNatasha )

Art by other artists -->

Winter NightsUPDATE: If anyone is interested to read my comic in Russian, please visit https://acomics.ru/~winter-nights/about Translated by

CarrotNatasha

Спасибо!



My personal project (Winter Nights) is 3 years now. I initially made Wendell reference sheet and his backstory for fun only, to explore some ideas, and then I created another characters before I started to make Winter Nights comic. I have done 64 comic pages. Two chapters. Slow updates, especially this year. Sorry...

I care for quality of my work. I am a bit of a perfectionist. I will try to work on next comic pages when I have free time.