40 Favourites
8 Comments
362 Views
Some of you might recognize something like this from a poster in my gallery of a few of my old RP children; those were wing-styles I drew to correspond to the stats of the fighting system at the Weyr to which they belong. The differences and Threadfall effects were exclusively theirs, though their renditions were mine. (They'd utilized a diagram of bird wing-types I'd made...dragony.)
I've since redrawn a fresh one for all-purpose use at the Weyr of your choice!
I'd like to see what you do with my templates - if you end up posting them or using them on forums, link them here! (It's not strictly necessary - it's just for fun!)
---
UPDATE 6-2020: Repaired weird artifacts on the wings. Those of you watchers that have already downloaded it, please re-download if you haven't caught the issue yourselves!
OTHER PERN TEMPLATES: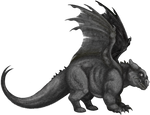 Shiny layer included. The PSD should be generally friendly unless the design involves severe mutations, super-dark chromatics, or super-detailed patterns towards the edges of the wings.
Please excuse the sloppiness of the PSD. If you have any suggestions on how to tidy it up for ideal coloring for a newbie, let me know and I'll freely adjust the main file! (I'll track updates in here and notify watchers accordingly, too)
Don't stack it up against the size of a jet engine, please.
9.7 inch iPad Pro, Apple PencilProcreate App
Tumblr Mirror:
TBD
grace dupre || artstation ☀ deviantART ☀ instagram ☀ ko-fi and commission form ☀ tumblr ☀ twitter ☀ website
MORE PERN:

I mean IF YOU LIKE, HEH!

That Dragonlover's Guide to Pern picture definitely stuck in my mind when I drew this!
dreamhowl.files.wordpress.com/…

RIGHT?!

lol I mean and... ONE PERSON is responsible for that?


... LOL

When I still ran my adoption pages over the Nexus I had been in process of making a 'group' adoption event. Where you HAD to have at least 4 characters, preferably 5, that would all serve the dragon's needs - from cleaning and upkeep, food prep, health monitoring, and finally actually flying into combat.