Female, 22, Single.
Current Residence: Richfield Springs, NY
I can't think what to put for anything in my favorites because I'm indecisive and a potato so here's two things.
Favorite Color:
Maroon
Favorite Quote:
"May the Dread Wolf Take You!"
-
SHOP:
www.redbubble.com/people/gotha…
DA Portfolio:
jennifergreseck.daportfolio.co…
Twitter:
twitter.com/PolarMetroGames
Tumblr:
gothalla123.tumblr.com/
Facebook:
www.facebook.com/jennifer.gres…
LiveJournal:
gothalla123.livejournal.com/
(Don't Use)
Youtube:
www.youtube.com/user/MizzFortu…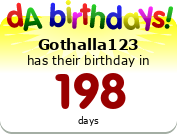 DA Family:
Bestest Big Sister Friend Buddy Pal Awesome Super Hero ALSO TWIN!! :3 :



Crazy Twin:



Extra Sweet Big Brother:



Amazingly Awesome Little Sister:



Artistic Cousin:



Talented Older Sister:



Crazy Auntie:



Sweetie Cousin (and student even though she's better then me

) :



My Actual Neighbor in Real Life:

Go check out her page!

1st cousin zero times removed:



Long Lost Brother:



Awesome Papa:

Rest in Peace. (Yes he did actually pass away.)

Explosive Gamer Brother:



Cool Artist Guy that Lives Next Door:



Psycho but Awesome Nanny:


Who's fought leukemia like a BAUS!

My Silly Roomate that Sleeps on Top of the Computer:



A Good Ol' Friend:



That Lovely College Lady:



The Lovely Other College Lady:



Super-Hero Friend:



Irken Invader:



Canadian Wonder Woman:



Fallout Companion:



Friendly Neighborhood Admin Dylan:



Awesome New Friend-o:

Affiliate(s):

Artists that Inspire:














































































































































(I have a LOT of inspirations, this list is actually going to be updated a LOT

)

Reference/Pose/Stock Makers:








Camera Specs:
Camera Data

Make: NIKON
Model: COOLPIX L110
Shutter Speed: 10/263 second
Aperture: F/3.5
Focal Length: 5 mm
ISO Speed: 1600
Software: COOLPIX L110V1.4
Favourite Movies
Almost all movies!!
Favourite TV Shows
Ugly Americans, Death Note, Naruto, Lost Girl, Invader Zim, Regular Show, Adventure Time
Favourite Bands / Musical Artists
Evanscense,Katy Perry, Korn, Limp Bizkit, The Beatles, those are just a few...
Favourite Books
Anything with Zombies, Vampires, or magic, Trylle series 2! :)
Favourite Writers
Does Jhonen Vasquez count?
Favourite Games
Left 4 Dead 1/2, Fallout 3, Fallout New Vegas, Half Life (All), Snow Blind, Singularity,Sims 2/3, FEAR (all), Area 51, Call of Duty (All), Dracula: Origins, Resident Evil, Rage, Skyrim, Borderlands 2
Favourite Gaming Platform
PC, Wii, PS2, Xbox 360
Tools of the Trade
Pen, pencil, drawing paper, paint, alot of erasers!! ;) Paint Tool Sai
Other Interests
Naruto, Death Note, SOULEATER, Death, drawing, computers, movies, SLEEPING!!!! Comics :meow: