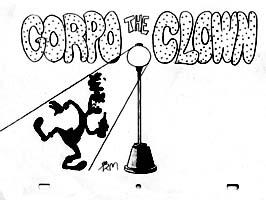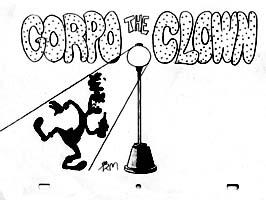 Watch
This is the Logo I created for my 3rd year film Gorpo the Clown: Kiddy Kaper. It was the title art that appeared over the music and the credits appeared in the blank space to the right. It was drawn back in 1992! I'd do a new one, but this is THE original. So I'm kind of attached to it.

It reminds me of an really really old game (probably it was even on ZX spectrum) where gfx was in 2 colours and you had to go left and right in order to collect falling from celling water and then throw it and blah blah blah...
Uh, I have bellyache (and I have a feeling that I will... - never eat 6xtoast+Coffee )

And this is my first comment since returning

. Hehe..
Reply

Creepy! -point-
...my grandfather was a clown.. o.O;
Reply