There's a new Challenge for you Sci-fi creative types over on our affiliate group
sketchup-overdrive.deviantart.…
You can find more details about it in the write-up here.
scifiwarships.deviantart.com/a…
The ultra short version of it is: Mars is starting to feel the effects of the terraforming process and humanity lives in domed cities. Between them an ultra high speed race takes place with vehicles that are a cross between jet fighters, formula one cars and spaceships.
If that has got you're creative juices flowing please feel free to submit your WIP in the FCAI folder on sketchup-overdrive group.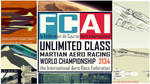 Have fun.