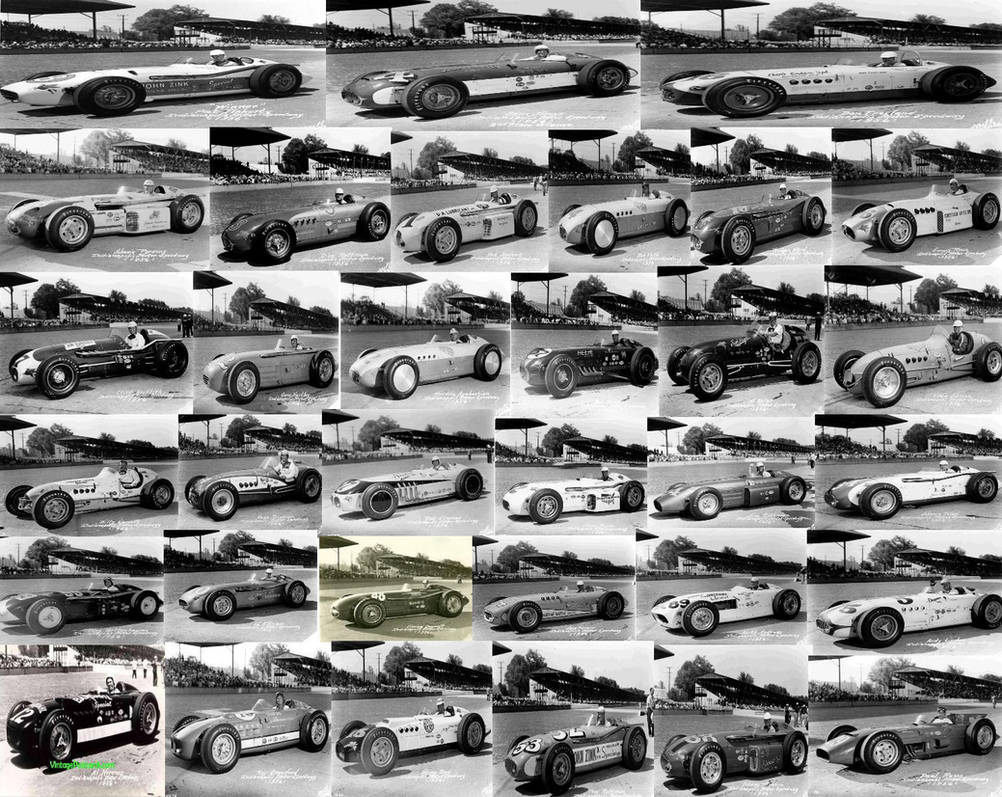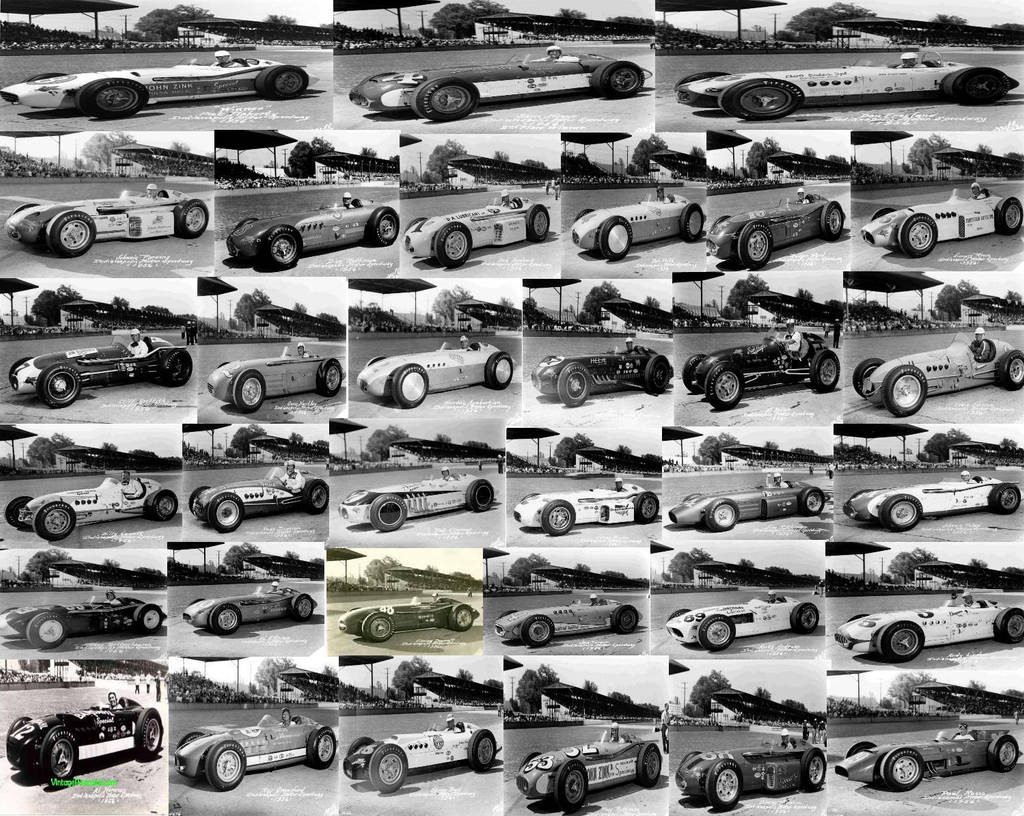 Watch
Here's the 1956 Indy 500 field! On to the usual lengthy race summary...

To say the least, 1955 had been a very bleak year in the motorsports world. The 1955 Indy 500 had seen two deaths during the month of May; Manny Ayulo was killed in a qualifying crash, and Bill Vukovich, the two-time defending winner of the 500, died in a spectacular flip over the backstretch wall on the 57th lap of the 500 while well out in front. Several other top drivers on the Champ Car circuit had died in crashes the previous year. 1955 pole-sitter Jerry Hoyt died in a crash in Oklahoma City a little over a month after the 1955 500. And Jack McGrath, the perennial front-row starter for the 500, died in a crash at the Arizona State Fairgrounds at the end of the season, in what was to have been his last ever dirt track race.

And of course, the terrible tragedy in Le Mans, France had shaken the motorsports world significantly. In the early stages of the annual 24-hour sports car endurance race, a Mercedes-Benz driven by Frenchman Pierre LeVegh collided with an Austin-Healey driven by the UK's Lance Macklin. LeVegh's Mercedes went airborne, somersaulted through the air, and exploded, hurling large car parts-including the hood, axle, and engine-through crowds of hapless spectators who had no time to react. LeVegh died instantly, and dozens upon dozens of fans were mowed down and cut to pieces by flying debris. At least 80 fans were killed in the crash, and the official death toll has never been confirmed, exactly-it may have well been over 100. The crash caused shockwaves around the world. Switzerland promptly banned motorsports in their country outright (the ban still remains in place today), several other countries temporarily banned the sport, and other countries (including the US) considered putting an end to auto racing. It was the darkest chapter in motorsports racing history...

...and as a result of the accident and the backlash against it, the AAA, which had been sanctioning the Champ Car Series and the Indy 500 since the very beginning, decided to no longer maintain an active involvement in motorsports. They pulled out at the end of the year, potentially leaving the Champ Car Series and the 500 up in the air. But Tony Hulman, the new Indianapolis Motor Speedway president, stepped in and spearheaded the formation of a new sanctioning body-USAC, the United States Auto Club. They took over the running of the Champ Car Series and the Indy 500. There were other changes at the speedway for 1956, as well-new asphalt had been laid down, including new strips at the head and tail end of the frontstretch. The famous "Brickyard" was slowly disppearing-what had once been an all brick race track now had only about 600 yards of brick remaining on the frontstretch.

If there was one driver who had a stellar 1955, it had to be Bob Sweikert. Sweikert had dominated the second half of the 1955 500 en route to picking up the big win. He had won a few other races on the Champ Car circuit that year, and ultimately went on to win the final AAA national championship. To add to that, Sweikert had ALSO captured the 1955 Midwest Sprint Car championship. To say 1955 had been an excellent year for the ex-Marine would be an understatement. However, in '56, Sweikert would not be returning to the John Zink team he had won the '55 500 with-disagreements had caused him to part ways with the team. Instead, he would be driving the #1 D-A Lubricants Special. Troy Ruttman took his place on the Zink team. They brought a second car for the '56 500 as well-chief mechanic A. J. Watson had master-minded a new, sleeker, more aerodynamic roadster, #8. Journeyman driver Pat Flaherty, who had two top 10s in three Indy appearances, was named the driver of the new car. They were all expected to be factors for the victory.

There were plenty of other cars thought to be contenders as well. Veteran Paul Russo, one of only two drivers entered in the race who had competed in the 500 before WWII, was the pilot of one of the two Novis for '56, and at the helm of the powerful machine, he set speeds in practice that threatened to shatter the track record. Sam Hanks, the other driver entered who had competed in the race before WWII, was entered in the Jones & Maley Special, and hoped to improve upon his Indy best of 3rd in '52 and '53. Don Freeland returned in the Bob Estes Special, and looked to make up for his disappointing end to '55 when his transmission gave out in the closing stages while he was in second place. Pat O'Connor was beginning to come into his own on the Champ Car circuit, and hoped to take the #7 Ansted Rotary Special to victory lane. And Jim Rathmann would be the pilot of the Lindsey Hopkins Special for '56, driving for the team that the late Bill Vukovich had been driving for the previous year. '56 certainly looked to be a very competitive year...

With more than 60 drivers on the entry list for the 1956 Indy 500, nearly 30 drivers wound up on the sidelines for the race. Giuseppe "Nino" Farina, the inaugural Formula 1 champion, entered the race this year in an experimental new Bardahl-Ferrari, but was unable to make the field. His DNQ meant that, once again, the 500 field would be comprised entirely of Americans. Jimmy Davies piloted the second Novi, but was also unsuccessful at making the field. Chuck Weyant crashed in practice and suffered an arm injury, and was unable to make a qualifying attempt. Len Sutton, a future winner and front-runner on the Champ Car circuit, failed to qualify in his first Indy attempt. Eddie Sachs, in his third Indy attempt, just barely missed out on making the field. Other notable DNQs included Dempsey Wilson and Bill Cheesbourg, a pair of newcomers who would be regulars at Indy well into the late '60s; Marshall Teague, the NASCAR veteran; Eddie Russo, Paul's nephew; Marvin Pifer, a Jeep dealership owner from Michigan; Leonard "Gig" Stephens, a newcomer from Massachusetts who would periodically enter the 500 over the next decade but continually fail to make the race; Shorty Templeman, the Colorado midget car standout; Jay Abney, a talented motorcycle racer; and for the sixth year in a row, the luckless Indiana native Leroy Warriner.

When qualifying came to an end, Pat Flaherty had earned the pole in the new #8 John Zink Special. The veteran journeyman driver smashed the late Jack McGrath's two year old qualifying record by posting a four lap average of 145.596 MPH...it was becoming apparent that it wouldn't be too much farther down the road that cars would eclipse the 150 MPH mark at Indy. Flaherty, a proud Irish-American (to the point where he had the shamrock, the symbol of his ancestral homeland, painted onto his driver's helmet) had high hopes that he could win the 1956 race. Joining him on the front row were Jim Rathmann and Pat O'Connor, while Jim's older brother Dick Rathmann, Tony Bettenhausen (the '55 runner-up at Indy), and 1950 winner Johnnie Parsons made up row 2. Paul Russo's Novi earned the 8th starting position for the race, while other contenders were lined up farther back-Troy Ruttman would come from 11th, Sam Hanks qualified 13th, and Don Freeland would have to start all the way back in 26th position.

Several drivers were making their first Indy appearance in years-Dick Rathmann's only previous start had come back in 1950, after which he had gone on to become one of the regulars in the new NASCAR Cup Series, being quite successful and racking up numerous wins. Cliff Griffith's last start had come back in 1952; he managed to earn the 30th starting spot. And Carlyle "Duke" Dinsmore just barely hung on to make the field for the first time since back in 1951-rain on the final weekend of qualifying kept most cars off the track, and he was just barely able to squeak his way into the race in the #64 Shannon's Special.

Five rookies would be in the field for the 1956 race, the fewest since before WWII. Colorado's Johnnie Tolan, after failing to make the field the previous 5 years, finally managed to qualify for his first 500 start in '56, earning a spot on the last row of the grid. Oregon's Bob Christie, a regular on the AAA and USAC stock car circuit, was also making his 500 debut after failing to qualify the previous two years. Bob had picked up the nickname "Caveman" in the racing circles due to the fact that his hometown, Grants Pass, was known for its' statue of a Neanderthal. Seattle's "Cactus" Jack Turner had won the 1954 and 1955 AAA midget car national championships, but would ultimately go on to have a disappointing career at Indy, becoming notable for the amount of times he flipped at the track...Tulare, California's Bob Veith would become a regular on the USAC Champ Car tour and would appear at Indy up until the early 1970s; he was entered as a teammate to veteran Freddie Agabashian. Rounding out the '56 rookie class was Illinois' Billy Garrett, the youngest driver in the entire field (at the age of just 23).

It was not even certain that the 1956 500 would run on its' scheduled date. Torrential rains (the same ones which largely washed out the last weekend of qualifying) had hammered the speedway in the days leading up to the race. Standing water flooded the track, the infield had become a muddy mess, and access tunnels had completely flooded. However, the speedway superintendent, Clarence Cagle, spearheaded a massive 48 hour cleanup effort that saw them pump tons of gallons of water out of the infield and access tunnels. They were successful in doing so, and the track was ready on race morning. But rain showers came intermittently on the morning of Wednesday, May 30th. However, they went away prior to race time, and though it would be a largely cloudy and overcast day, the 40th running of the Indianapolis 500 would go on as scheduled.

The green flag flew after the field's pace lap and at the start, Jim Rathmann got the jump on pole-sitter Flaherty going into turn 1. O'Connor quickly moved into second place, pushing Flaherty back to third. Rathmann pulled away and easily led lap 1, as Bettenhausen took third from the pole-sitter on lap 2. The top four began to pull away, and O'Connor took the lead away from Rathmann on lap 4, leading the next seven circuits. They would soon have a new challenger joining the battle up front-Paul Russo in the Novi had managed to catch up to the top 4. The Novi was slower through the corners than other competitors, but down the straightaways it had the raw horsepower to make up the gap.

Rathmann began dropping back as Flaherty moved back to second around Bettenhausen, and Russo quickly took fourth. Flaherty caught O'Connor and tried to pass him, but their close quarters racing allowed Russo and the Novi to catch them down the frontstretch on lap 11 and pass them both to take the lead, to the delight of the crowd. The fans had been treated to some great racing at the front in the opening laps...O'Connor and Flaherty were able to make ground on Russo in the turns, but the Novi would continue to pull ahead once they hit the straightaways.

Paul Russo was setting a blistering pace early on-he completed the first 50 miles in just over 20 minutes. It looked like today might be the day the popular Novi engine might finally taste Indy's victory lane. But on lap 23, fate struck the powerful machine once again. Going into turn 1 holding the lead over O'Connor and Flaherty, the right rear tire on Russo's #29 exploded. Tire chunks and metal went flying, and the sudden blowout sent the Novi spinning out in the corner and into the outside wall hard. Russo was not seriously hurt and was quickly able to climb out of his car, but just like that, he went from leading the race to last place-his second last place finish at Indy of his career. The mayhem continued under the caution flag...Sam Hanks spun behind Russo's wrecking Novi, and had to come pit-side for repairs. One lap later, Troy Ruttman and Johnny Thomson (the second-fastest qualifier, but had to start 18th due to not turning in his time on pole day) tangled going into turn 1 and both cars spun out. Neither driver was injured, but just like that, three cars were already out of the race. It was the first of numerous incidents that day...

O'Connor inherited the lead when Russo crashed, and would lead the next 19 circuits before Flaherty got out front on lap 41. O'Connor fought back, however, and reclaimed the lead next time by for three more laps. They would trade the lead twice more in the next few laps. Early on, it looked like these two would be the cars to beat, with Jim Rathmann trailing behind in third. Another car had fallen from the race by the 100-mile mark-Johnny Boyd, in his second Indy 500, brought George Bignotti's Bowes Seal Fast Special to the garage with an oil leak. Four cars were gone by the time 100 miles were completed.

Past the 125-mile mark, another caution flew when WWII flying ace Ray Crawford spun off turn 4, hit the outside wall, and skidded back down the track into the inside wall at the head of the frontstretch. Crawford was fine, but his second 500 came to an early end. Flaherty chose to make his first pit stop under this caution, and O'Connor came in on lap 56, handing the lead to Johnnie Parsons in J. C. Agajanian's #98. It was the first time Parsons led the 500 since his victory back in 1950. Parsons stayed out for 16 more laps before heading pitside, handing the lead to Don Freeland, who had marched his way steadily forward from his 26th starting position.

Al Herman, the previous year's Rookie of the Year, was another car on the move in the first 200 miles, coming from 27th place at the start-alongside Freeland-to place the Bardahl/Clancy Special in the top 5. But going down the frontstretch near the 200-mile mark, Herman's wheels locked up, and he spun out and crashed into the outside wall, coming to a rest right near the pits and bringing out another caution flag. Herman was fine, but his fine drive came to an end early. Pat Flaherty inherited the lead under the caution flag once again-a position the pole-sitter would not give up for the rest of the race.

Sam Hanks had managed to charge his way back through the field after his spin early in the race, and by now found himself running second to Flaherty. More trouble struck as the race closed in on the halfway point as 1954 national champion Jimmy Bryan went for a spin in turn 1 and skidded through the infield grass. He was able to continue on, but lost numerous laps in the pits and fell far out of contention. As the race crossed the halfway point, eight cars-Keith Andrews, Andy Linden, Herman, Crawford, Boyd, Ruttman, Thomson, and Russo-had dropped out of the event, a fairly low attrition rate for those days...

Past the halfway point, defending Indy champion Bob Sweikert managed to work his way up to second when Hanks came in for his second pit stop. It looked like the 1955 Indy winner had a shot at going back-to-back, but then trouble struck as the right rear tire blew out coming off the second corner, sending him for a spin along the backstretch wall. Sweikert was able to continue on, and limped back to the pits on just the bare rim. He would remain in the race, although he lost several laps and was now pretty much out of contention.

Flaherty pitted again under the caution, and still maintained the lead over Don Freeland. Sam Hanks, however, quickly managed to run down Don and pass him for second place. Nearing the 350-mile mark, another crash occurred as Jimmy Daywalt's streamlined #48 Sumar Special slid into the outside wall hard in the second corner and skidded to a stop at the head of the backstretch. Daywalt was shaken up, but otherwise OK. However, the incident brought out yet another yellow flag. Hanks was within half-a-lap of Flaherty, and hoped to run him down in the final 150 miles.

As the race reached the 400-mile mark, Hanks was slowly beginning to chip into Flaherty's lead, little by little. By now, 11 cars had fallen out of the race-Jack Turner dropped out after a little more than 325 miles when his engine blew, and Ed Elisian called it a day at the 400-mile mark when his brakes gave out. Yet another accident occurred just past the 400-mile mark as early front-runner Tony Bettenhausen wrecked in the first turn, bringing out yet another yellow flag.

In the race's final stages, two of the front-runners-and early leaders-would also fall by the wayside. Jim Rathmann, after leading the opening three laps, had run in the top 5 virtually all day, but with a little more than 50 miles remaining, slowed, came into the pits, and coasted into the garage area with a broken oil line. He fell out of the race while running in 6th place. Pat O'Connor had dominated in the early stages, leading for 39 circuits early, but with a little over 25 miles remaining, also called it a day with magneto issues. It was a rough end to what had been a great day for O'Connor...

Hanks continued to slowly eat into Flaherty's lead, in the hopes of finally scoring his first win. Hanks was making his 12th Indy 500 start, the most of any driver in the field (Freddie Agabashian, Bettenhausen, and Russo were making their 10th starts each), but would have to wait another year to achieve Indy glory, as he was still more than 20 seconds behind at the end. "Irish Pat" Flaherty, whose previous best in 3 Indy starts was a pair of 10th, crossed the checkered flag first, the second year in a row a John Zink-owned car won the big event. Flaherty had led for 127 laps in total, including the final 125-the entire second half of the race. Hanks' second was a new personal best for him at the speedway, but it still had to be disappointing knowing he had come just 20 seconds shy of finally winning the race. Don Freeland wound out the top 3 as he was more than a minute-and-a-half behind; his 3rd more than made up for his Indy disappointment in '55 when he fell out of the race in the closing stages. It was his best career result at the speedway. Johnnie Parsons brought J. C. Agajanian's #98 home in fourth, his best Indy finish since his 1950 triumph, while Dick Rathmann completed the top 5 in his second 500 appearance-a much better performance than his 32nd-place result back in 1950.

Bob Sweikert came back from his spin and bout with the wall to take sixth place, his second straight Indy top 10. Unfortunately, it would be the ex-Marine and defending national champion's final Indy 500, as just a few weeks later Sweikert was killed in a sprint car crash at the Salem Speedway short track. Bob Veith came home in 7th place, the top finishing rookie, 6 places higher than Bob "Caveman" Christie. Veith would be voted the 5th Indianapolis 500 Rookie of the Year based on his strong top 10 run. Rodger Ward came home 8th, the first time he had ever even seen the checkered flag at Indy after failing to finish his first 5 starts. (His luck was soon to change drastically at Indy, however). Jimmy Reece was the last car to complete all 500 miles in 9th, while Cliff Griffith scored his second and final top 10, rounding out the top 10 finishers after completing 199 circuits. 19 cars were still on track at the end of the day's activities-Gene Hartley, Freddie Agabashian, Christie, Al Keller, and Eddie Johnson were 11th-15th, Billy Garrett came home 16th, while Duke Dinsmore wound up 17th in his final Indy 500. Jimmy Bryan and Johnnie Tolan were the last two cars on track at the end of the day (in 19th and 21st), many laps down after significant problems. Four of the five rookies who started the race were still running at the end-only Jack Turner ended up failing to finish.

The 1956 Indy 500 had been a much safer race than the tragic and ill-starred '55 race-although it was marred by a large number of crashes, no drivers were seriously injured in any wrecks during the day. Pat Flaherty had emerged triumphant in his fourth Indy 500, and would forever be immortalized as an Indy champion. He did not break the Indy race record, however-his average speed coming up more than 2 MPH short of the 1954 record (the numerous crashes and yellow flags ensured the slower race pace). Unfortunately, he would not be able to defend his Indy crown in '57 as he was injured in a racing crash later that year that forced him to set out next year's 500. 1957 would be another year of changes at the speedway, and a popular veteran would FINALLY get to roll into Indy's victory lane...

Here's the entire field, in the order of how they finished!

ROW 1: (from left to right)

1. Pat Flaherty, #8 John Zink (John Zink), Watson/Offy, 200 laps completed (Started 1st, led 127 laps)

2. Sam Hanks, #4 Jones & Maley, Kurtis 500C/Offy, 200 laps completed (Started 13th)

3. Don Freeland, #16 Bob Estes (Bob Estes), Philips/Offy, 200 laps completed (Started 26th, led 4 laps)

ROW 2: (from left to right)

4. Johnnie Parsons, #98 Agajanian (J. C. Agajanian), Kuzma/Offy, 200 laps completed (Started 6th, led 16 laps)

5. Dick Rathmann, #73 McNamara Chiropractic (Lee Elkins), Kurtis 500C/Offy, 200 laps completed (Started 4th)

6. Bob Sweikert, #1 D-A Lubricants (Racing Associates), Kuzma/Offy, 200 laps completed (Started 10th)

7. Bob Veith (R), #14 Federal Engineering, Kurtis 500E/Offy, 200 laps completed (Started 23rd)

8. Rodger Ward, #19 Filter Queen (Ed Walsh), Kurtis 500C/Offy, 200 laps completed (Started 15th)

9. Jimmy Reece, #26 Massaglia Hotel (Hart Fullerton), Lesovsky/Offy, 200 laps completed (Started 21st)

ROW 3: (from left to right)

10. Cliff Griffith, #27 Jim Robbins (Jim Robbins), Stevens D/Offy, 199 laps completed (Started 30th)

11. Gene Hartley, #82 Central Excavating (Pete Salemi), Kurtis 500C/Offy, 196 laps completed (Started 22nd)

12. Freddie Agabashian, #42 Federal Engineering, Kurtis 500D/Offy, 196 laps completed (Started 7th)

13. Bob Christie (R), #57 Helse (H. H. Johnson), Kurtis 500C/Offy, 196 laps completed (Started 25th)

14. Al Keller, #55 Traylor (Sam Traylor), Kurtis 4000D/Offy, 195 laps completed (Started 28th)

15. Eddie Johnson, #81 Central Excavating (Pete Salemi), Kuzma D/Offy, 195 laps completed (Started 32nd)

ROW 4: (from left to right)

16. Billy Garrett (R), #41 Greenman-Castle (Lysle Greenman), Kuzma D/Offy, 194 laps completed (Started 29th)

17. Duke Dinsmore, #64 Shannon's (Shannon Brothers), Kurtis 500A/Offy, 191 laps completed (Started 33rd)

18. Pat O'Connor, #7 Ansted Rotary (Ansted-Thompson Racing), Kurtis 500D/Offy, 187 laps completed, magneto (Started 3rd, led 39 laps)

19. Jimmy Bryan, #2 Dean Van Lines (Al Dean), Kuzma/Offy, 185 laps completed (Started 19th)

20. Jim Rathmann, #24 Hopkins (Lindsey Hopkins), Kurtis 500C/Offy, 175 laps completed, oil trouble (Started 2nd, led 3 laps)

21. Johnnie Tolan (R), #34 Trio Brass Foundry (Carl Anderson), Kurtis 500D/Offy, 173 laps completed (Started 31st)

ROW 5: (from left to right)

22. Tony Bettenhausen, #99 Belanger Motors (Murrell Belanger), Kurtis 500D/Offy, 160 laps completed, wrecked turn 1 (Started 5th)

23. Ed Elisian, #10 Hoyt Machine (Fred Sommer), Kurtis 500C/Offy, 160 laps completed, lost brakes (Started 14th)

24. Jimmy Daywalt, #48 Sumar (Chapman Root), Kurtis 500C/Offy, 134 laps completed, wrecked turn 2 (Started 16th)

25. Jack Turner (R), #54 Travelon Trailer (Ernest Ruiz), Kurtis 500B/Offy, 131 laps completed, engine (Started 24th)

26. Keith Andrews, #89 Dunn Engineering (Harry Dunn), Kurtis 500B/Offy, 94 laps completed, broken transmission (Started 20th)

27. Andy Linden, #5 Chapman (Harry Allen Chapman), Kurtis 500C/Offy, 90 laps completed, oil leak (Started 9th)

ROW 6: (from left to right)

28. Al Herman, #12 Bardahl/Clancy (Pat Clancy), Kurtis 500B/Offy, 74 laps completed, wrecked frontstretch (Started 27th) (This bad quality picture with the website's name slapped on it is the best picture I could find of his car, sorry)

29. Ray Crawford, #49 Crawford (Ray Crawford), Kurtis 500B/Offy, 49 laps completed, wrecked turn 4 (Started 17th)

30. Johnny Boyd, #15 Bowes Seal Fast (George Bignotti), Kurtis 500G/Offy, 35 laps completed, oil leak (Started 12th)

31. Troy Ruttman, #53 John Zink (John Zink), Kurtis 500D/Offy, 22 laps completed, spun turn 1 (Started 11th)

32. Johnny Thomson, #88 Peter Schmidt (Peter Schmidt), Kuzma/Offy, 22 laps completed, spun turn 1 (Started 18th)

33. Paul Russo, #29 Novi Vespa, Kurtis 500F/Novi SC, 21 laps completed, wrecked turn 1 (Started 8th, led 11 laps)

NOTES:
This was...
-The first Indy start for Christie, Garrett, Tolan, Turner, and Veith
-The last Indy start for Andrews, Dinsmore, and Sweikert

Did not qualify:
Marshall Teague (#3, #47), Giuseppe Farina (#9), Earl Motter (#9, #41), Eddie Russo (#10, #27, #33), Chuck Weyant (#22), Dempsey Wilson (#22, #79), Tony Bonadies (#25), Jimmy Davies (#31), George Amick (#33), Johnny Kay (#35), Edgar Elder (#41), Shorty Templeman (#46), Len Duncan (#51), Eddie Sachs (#58), Len Sutton (#62), Roy Newman (#74), Marvin Pifer (#75), Mike Magill (#77), Jim McWithey (#77), Buddy Cagle (#81), Bill Cheesbourg (#84, #87), Gig Stephens (#85), Jay Abney (#87), Dickie Reese (#87), Johnny Baldwin (#91), Leroy Warriner (#93), Ernie McCoy, Cal Niday

*I do not own any of the images used as this collage-they are copyright of their respective copyright holders. No money shall be made off them as they are being used solely for educative and/or informative purposes.*

Coming soon...the 1957 Indy 500 field!