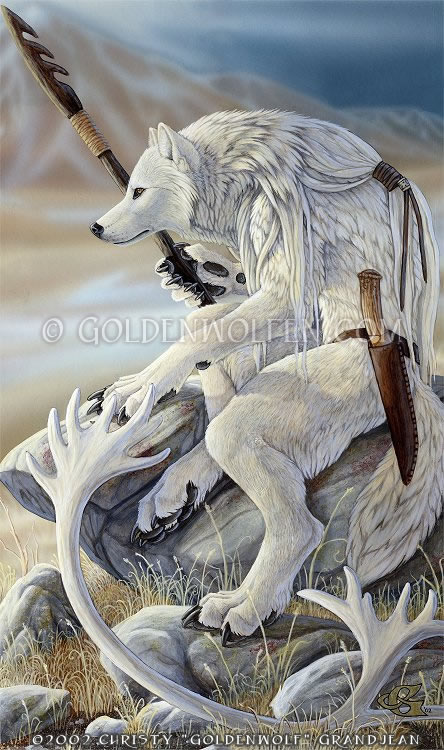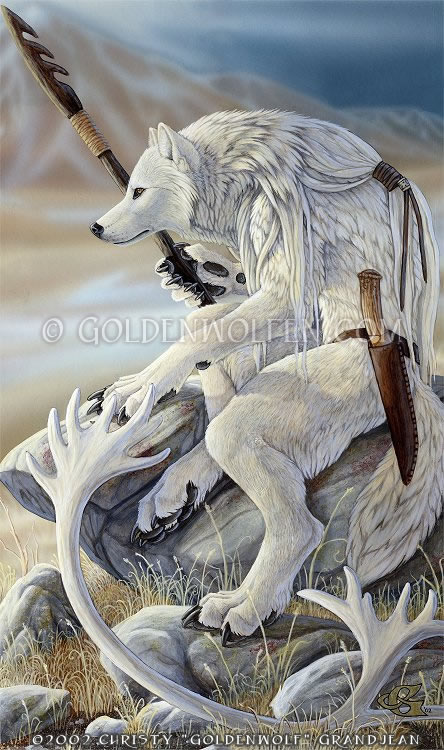 An arctic wolf looks out over the tundra from his vantage point, waiting for signs of the caribou herd.
I wanted to try several different techniques with acrylic while trying to learn how to paint, and this is what came out of that experimentation. This is NOT a digital piece, but a real acrylic painting currently in a private collection.
The original is a 23" X 39" acrylic painting on Illustration Board
Prints are available here:
www.goldenwolfen.com/site/?wps…
T-shirts are available here:
www.goldenwolfen.com/site/?pag…
Progression of creating the painting is here:
Daily Deviation
Given 2010-01-21
Vantage Point
by *
Goldenwolf
The suggester writes: "This is by far the best, most detailed werewolf painting in existence. Everything about it--the fur detail, precise attention to anatomy, and masterful coloring make this the premier anthro wolf picture anywhere, period. Goldenwolf has inspired many werewolf artists, and this is her crowning artistic achievement. Despite the age, if anything is worth a Daily Deviation, this would be it." (
Suggested by lazywolf and Featured by savagebinn
)
The owner of this deviation has disabled comments.