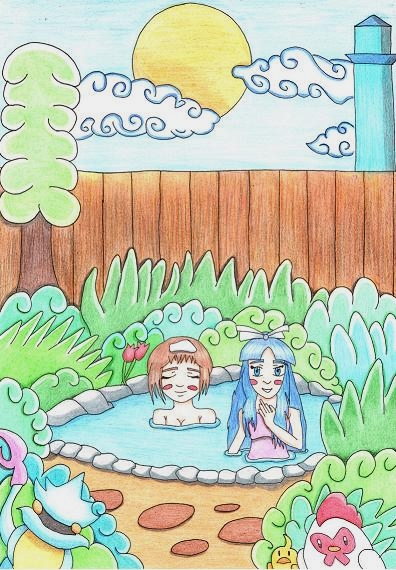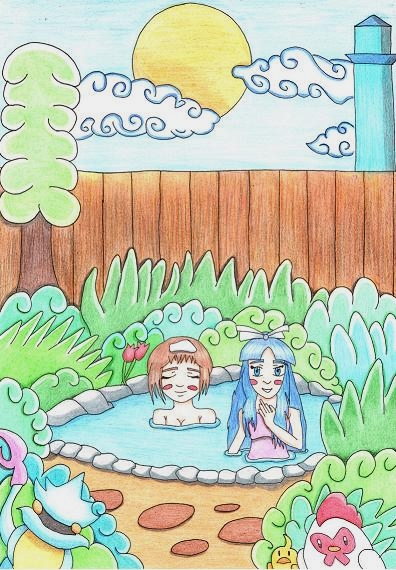 Watch
I had a great day with my girlfriend in the hotspring here in Cologne, called "Claudius Therme" .
This chilly day gave me an idea for an concept which I wanted to draw since a long time. A crossover between Elli (Harvest Moon) and Mia (Golden Sun).
Why this two girls?
-They are both nurses
-They are my favourite girls in the respective games
-They are cute and beautiful

You see some elements from the Golden Sun and the Harvest Moon serie for example the hot spring itself and the mercury lighthouse.
Enjoy the draw my friends !

wow! this is so pretty! the coloring is very well done!


Reply

Thank ya

Im also so proud of the colouring, it has taken a whole time to do this so evenly.
Do you know Golden Sun

?
Reply

Sehr schönes Crossover

Obwohl ich nie so sehr Golden Sun Fan war, wie HM-Fan, ich finde den kleinen Djinn vorne links total knuffig *w*
Mir gefällt außerdem, wie du die Beiden so richtig in ihrer Umgebung platziert hast. Sie sind nicht einfach nur irgendwo und dann sieht man so'n bisschen Wasser - sie sind richtig im Wasser drin, umgeben von Steinen, einem Weg, Pflanzen und allem, was dazugehört. Find ich gut

Die Claudius Therme in Köln war also der ausschlaggebende Faktor - hmhmmm, mal schauen, ich wollte schon länger mal wieder mit Freunden in eine Therme, aber die Münster-Therme in Düsseldorf war leider nicht sooo toll, wie ich's mir erhofft hatte - vielleicht geht's demnächst mal nach Köln xD
Reply

Also die Claudius Therme kann ich echt nur empfehlen, sie ist schön angelegt und abwechslungsreich, groß und besitzt viele abwechslungsreiche Becken.
Außerdem hat sie mich dazu motiviert das Bild endlich zu beenden, also kann sie ja nur gut sein

Sollten dir Rollenspiele gefallen dann zock aufjeden Fall mal Golden Sun und Golden Sun:The Lost Age an, ich kann es dir wirklich nur ans Herz legen

Reply

Ich schlag die Therme meinen Leuten mal vor

Von Golden Sun hab ich einen der Advance-Teile sogar im Schrank, aber aus Zeitgründen hab ich nicht viel gespielt, damals... und mittlerweile sind so viele gute neue Spiele draußen ._.
Reply