Sadly this year challenge is over, and it will be another year before we can have this fun again. But lets us hear it for the artists that made this year challenge so great!
Ravenpuff
,
Flajingman
,
CyberKaku
, and even
MisterMech
who sadly seem to not have able to have finish the challenge this year. Lets give them all a round of applause! Now if you are an artist or writer who have done this challenge and is wonder why I didn't mention you the answer is simple, I just didn't know you did the challenge. I hope you and everyone who did this challenge had a good time.
Now I know what you are all waiting for now. Every year I pick one or more monsters to show, and this year is different in that way. But it is different in a way this time, for this year challenge had a monster that was so o
bscure that as far as I can tell no one has ever did any art of it until this year. I'm talking about the Fijan giant, Flaming Teeth!

Now
Ravenpuff
decided to make the whole teeth a power up as you can see.
<da:thumb id="818613689"/>
And she wasn't the only one, just look at
Flajingman
!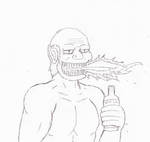 And the we have
CyberKaku
who not only posted their first. Meaning that they are probably the first person to ever make art work of Flaming Teeth but made the monster girl of her more monstruos then anyone else normal giant.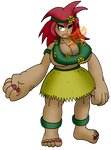 This was great challenge this year and I can only that it even better next year! And if you have any suggests for next year's list then feel free to comment