Another year and another 31 Obscure Monsters Halloween Challenge, the second year we have done this. Lets hear it for the artists who took time to do this year challenge,
Ravenpuff
who quick reminder was the one who give me the idea for this in the first place, @
Flajingman
and his comics, @
CyberKaku
and his monster girls, and new comer @
MisterMech
. Go check out there great work if you haven't already. Here a quick simple of their work!
<da:thumb id="767445174"/>
From
Ravenpuff
we got funny little creature, not very myth accurate but feel it gets the spirit across of this monster.
From
Flajingman
we have this funny comic about the parent child relationship of lovecraftian horrors.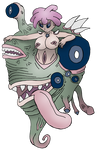 From
CyberKaku
we have this bizarre lovecraft gal ready to hit the town.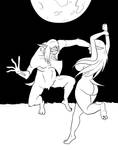 from
MisterMech
we have this dancing duo when a new view that makes sense of these fairy folk.