As some of you know this year for October I put forth a my first artist challenge this year. A challenge that would help breath new life into lesser know monsters of myth and to my surprise and joy some artists decide to do it, and they all did a great job of doing it. But the best part was that they were clearly having fun with this and so was I, which is why I plan to this again next year with new batch of monsters and less spelling errors! Now lets give thanks to the artists who decide to try their hand at giving life to these old monsters.
elrot
,
Flajingman
,
Loneanimator
,
CyberKaku
, and special thanks to the one who give me the idea to do this
Ravenpuff
. You each created beautiful pieces and it your own styles breath new live into these often over look monsters. Showing the best of reinterpreting monsters that don't have a strong popular expressed idea in our group conscience. In fact while all you works were good there was one monster you each did that stood above the others just because you each took so different
reinterpretations
while staying true the old myths about, and that was day 2 Ukobach demonic inventor of fry food and fireworks. And those who have not yet seen their works here they are and why I believe they show off the best of what reinterpreting means.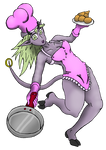 Cyberkaku who did all the monsters as montergirls could have easily just have made another demonic human design but instead he give this design for more personality by dressing her as the cook, giving her a tail pieing instead of a normal demon tail, and most of all making her feet look even more demonic than the old myths said they were.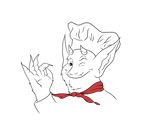 elrot design is so simple yet well done, and how he choose to make Ukobach a food mascot model after Chef boy are d is a very created choice that no one else thought to do before, yet makes sense.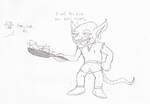 Flajingman here decide to combine both the fireworks and the fry Ukobach is know for as well as more modern views of goblins as simple minded beings to humorous affect that is both clever and unique.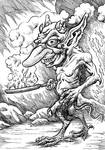 Loneanimator decide to forces on the minor fire powers this imp is know as well as making more fearsome. His choice to change the demon legs to chicken legs as reference to being the inventor of fry food is both brilliant and makes demon more terrifying in appearance than how he was draw in the old myths.
<da:thumb id="707590447"/>
Ravenpuff took the
the inherited goofyness of the imp better know design added their own touch to it while forcing on the firework aspect of this monster. And the results are beautiful

I should also add that I join in as well by writing short stories sense I can't draw. However I'll leave it to others to say how good or bad my work was.
Fry Chicken"Oh, right I almost got everything ready for tonight sir." Tim said. "Good, I want this show to go off without any problems." John said. It was glories night with not a cloud in the sky, the perfect night for the firework show John was doing as part of his grand opening for his fry chicken restaurant. "Sir I have some concerns." John turn to his manager Dan," About what?" John said. "Sir in order to get this show ready on time and on budget you had us cut many safety regulations, if something was to happen it would be a blood bath." Dan said. "I can assure that nothing will happen here at the grand opening of Ukobach's fry chicken hut, our mascot will see to that." John said while point to a picture of said mascot a big headed wingless imp holding a pan. "Sir I don't believe it is wise to trust that nothing will happen out of faith, if we go through with this we should at least dial back the numbe